Posted by Yasmina on 2020 Aug 18th
Trivia: Did you know… that Jack Sparrow's iconic pistol isn't a prop? It's a real weapon!
Do you find yourself humming along when you hear the famous Pirates of the Caribbean theme? Then you'll love our selection of pirate costumes!
The Pirates of the Caribbean franchise returned with a stunning fifth movie, in which Captain Jack Sparrow goes out to look for Poseidon's Trident. Jack is seeking to free the Black Pearl from its tiny glass bottle prison. In addition, the terrifying Captain Salazar and his ghost crew, who escaped from the Devil's Triangle, seek revenge upon Jack Sparrow.
The movie has been praised for being beautiful and fun. A lot of talented designers worked on the movie: the costumes in Dead Man Tell No Tales are simply incredible!
Whether you're looking to recreate a costume from the movies or to create your own, take a look at our pirate costume ideas!
---
Jack Sparrow Pirate Costume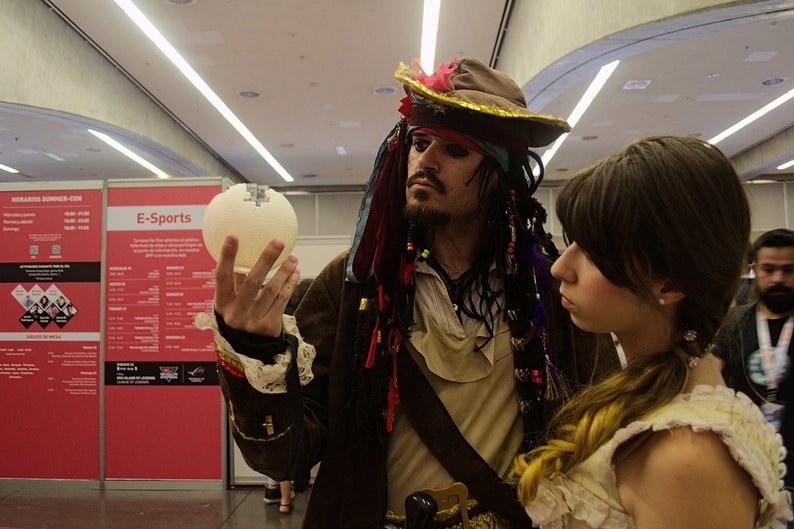 Source: Santamarcada on Wikimedia Commons, CC BY-SA 4.0
This cosplayer really nailed both Jack Sparrow's outfit and his facial expression. He's pictured here holding the Wikipedia Globe. Captain Jack Sparrow costumes are some of the most popular pirate costumes out there, and for good reason: the character, played by Johnny Depp, is nothing short of iconic! Get yourself a pirate beard today.
---
Pirates of the Caribbean Family Costume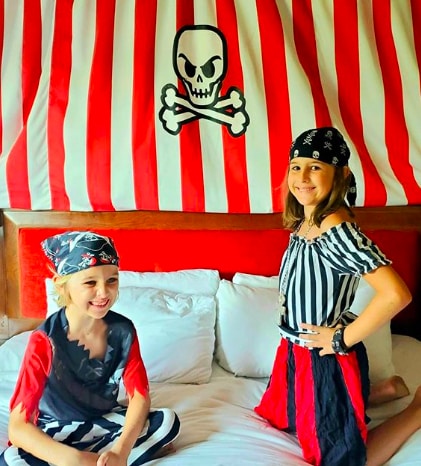 via @thehaasventures on Instagram
Kids love pirate costumes! This means that pirates are the perfect inspiration for your next family costume. Mom and dad can dress up as pirates and put a parrot costume on their little one, or, for older children, the entire family could wear Pirates of the Caribbean costumes! Opt for a simpler costume like in this picture—you can't go wrong with something more comfortable.
---
Women's Pirate Costume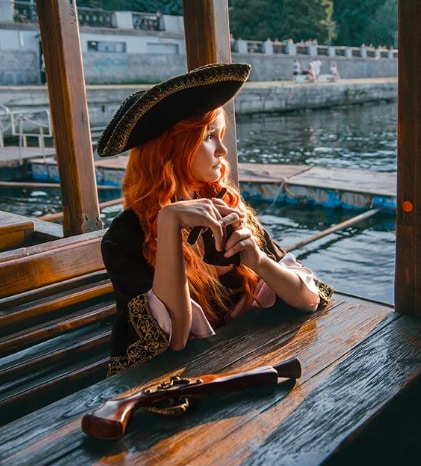 via @tien_zi on Instagram
We love a genderbent costume. This stunning cosplay of Jack Sparrow is an example of a great women's pirate costume! Ladies, why not become a pirate captain yourself? While some will chose to dress up as Elizabeth Swan or as astrologer Carina Smyth, you can become a fearsome pirate with a Pirates of the Caribbean inspired costume. Take this cosplayer's lead and don't forget your bottle of rum!
---
Group Pirate Costume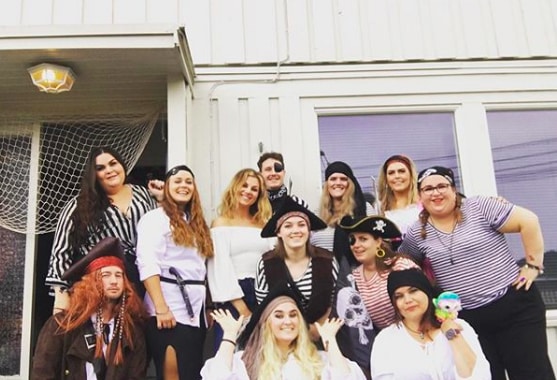 via @linnjbb on Instagram
There's no denying it, costumes are better with friends. Why not opt for a group pirate costume like this amazing group? You're sure to be a hit at any con or Halloween party. Alternatively, dressing up as Will and Elizabeth from Pirates of the Caribbean makes for a great couple's costume.
---
More Pirate Costumes!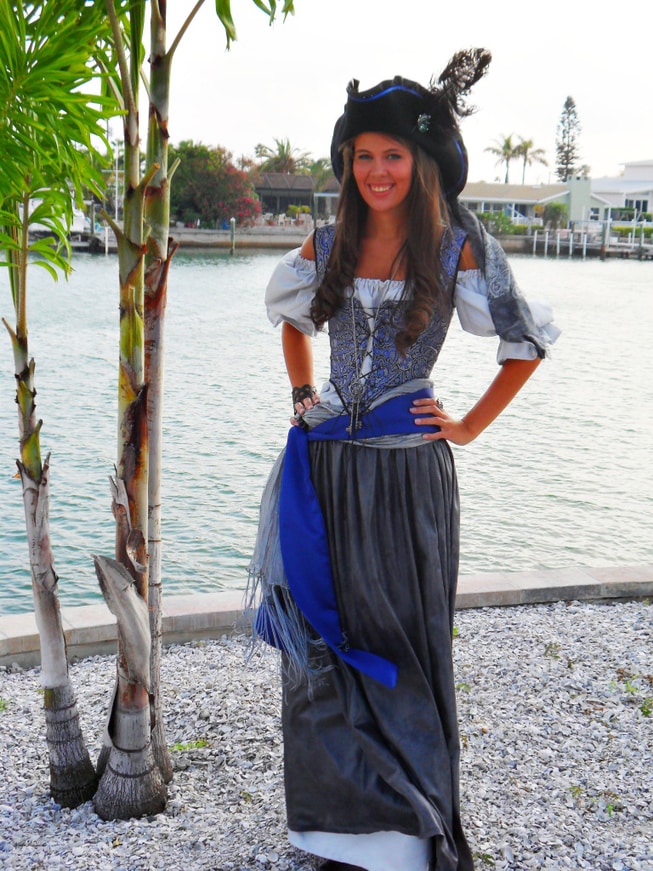 Romantic women's pirate costume / pirate wench costume design by Pieces of Eight Costumes – Source : Brixican on Wikimedia Commons, CC BY-SA 3.0
Of course, no one said your pirate costume had to be a Pirates of the Caribbean Costume! There are loads of other great pirate costumes out there. Get creative, mix and match accessories, and have fun with your costume!
---
Did these pirate costume ideas inspire you? What's your favourite pirate movie? You better find a great pirate costume for Halloween this year—Otherwise you might have to walk the plank!