Posted by Yasmina on 2020 Jul 30th
Trivia: Did you know… that Pixar had to get permission to use the Canadian flag for Duke Caboom?
Go "To Infinity and Beyond" this Halloween in some amazing Toy Story costumes! Everybody loves this story—when you were a kid, did you believe that your toys came to life? Whether you're looking for a Toy Story costume for your child or for yourself, Oya Costumes has everything you need, from Jessie to Mr Potato Head.
Of course, Toy Story is, above all, a tale about friendship, and it only makes sense that you and your friends should do a group costume together. Try a Buzz Lightyear and Woody Costume for best friends, or bring the whole gang together and dress up as a variety of toys for an amazing group Toy Story costume! Take a look at the costume ideas below for even more inspiration!
---
Woody Costume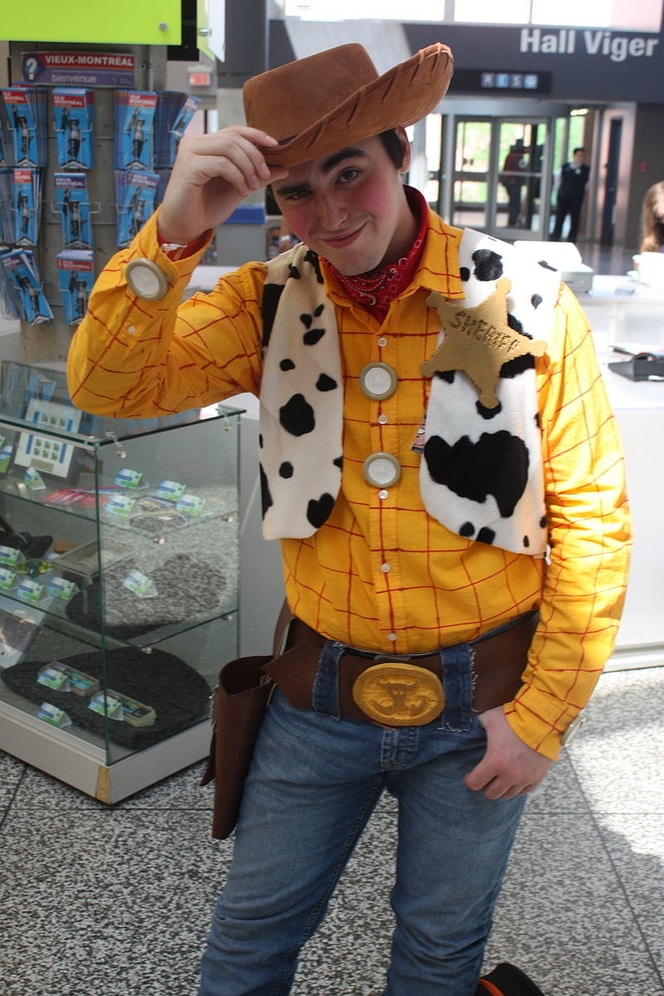 Pikawil from Laval, Canada – Montreal Comiccon 2015: Woody on Wikimedia Commons, CC BY-SA 2.0
Woody is the hero and one of the most iconic characters of the many Toy Story movies. Who knows what amazing adventures you'll have dressed as this savvy sheriff? A typical Woody costume includes a hat, a yellow plaid shirt, a cow print vest and a holster, a sheriff badge, a pair of boots, and a bandana. Check out our cowboy section for everything you need! Partner up with a friend dressed as Buzz for even more fun!
---
Buzz Lightyear Costume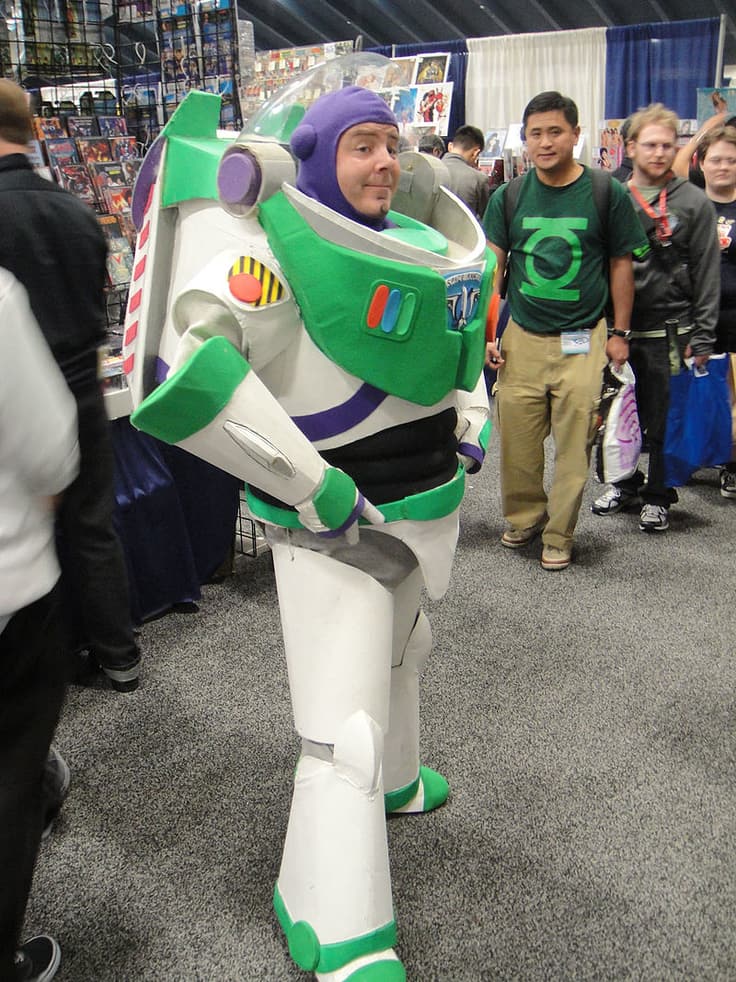 Source: The Conmunity – Pop Culture Geek from Los Angeles, CA, USA on Wikimedia Commons, CC BY 2.0
To infinity and beyond! Buzz is a brave explorer and an amazing friend. Dress up with a super cool Buzz Lightyear costume and have wonderful Toy Story adventures. The officially licensed costume features a white, purple and green astronaut jumpsuit with a purple hood as well as detachable wings. The colourful controls on the front of the suit, while decorative, bring the extra touch that really bring the costume to life.
Trivia: Did you know… that Buzz is named after a famous astronaut?
---
Jessie Toy Story Costume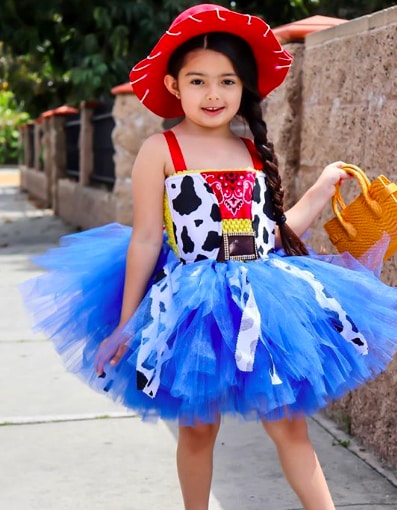 via @eldiariode_marlen on Instagram
This cowgirl is ready for adventure with the rest of her Toy Story friends! With her cow print pants and loud yellow outfit, it's hard to miss Jessie. She's so fun to dress up as! And of course, Toy Story Costumes make perfect group or couples' costumes. Get the gang to dress up as Jessie, Woody, and the rest of Andy's toys and you're sure to make quite an impression!
---
Duke Caboom Costume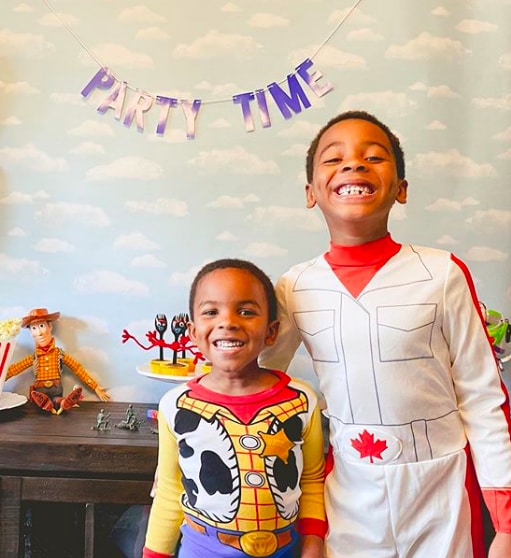 via @waltersdodisney on Instagram
Proud Canadian? Become Toy Story's Duke Caboom in a Duke Caboom Costume! This cool costume usually features the red and white jumpsuit, the matching cape, the maple leaf belt; you can add a faux mustache to really get in character, and the Duke also has a red and white two-piece helmet with a visor.
Trivia: Did you know… that the writers took inspiration from real toys to create the fictional characters?
---
Mr. and Mrs. Potato Head Costume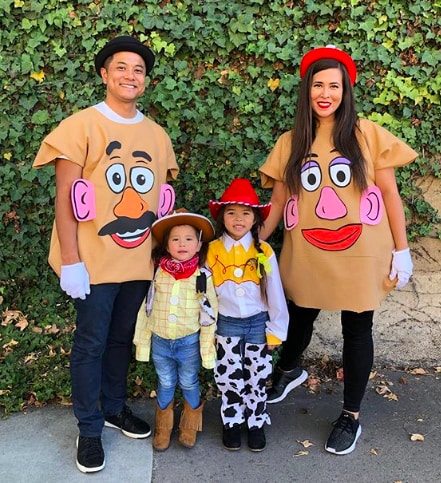 via @sugarandchicshop on Instagram
What could be more fun than a Mr. Potato Head Costume? DIY your cosplay with accessories, or go the inflatable route for a true potato silhouette. Either way, Mr. and Mrs. Potato Head are fan-favourite characters, so you're sure to be a hit! They're also great for couple's costumes.
---
Toy Story never gets old! Which Toy Story costume idea is your favourite? It's such a great idea for a group costume—grab some friends and put yourself out there! Just make sure to freeze when Andy's coming.
You May Also Like
[[1211]]