Posted by Oya on 2020 Jun 28th
Whether you first played the Mario series on your family computer, on your Nintendo or on your Wii console, you probably remember having a great time. Super Mario is one of the most popular video game and has become a total classic over the years. The little red mustachioed man and his green, slightly taller but younger brother Luigi have become easily recognized by the masses and many have tried to do their own version of the characters. Super Mario even had its own show aired in 1989 called the Super Mario Bros Super Show!, created by Steve Binder and John Grusd. Though the main costumes of our favorite characters remained remotely the same over the years, some changes and upgrades of our favorite Super Mario Bros characters have been made by fans or other creators. Here are some of Mario's favorite characters and their inspired costume ideas.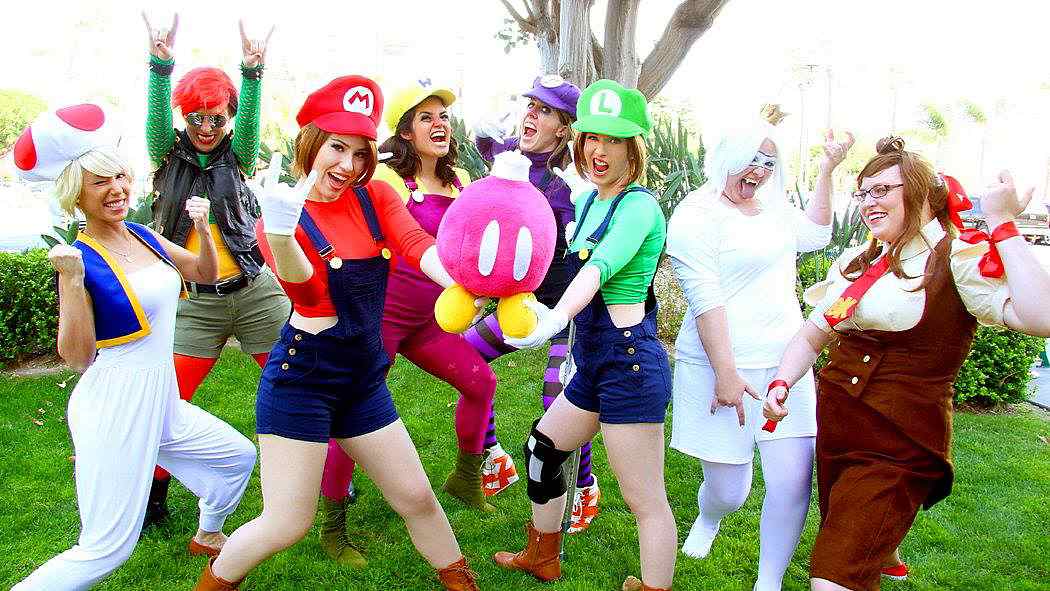 source: Toad (Mario Bros) by Phavorianne | ACParadise.com
Mario & Luigi
Ideal if you want to team up with your siblings or friends, or give a fun twist to your couple themed costume. Luigi and Mario are fighting all their enemies together and never fall apart. Did you know that Luigi's name was found by Miyamoto when he noticed that the America's headquarters in Redmond, Washington was next to a pizza place called "Mario & Luigi's" ?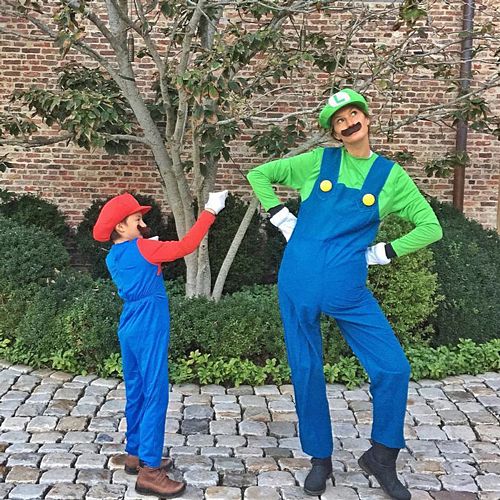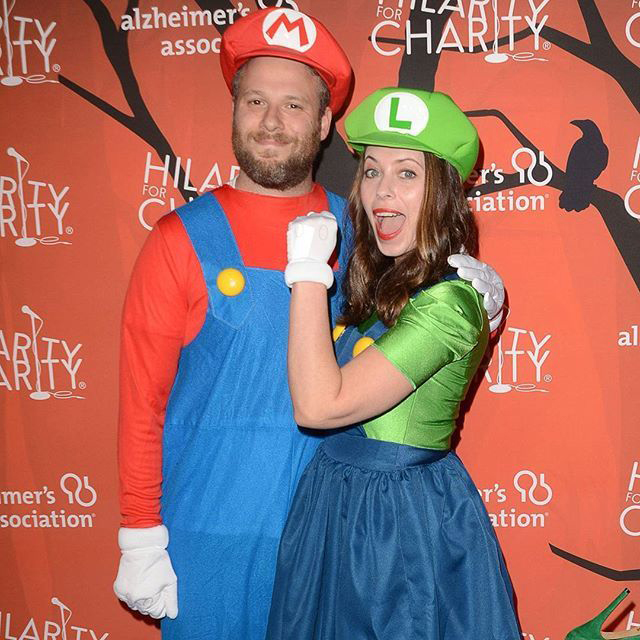 sources:Mario and Luigi --Seth Rogen and wife Lauren Miller | Seth rogen. & Gisele Bündchen Is Luigi to Her Son's Mario for Halloween — See ...
Captain Toad
Captain Toad is the captain of the toads, known in mario as helpful little creatures. He got his own game called "Treasure Tracker" in 2014. What makes Toad the cutest character of the game? Is it the fact that he wobbles side to side like a puppy or is it his cute mushroom innocent-looking head? Either way, Captain Toad has become one of Mario's favorite characters. There are also rumors he might be Princess Peach's Dad, which would make him the mushroom King!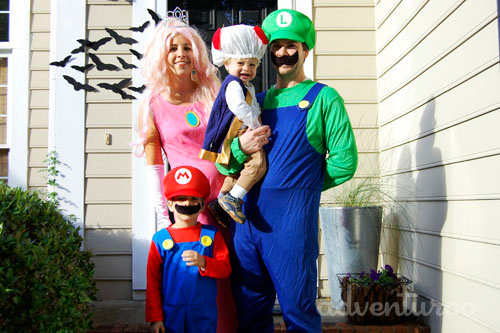 source: A Mario Brothers Halloween - Adventure
Yoshi
Did you know his real name actually is T. Yoshisaur Munchakoopas? Not very practical to display on a Nintendo console. Though it has been reported that Yoshi's predecessors are from the evil underworld, Yoshi seems to be the friendliest character of the game. Did you know that Yoshi's voice in the Super Mario Bros movie from 1993 was done by the same actor who played Fred's voice in Scooby-Doo? Yes, we are talking about the unique Frank Welker! Now we know where his friendly aura comes from.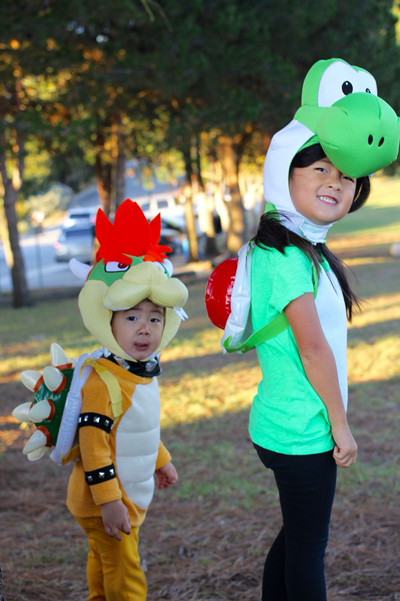 sources: Yoshi and Bowser costume diy (With images) | Mario kart costumes ... & Fun Mario, Peach, and Yoshi Family Costume
Princess Peach
Another princess needs to be saved, but does Peach really need help? The princess is known for owning the power of love with which she can attack, manipulate objects and heal. However, those powers don't make her invincible and she still needs help from her friends when Bowser comes and attacks her. Did you know? Princess Peach has been ranked by Forbes as one of the wealthiest fictional characters. The estimate of her fortune is 1 billion dollars.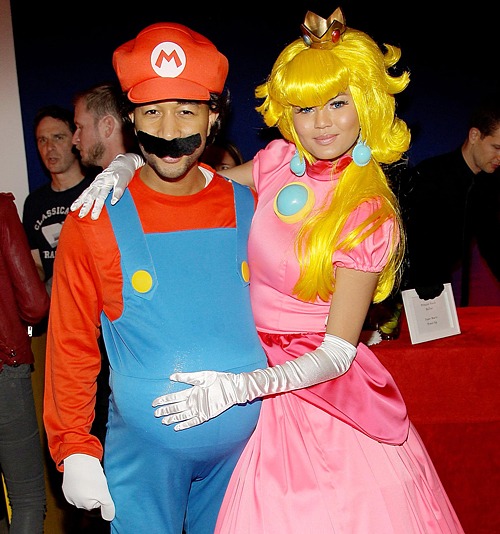 source: Chrissy Teigen's Mario Bros-Themed 28th Birthday Bash: Picture
Donkey Kong
Ironically, Donkey was created before Mario, and it's actually the first Donkey Kong Nintendo arcade game that Mario made his very first appearance to the world as "Mr. Video" or "Jumpman". Donkey Kong was the most complex arcade game at the time because it was the first game to include multiple level stages. The goofy hero inspired by King Kong has also been ranked as the eighth-favorite Nintendo hero by Nintendo Power.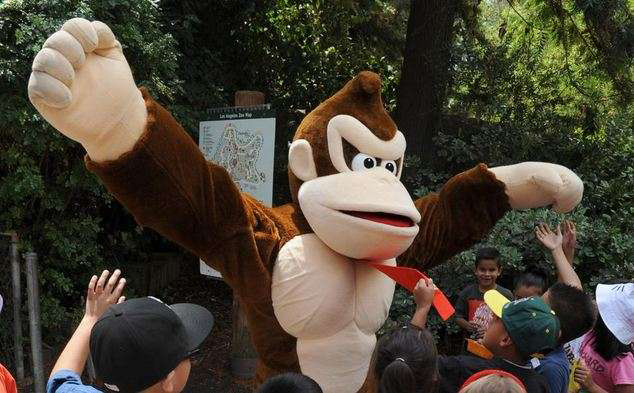 source: Donkey Kong Actor Sues Nintendo - GameSpot
Bowser
No movies or games are done without a villain, and this one is part of the most iconic villains of all times. Bowser, also known as "King of the Koopas'' or "the sorcerer king" is the leader of the Koopas, a fictional race made for the Mario series. He will most likely be the one throwing explosif turtle shells at your car which will make you spin for long enough for you to lose your first place in the race. But like any good villain, Bowser makes the series even more challenging and interesting.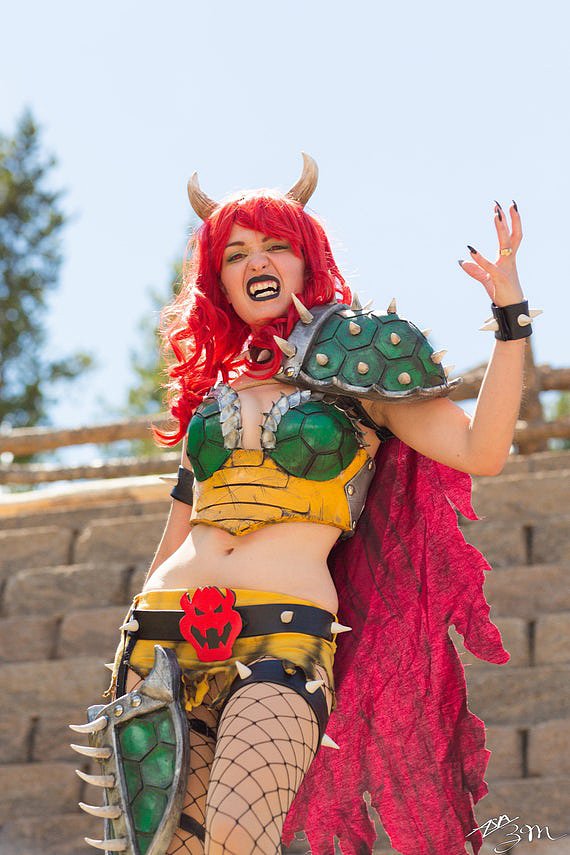 Source: Impression de Cosplay de Bowser Etsy
Wario
Rumor has it that Wario has secretly always been jealous of Mario, which would explain his very similar appearance. Wario is also one of Mario's greatest rival, appearing for the first time in the 1992 Game Boy game Super Mario Land 2: 6 Golden Coins, the character was the final boss of the game. Certainly a great challenge! However, when Wario was first created, he wasn't meant to be a complete villain. This is why you'll see the character switching from bad to good during the game development. You'll also always see him hanging with friend Waluigi - Luigi's rival. Martinet stated that they were "two nice villains meant to find eachother".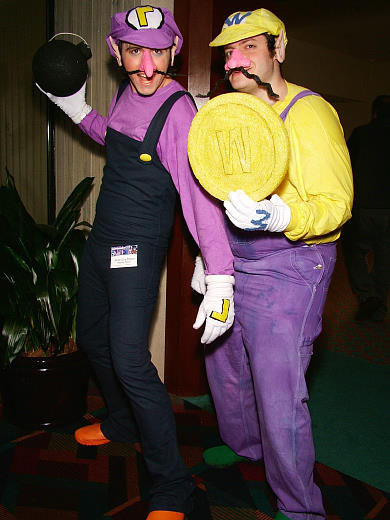 Mognet.net
Rosalina
Princess Peach is no longer the only princess of the game, Rosalina has made her way into the game and also became an iconic character. She resides in the Comet Observatory, from where she watches and protect the cosmos. She also adopted a star called Lumas.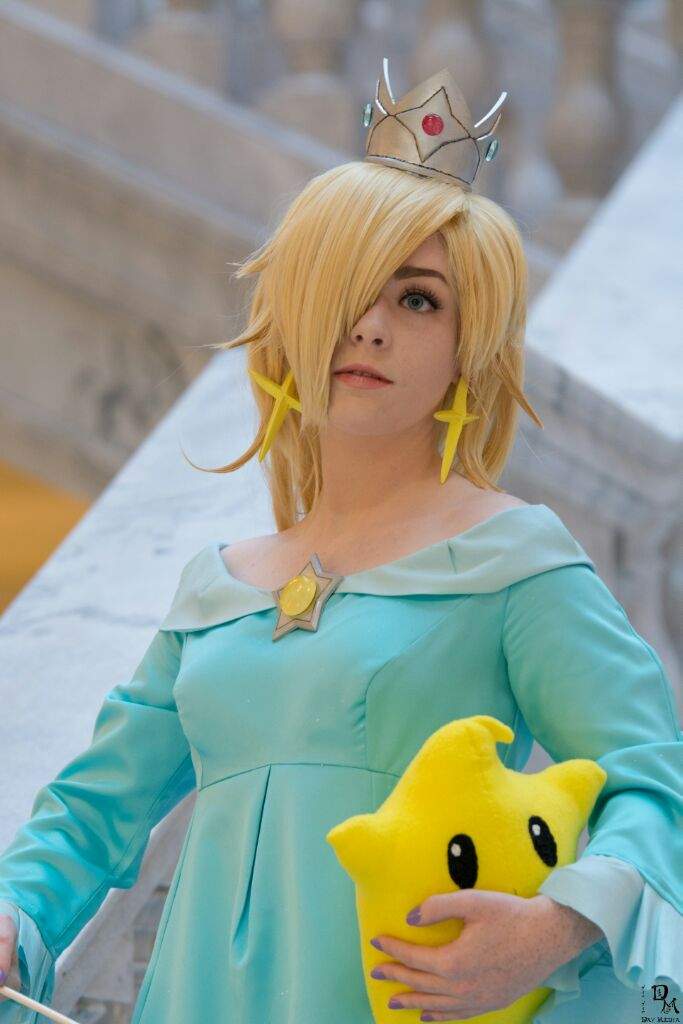 aminoapps.com
The Mario world has grown big and has become internationally recognized. From video games to TV shows, it's a world worth exploring. There are so many treasures to find! With the variety of characters there is from this series, you will surely find one that corresponds to you!
You May Also Like
[[1206]]