Posted by Anabelle Zaluski on 2021 Dec 15th
Netflix's Tiger King gained over 34 million views in its first week! Tiger King costume ideas are all over the map. It's no wonder everybody's talking about it especially with the new series that has come out. Tiger King is the kind of show that you just can't stop thinking about when it's over. Do you need help planning your Tiger King costume? Here are some ideas!
---
Joe Exotic Costume
"I'm Joe Exotic, otherwise known as the Tiger King, the gay, gun-carrying redneck with a mullet."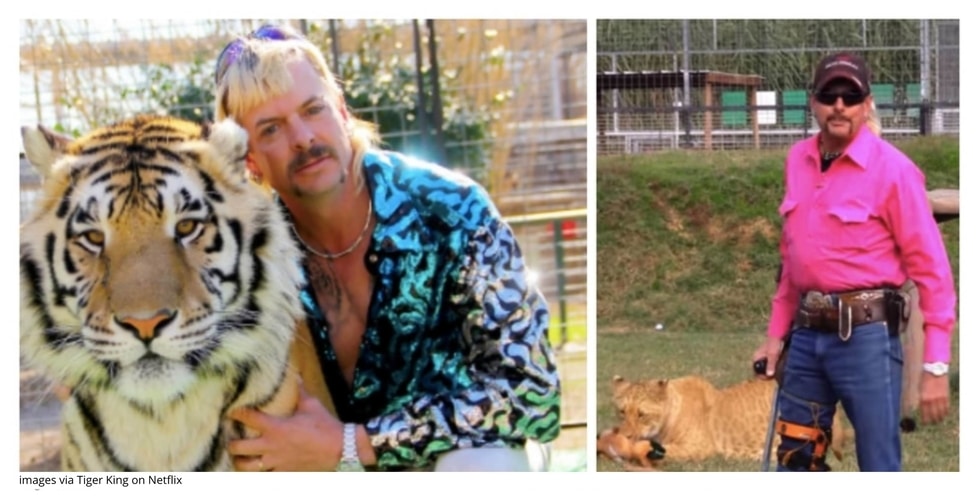 Joe Exotic is of course the most iconic character in the show. It was impossible to look away from his crazy personality, and even harder to look away from his even crazier lifestyle! The good news is that you can look like Joe without all the consequences. With bright and shiny shirts, a bleach blonde mullet, and a perfectly groomed handlebar moustache, you can make an easy Joe Exotic costume in no time at all!
We have tons of Joe Exotic metallic shirts, like this blue Tiger King shirt and this gold Tiger King shirt! For a super easy Tiger King costume, we even have a Joe Exotic costume set.
---
Carole Baskin Costume
"I've never been a person that had friends, and so my friends were two imaginary white cats."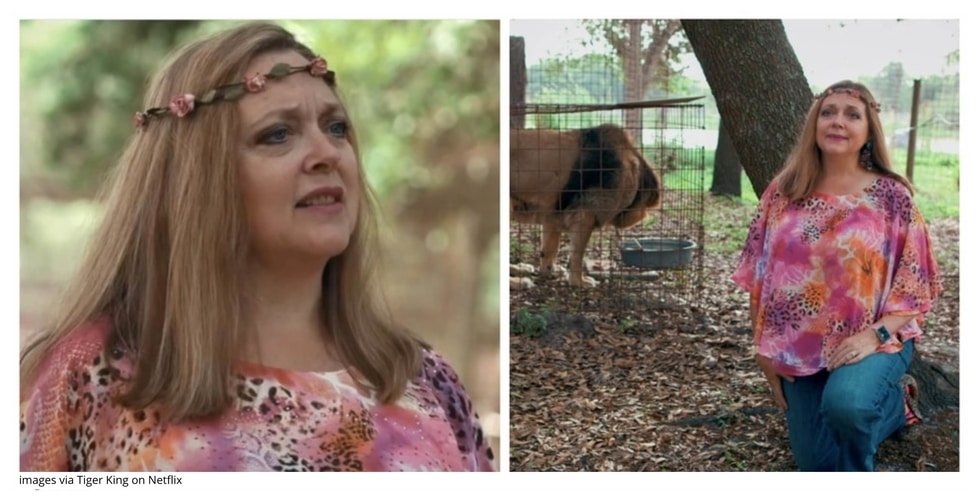 Whether or not you believe Carole Baskin killed her husband, you can't deny that she was fun to watch on the screen. She brought some hippie chic to the show: long blonde hair, flower crown, and animal print on everything she wore. Here's how to put together an easy Carole Baskin costume!
If you're looking for an exact Carole Baskin costume match, we have her iconic pink leopard shirt!
---
John Finlay Costume
"There's gonna be a loser in every situation that happens and they were the ones that ultimately lost everything."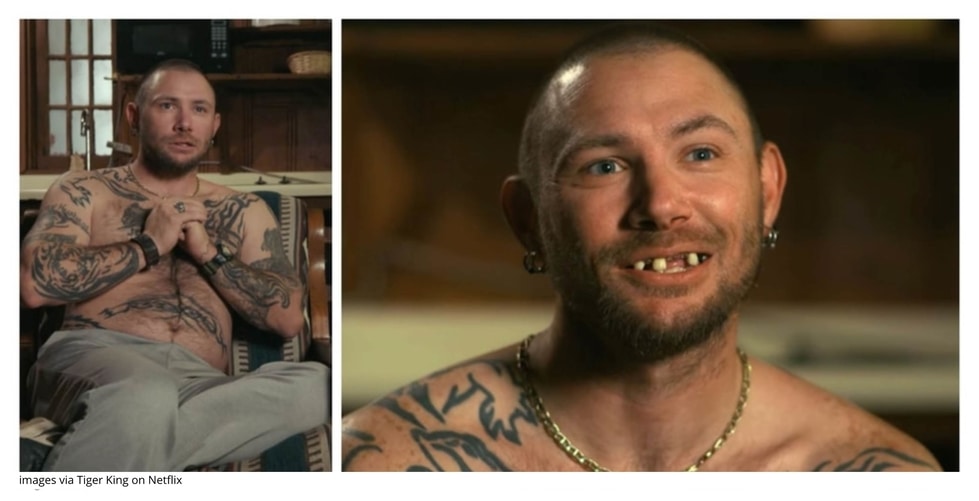 Are you glad that John Finlay finally got away from Joe in the end ? A nice guy who seemed to have gotten caught in the wrong crowd, John stole the show by recording all his interviews without a shirt on. This makes his costume even easier, because all you need are some fake tattoos and a gold chain. And don't forget to knock out a few teeth! Don't worry, we have mouth pieces for that. Here's what you need for an easy John Finlay costume.
Jeff Lowe Costume
"If you're gonna bring in [a nanny], why not bring in one that's enjoyable to look at?"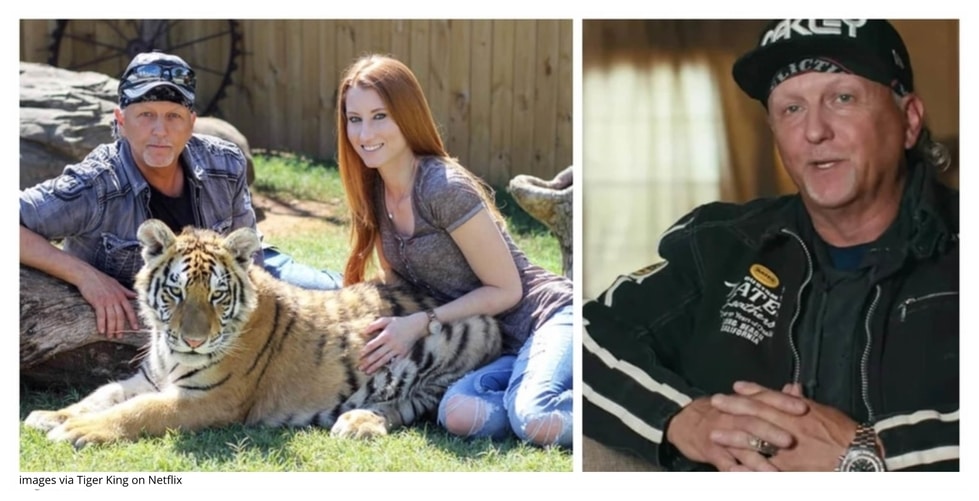 With every episode of Tiger King, Jeff Lowe just got scummier and scummier. He and his wife seemed to do whatever they could to make a little money, and while they were at it, help ruin Joe's career. But whether you're by yourself or have someone to do a couple's costume with you, this easy Jeff Lowe costume will be sure to turn heads on Halloween!
---
Doc Antle Costume
"It's not a job, it's a lifestyle."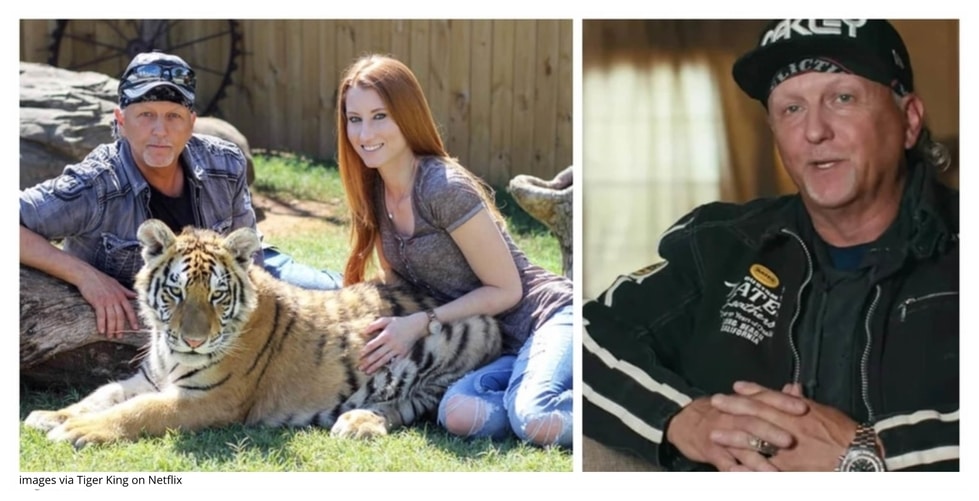 Doc spent his days on Tiger King living peacefully with his many girlfriends on his wildlife park… or did he? Peaceful might not be the right word for it, but Doc still brought extra spice to the show by competing in the Tiger King industry and always stirring the pot. He's got a specific, safari-inspired look that makes for an easy Doc Antle costume!
---
Tiger King Tiger Costume
"Rawr."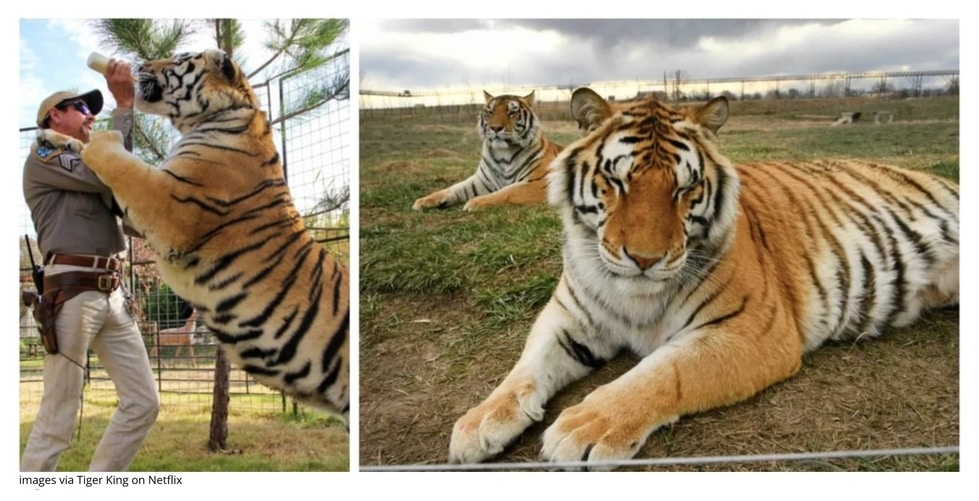 A show can't be called Tiger King if it doesn't have any tigers! The same can be said for your Halloween costume. Maybe you'll dress up as the one who tried to eat Saf's hand, or the one who bit Joe on the ankle and wouldn't let go. However feisty you decide to be, here's an easy Tiger King tiger costume for your next Halloween party.
---
Whether you're going alone, doing a Joe Exotic and John Finlay couples costume, or getting together with your friends for a Tiger King group costume or viewing party, we've got everything you need. You and your friends will be the coolest cats and kittens at your next Halloween party!
You May Also Like
[[1362]]