Posted by Elspeth Wright on 2020 Jun 29th
The Masked Singer has taken the world by storm! With three seasons under its belt (and more to come), this unique show dazzles viewers with its exciting performances and charming judges. But the real star? The costumes! From mascots to princesses to animals galore, Marina Toybina designs costumes like no other. It's hard to take your eyes off them! These costumes might be extravagant, but they're not hard to recreate at home. Here are seven Masked Singer costume ideas to inspire you. This post might contain some spoilers—consider yourself warned!
---
Leopard Queen
image via instagram.com/maskedsingerfox
In season 2, Toybina created this royal leopard masterpiece. About making the costume, she said, "I wanted to create something that was Victorian and was vintage and did have this big presence onstage." It's safe to say Toybina more than achieved her goal of creating something with "big presence." This look seems to come from a mascot cat fairy-tale world that we'd love to be a part of.
---
Boxer Kangaroo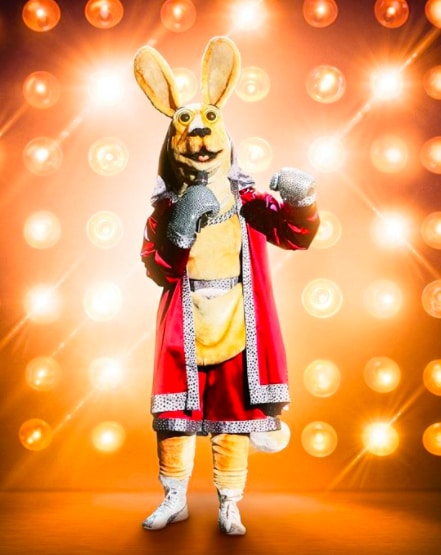 image via instagram.com/maskedsingerfox
Season 3 brought Jordyn Woods to the stage for redemption. Before the show, she said she wanted to "bounce back" after a huge scandal with the Kardashians thrust her into the spotlight for, as she says, "all the wrong reasons." While some may choose to return to the spotlight in a fashionable dress, or with a "revenge bod"… Jordyn made her return in this fun and feisty boxing kangaroo outfit. We love it!
---
Steampunk Fox
image via instagram.com/maskedsingerfox
Who doesn't love a good steampunk costume? This steampunk fox mascot from season 2 is absolutely fantastic and fun! Of this look, Toybina said, "We try to be as experimental as possible." We hope she continues to be experimental because we can't get enough of this!
---
Funky Flamingo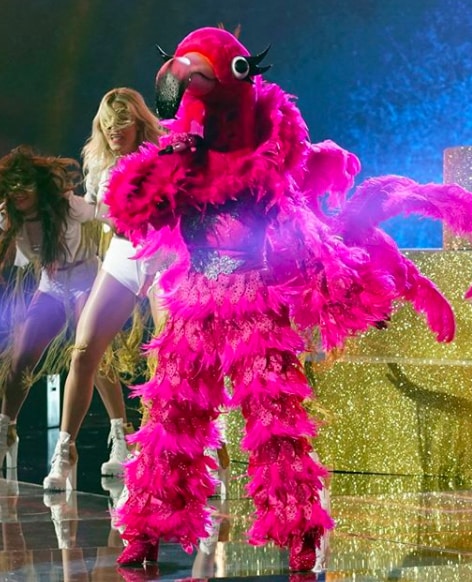 image via instagram.com/maskedsingerfox
What's more fun that this hot pink feather-filled flamingo costume? Toybina created this costume to completely confuse the judges—and audience—by making the singer look six inches taller. Of the mascot-inspired costume, Toybina said, "It becomes even more of a guessing game." We love it when she keeps us guessing.
---
Street-Style Dog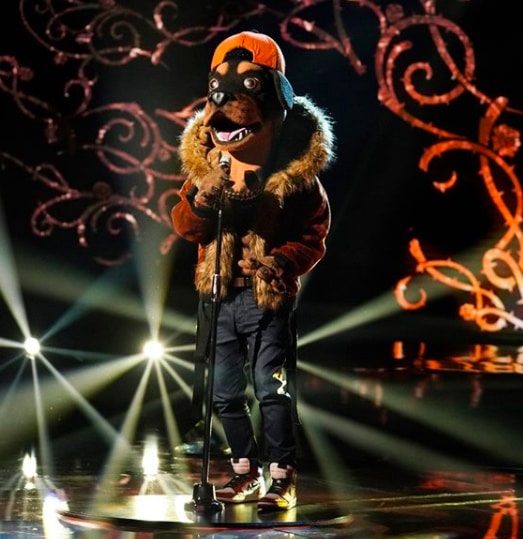 image via instagram.com/maskedsingerfox
This street-style look was created for a performer who really wanted to be able to move and dance while keeping their face covered. When reflecting on the look, Toybina said: "The street-inspired route was the perfect way to go, so that there is mobility and accessibility to the costume, but then the mask itself carries the character." What a great idea! This dog costume is so cute and makes a statement.
---

T-Rex Shakespeare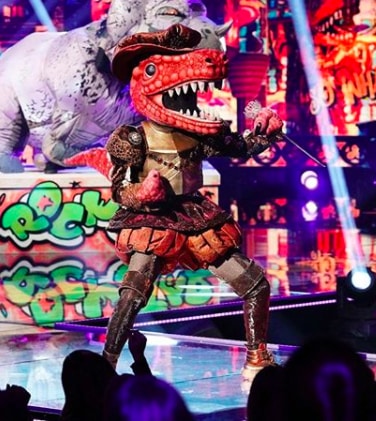 image via instagram.com/maskedsingerfox
Styled with tongue-in-cheek whimsy, this look goes back in time in a lot of ways. Charming young YouTube icon Jojo Siwa wowed in this dinosaur mascot costume, inspired by a "cataclysmic event changed my world forever." Is she talking about the extinction of the dinosaurs, or being on the show. Either way, we love it!
---

Mouse Princess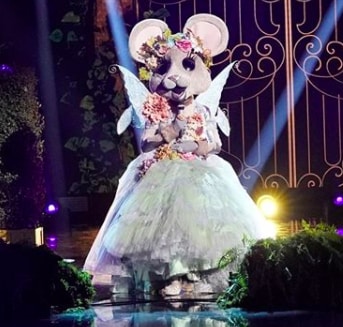 image via instagram.com/maskedsingerfox
Before being unveiled as icon Dionne Warwick, this mouse gave us a hint: it will never accept "anything less than gold"! That attitude shines through with this beautiful look fit for a princess. This fairy tale mouse stole our hearts, and is one of our favourites from season 3!
---
Every costume on The Masked Singer is full of creativity and thought. It totally inspires us to get as imaginative as possible when it come to putting together fun and inventive costumes. It was so hard to chose just seven costumes that we love. Do you agree with our choices? What was your favourite costume, and how would you create it using Oya Costumes? Use our search function to find everything you need!