Posted by Yasmina on 2020 Aug 17th
Elastigirl was front and centre in this new Incredibles movie, and here at Oya Costumes, we loved it! 14 years is a long time to wait for a sequel, but we weren't disappointed—plus, a new Incredibles movie means that this Halloween is the perfect time to dress up in an Incredibles costume!
---
Women in the Spotlight!
Source: Michael Ocampo from United States – FanimeCon 2018 512 on Wikimedia Commons, CC BY 2.0
Today, movies like this year's Captain Marvel which featured a strong, independent female hero, or this year's Deadpool 2, which broke the fourth wall and quite a few superhero movie conventions, and of course Black Panther, starring not only a black superhero, but also an inspiring cast of strong, no-nonsense female characters, seem like a breath of fresh air. The original Incredibles movie already had strong female characters—Elastigirl's character hasn't really changed since 2004—but this time, they really get to shine.
This is especially important when you think about what kind of role models these movies provide for young audiences. Of course, children and adults alike are excited to see this long-awaited Incredibles sequel, as fans who were children in 2004 have now grown up, but Incredibles II remains a family movie. Movies like this one teach children that both little boys and little girls can put on a superhero costume, and that it doesn't matter whether Mom has the cool job while Dad stays at home, or vice versa.
---
No Capes!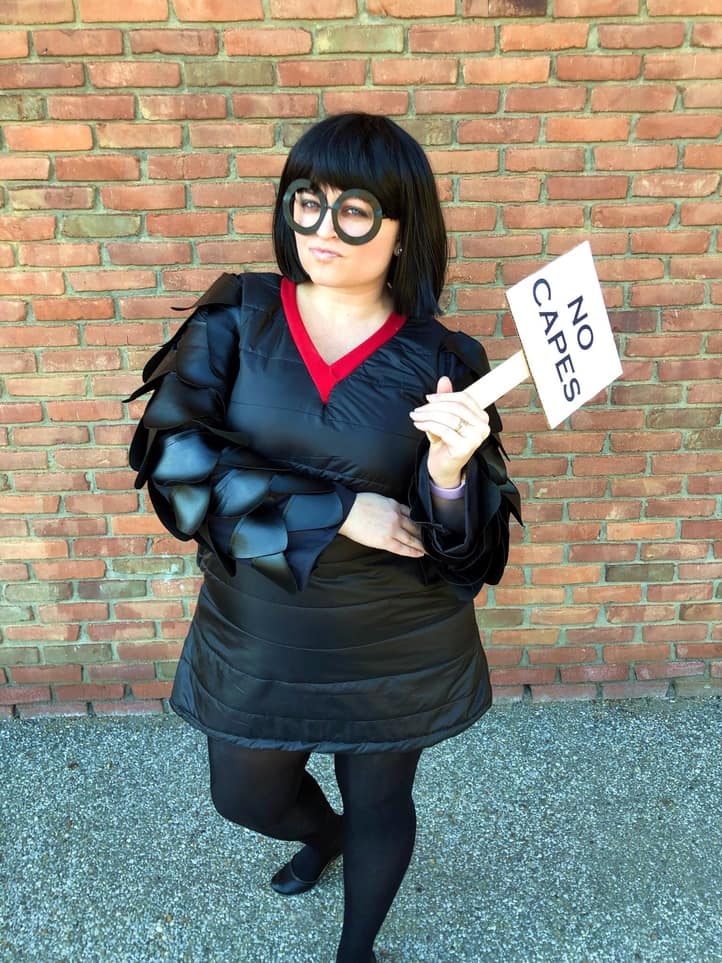 Source: handmadekaty on Reddit
It's been too long, dahling! Voiced by director Jack Bird himself, Edna Mode has become one of the most iconic Pixar characters of all time. If anything, you probably remember her from her motto ("No capes!"), or the oh-so-quotable scene where she motivates Elastigirl ("My God, pull yourself together! You are Elastigirl!"). In the new movie, we learn that the superhero costume designer is of Japanese-German descent, and fans look forward to learning more about her. Not to mention, she's not the one designing Elastigirl's superhero costume this time, which brings an interesting kind of rivalry to the movie.
---
Honey, Where's My Supersuit?
Source: TheBigN2007 from DMV, USA on Wikimedia Commons, CC BY-SA 2.0
He finally found his supersuit! Although it doesn't look like Honey is going to let her super-husband off the hook that easily, as we hear her yelling "Where are you going, ASAP? You better be back, ASAP!" in the trailer for The Incredibles II. Voiced by Samuel L. Jackson, Frozone is a fan favourite, and one that everyone is looking forward to seeing on our screens again—in normal clothes or in a superhero costume.
---
New Costumes!
Source: Chris Hunkeler from Carlsbad, California, USA on Wikimedia Commons, CC BY-SA 2.0
Speaking of supersuits, the Incredibles costumes are looking pretty good! They redesigned and updated Elastigirl's superhero costume, of course, but hard work and dedication went into all the costumes. An amazing team of designers, including Bryn Imagire, Fran Kalal and Deanna Marsigliese, worked on the costumes for this new Incredibles movie. Their inspiration? Edna Mode, dahling. Obviously. For a female-fronted movie, this team of female designers couldn't have been more perfect.
An article by Tony Bravo for the San Francisco Chronicle explains that "Like couturier Edna Mode, Kalal says that when designing for the film, the team thinks of the superpowered family and other heroic characters as "high-performance athletes." In a film world dominated by superhero movies from Marvel and DC Comics that frequently feature heroines fighting bad guys in little more than a bustier and bracelets, it's a novel and practical idea.
---
Stay at Home Dad?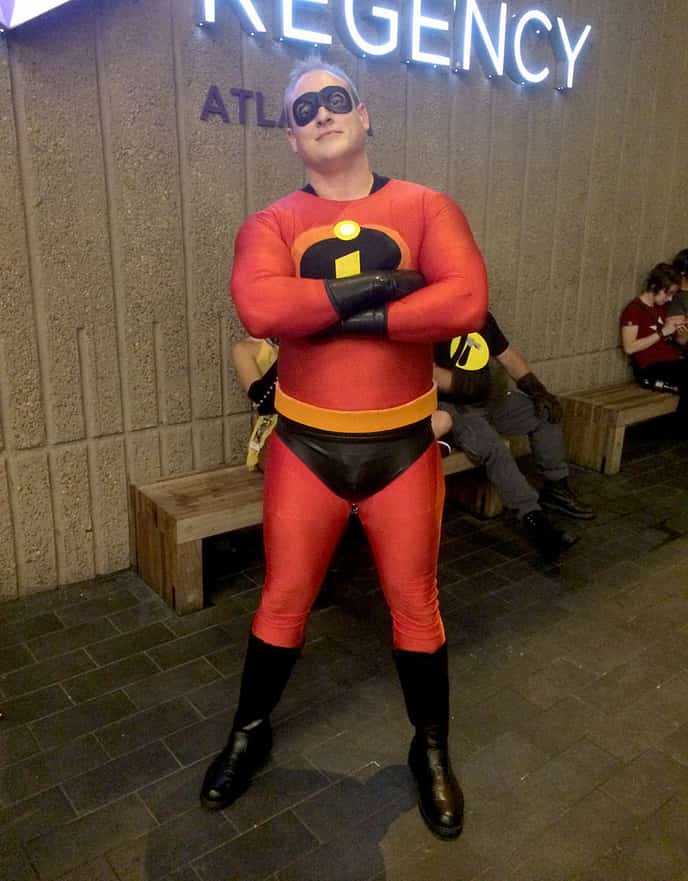 Source: Amy from United States – Dragon Con Cosplay – Mr. Incredible, on Wikimedia Commons, CC BY 2.0
Elastigirl's new job includes motorcycle chases and other impressive hero antics. Meanwhile, Mr. Incredible puts aside his superhero costume to take care of the children. From math homework to an uncontrollable superpowered baby, will he be in over his head? In any case, judging by the Incredibles II trailer, seeing Mr. Incredible as an Incredible Dad is sure to be entertaining. As Edna Mode puts it "parenting done right is a heroic act"!
---
Do you like the first Incredibles movie better, or the sequel? They're both pretty amazing. Check out our superhero costumes and start saving the world this Halloween!
You May Also Like
[[1178]]