Posted by Anabelle Zaluski on 2021 Dec 17th
It's hard to believe that the Roaring 20s were 100 years ago! This decade marked an important time in history in so many ways: the end of the first World War, the beginning of female independence, and jazz!
To celebrate this amazing decade, why not dress up and party like we're still in it? Take a look at our 10 favourite flapper and dapper costumes inspired by the Roaring 20s!
---
1. The Greatest Gatsby!
This costume is inspired by the famous book and movie The Great Gatsby! It stuns in black and gold with a classic, fringe. The long black gloves and shin-length fringe really pull the costume together! Party throwers love these 20s themes!
---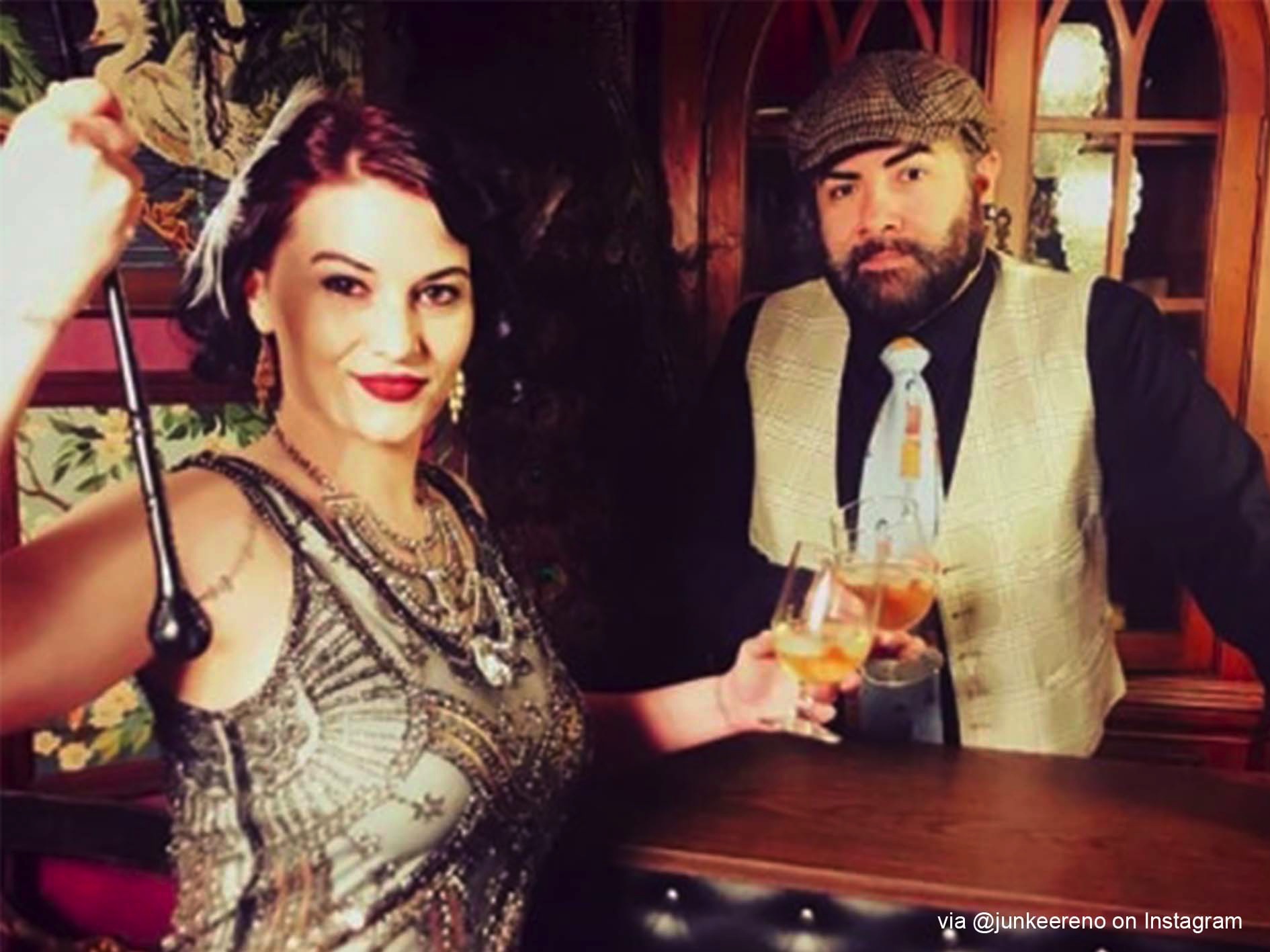 These bartenders have the perfect 20s look! Alcohol was actually illegal in the US during this era, but that never stopped people from having a good time. Try some classic cocktails like "Hanky Panky," "Royal Hawaiian," and "Mimosa"! And don't forget costume details like a newsboy cap or jewelry.
---
3. Two's Company!
For your next 1920s themed party, grab your best friend and plan costumes together! This pair looks stunning with their classic sparkly headbands and shiny dresses. Costumes don't have to be complicated to look good!
---
4. Casual Friday!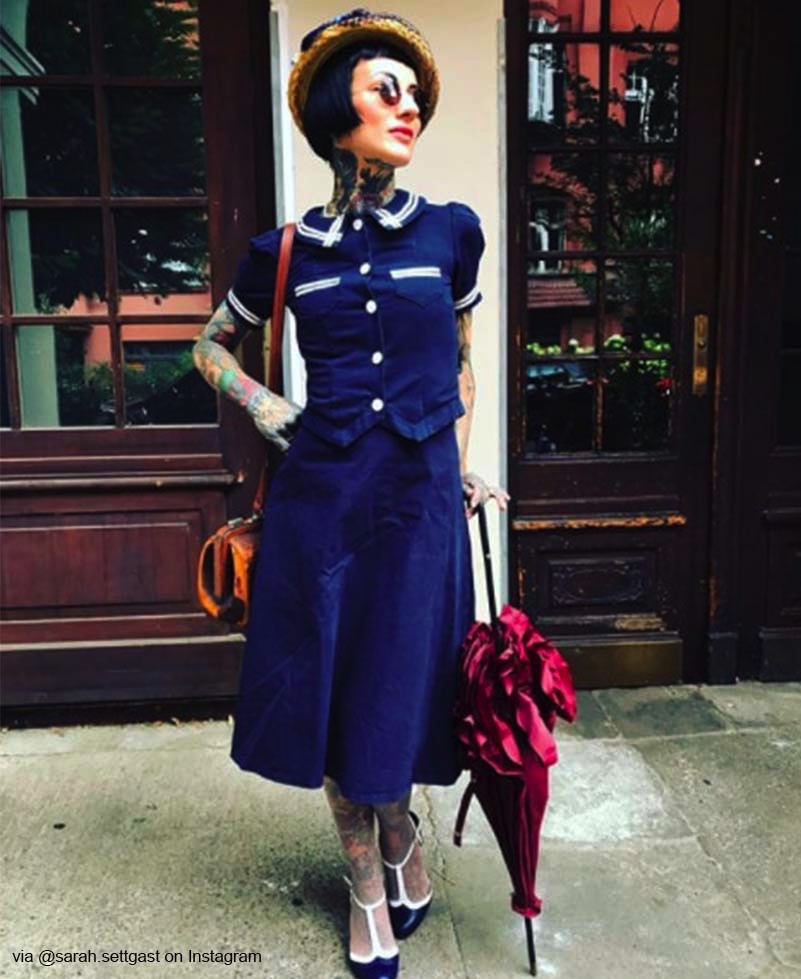 Why not bring the Roaring 20s to the streets? This person looks amazing in their casual matching shirt and skirt. You can wear each piece on its own, or together for an amazing costume! Add accessories like round sunglasses, chic heels, or a leather bag to bring this look to life.
---
5. Fantastic Fringe!
This 20s flapper costume is glam and modern! The sparkly fringe will bring shine to every party, and so will these amazing shoes. This look proves that you don't need to go all the way when dressing up. Even with long hair and limited accessories, your costume can steal the show!
---
6. Group Costume Couture!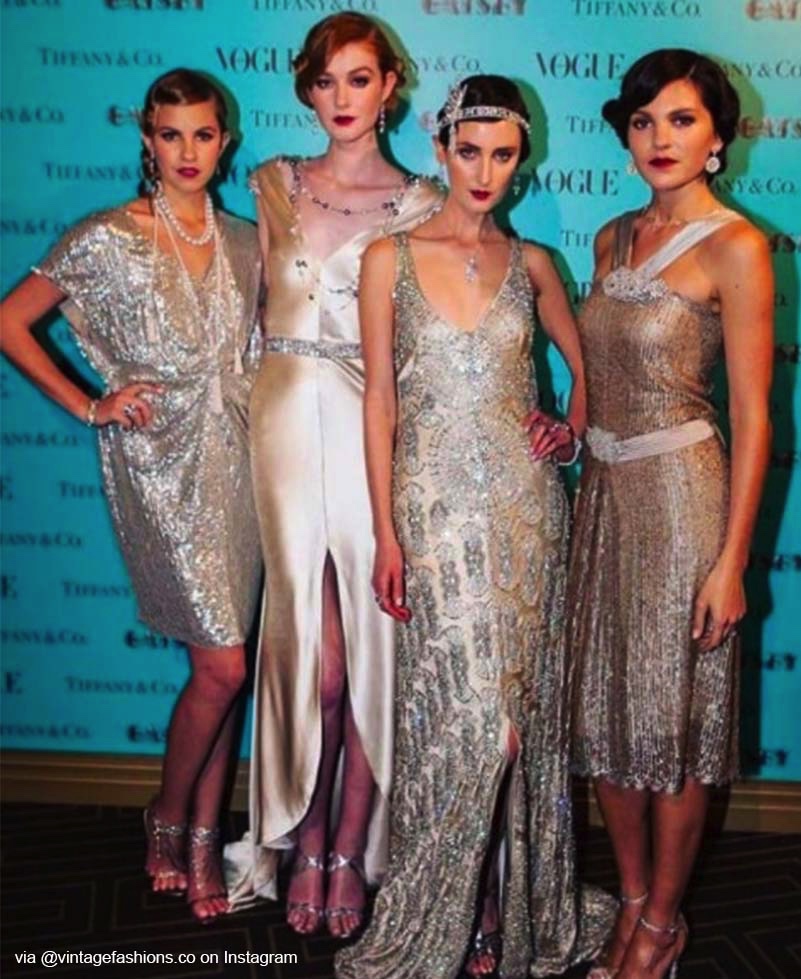 Do you have a group of friends to dress up with? Check out these classy ladies! They match colour pallets and hairstyles while still keeping their unique individual looks. Try a long heavy dress or a shorter flapper-style look. The silver is stunning for these costumes, but gold, black, or white would look just as glam!
---
7. Funky Photobooth!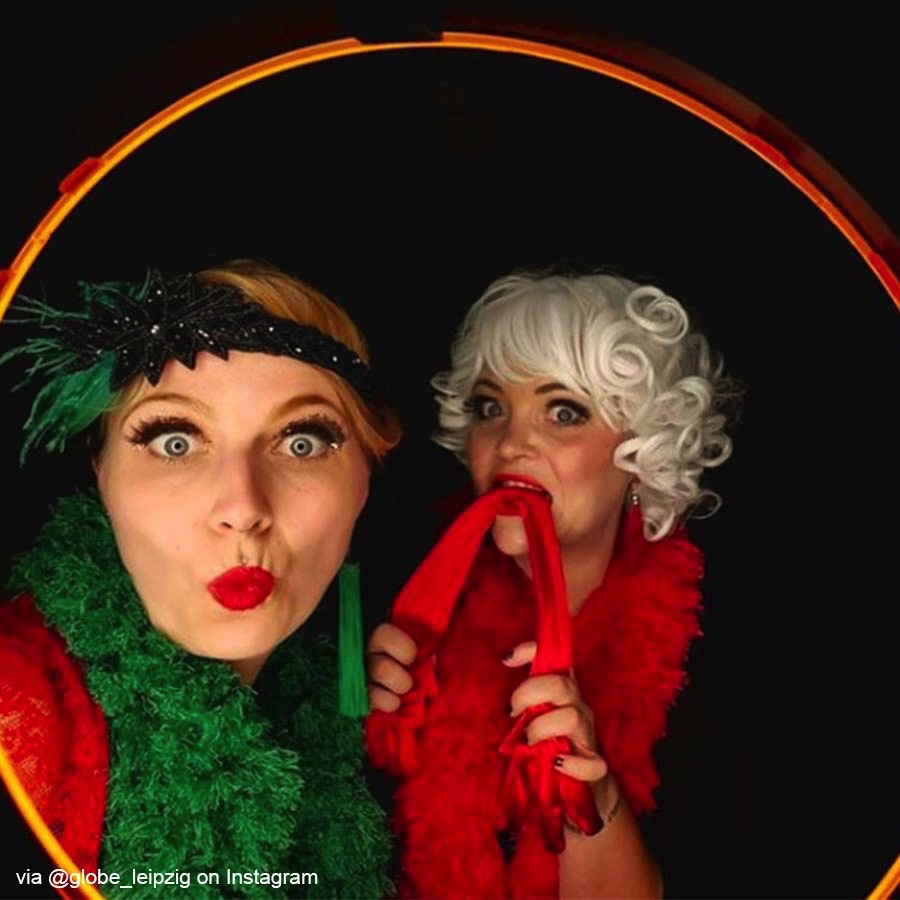 Are you a party host? Create a fun 20s themed photobooth for your next get-together! You don't even need a fancy camera to have fun. Get a plain or sparkly backdrop, a round frame like the picture on the left, and different props like boas. Your guests can get fun pictures of their costumes for free!
---
8. Cute Couple!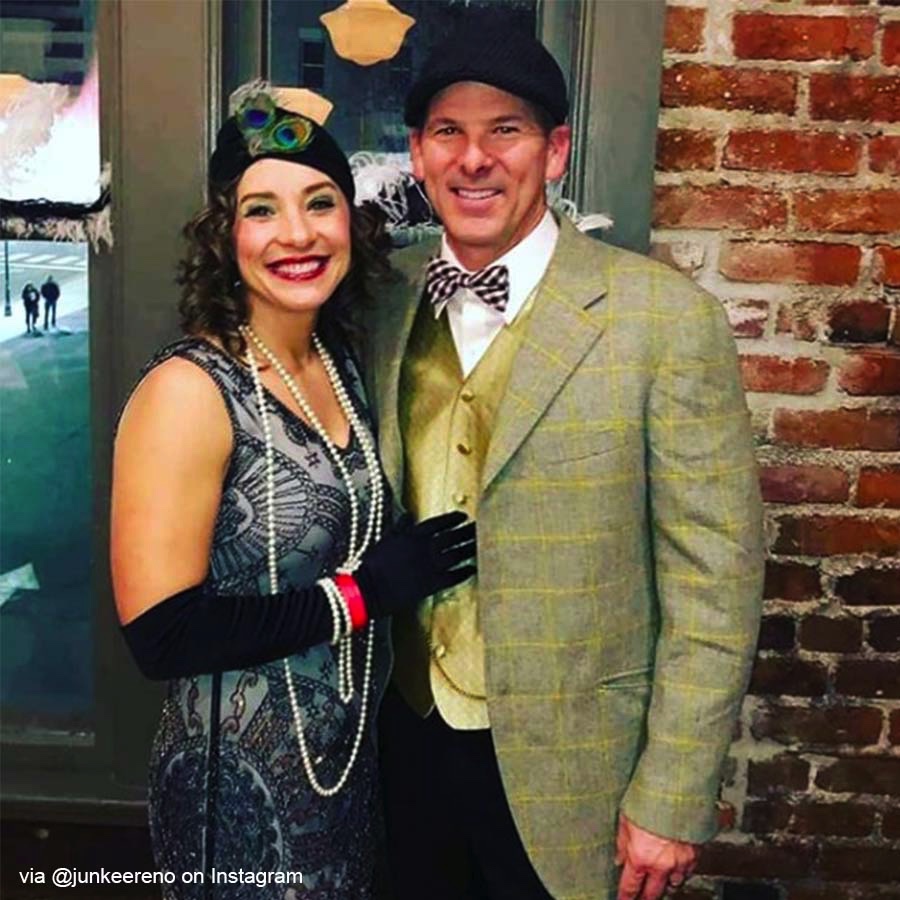 Are you in a relationship? Coordinate your costumes to match and you can be the hottest couple at the party! Use black and white tones, gold and silver, or match colours with each other. Together you can look chic and coordinated without too much effort!
---
9. Pretty in Pink!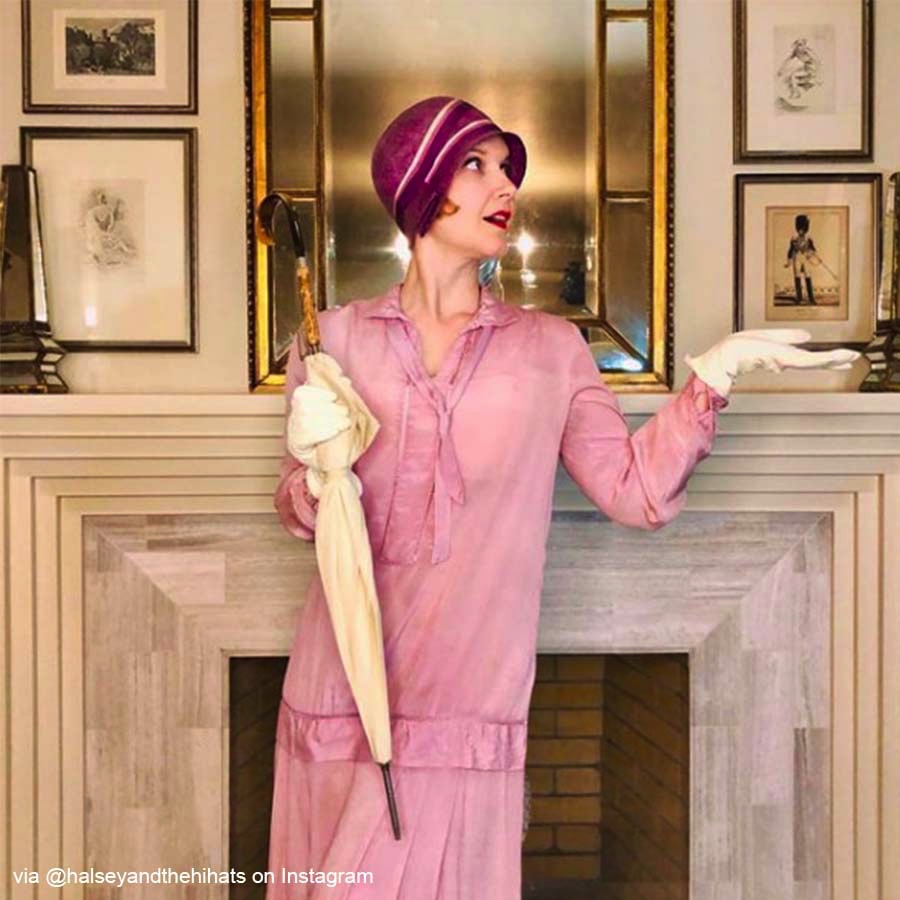 If you like to keep it classy, check out this beautiful pink costume! The drop waist suits any body type and will be comfortable the whole evening. This is a more modest costume for anyone who prefers to cover up. The bright pink hat and fun umbrella still keep this look fun and exciting!
---
10. A Glam Group!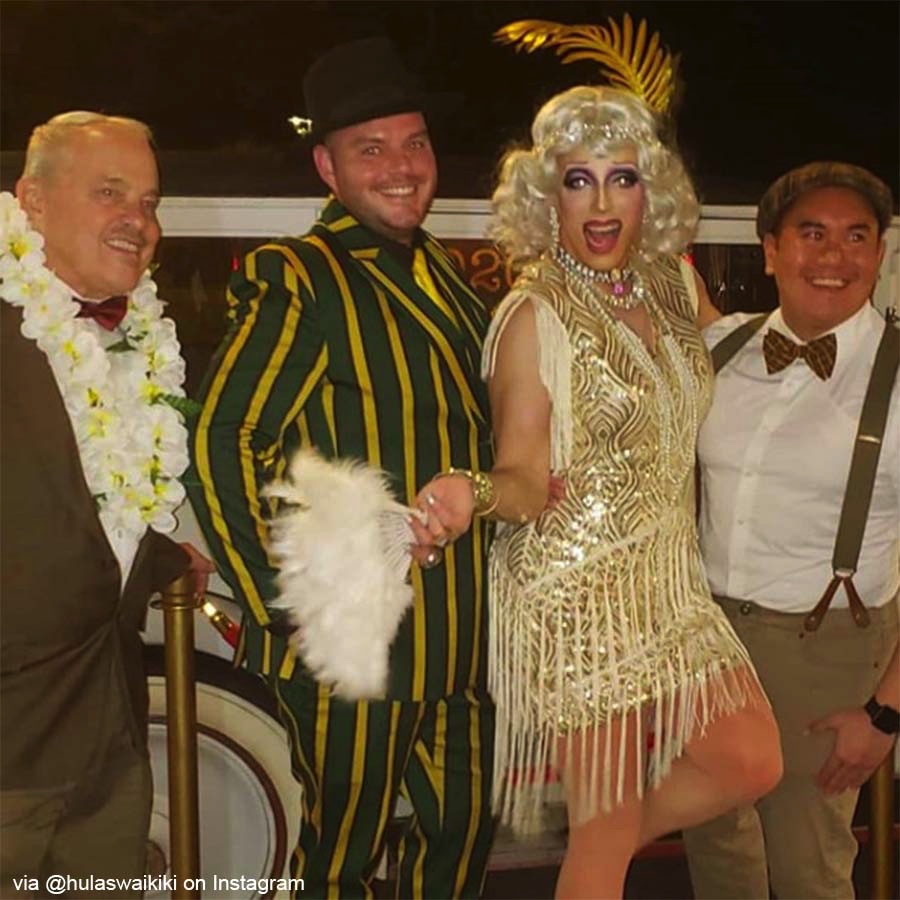 This crew is stunning and diverse with their costumes! From stripy suits to funky flapper dresses, they've got it all. The suit and suspender looks are also amazing! Every group costume needs a little spice, and this group nails it. Grab accessories like a lei or feather fascinator and get the party going! You don't have to match at all to look good.
---
Did these costumes inspire you? Don't forget to check out our 20s flapper costumes to get your own!
You May Also Like
[[1141]]