Posted by Anand Ingle on 2020 Sep 2nd
Ah, yes. Halloween! That time of the year when you can dress up & transform into a character you've always wanted to. Be it the latest movie sensation Black Panther, the famous singer Katy Perry or go classic by transforming yourself into a vampire, you can become anyone this Halloween because at Oya Costumes, we have the best adult Halloween costumes for you to be incognito at this year's parties, gatherings, and trick-or-treating events.
Take a look at these bestselling costumes for Halloween that may help find you your perfect Halloween look!
---
Killer Nun Costume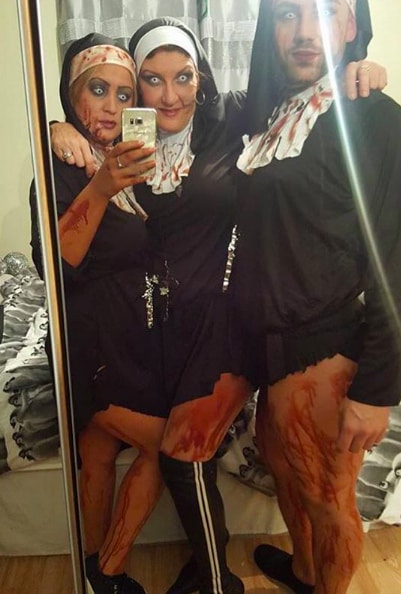 via @rhi.rogersx on Instagram
Transform into the nun of everyone's worst nightmares with this Killer Nun costume. It features a spooky tattered dress with bloody handprints and splatters on the front of the dress and on the cuffs, as well as a nun habit. Everyone is bound to be terrified when you enter the room wearing this spooky & eerie Killer Nun Adult Halloween costume.
---
Vampire Groom Costume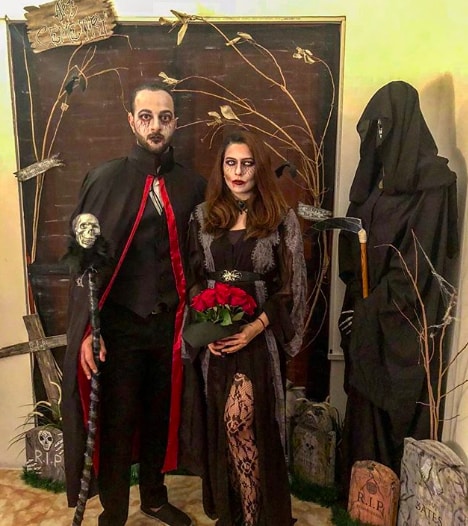 via @bishen7 on Instagram
You can make love last forever with this spooky yet elegant Vampire costume. Thanks to this incredible Victorian-inspired design, this costume will be a real hit wherever you go on Halloween night. This adult Halloween costume includes a black, velvet jacket with high stand-up collar and white decorative trimming, a black and red brocade vest & a stylish black cravat. It also comes with a long, flowing cape with matching colors, a black hat with a red band & stunning button chains.
---
Deadpool Costume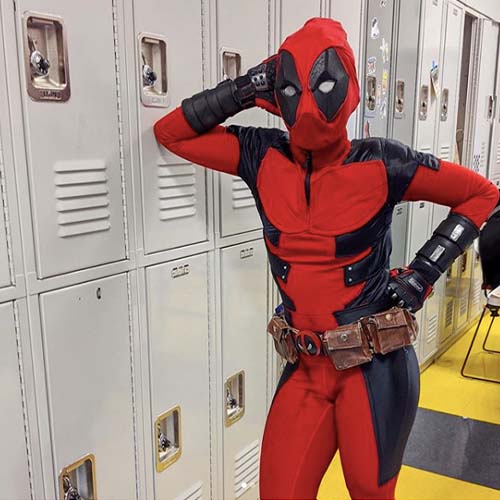 via @lohrhunter7 on Instagram
Do you have that urge to become a funny yet powerful superhero? Or want to desperately apologize to Wolverine? Then this Deadpool costume will perfectly suit you. This Marvel official license deluxe costume features a red and black jumpsuit with chest and arms, pocket & a belt. It also features a red and black mask that hides your identity and makes you ready to perform your duties. Also, you can add the Deadpool weapons to complete this superhero look.

---
Sally Women's Costume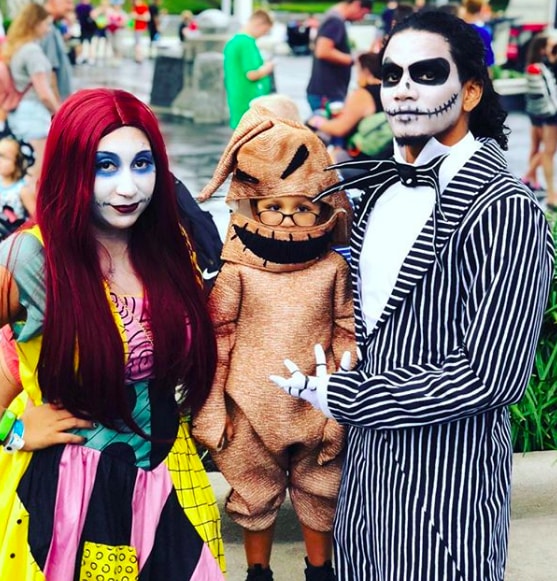 via @_dominicsadventures_ on Instagram
Sally stands tall with the confidence that she's looking good in this red wig and patchwork dress. This adult Sally costume comes as a dress with patchwork detail in front. It has mismatched short sleeves, one longer than the other, and a jagged hem. This eerie dress is ready for anything, right from saving Santa from his nightmare to a duet in a cemetery with any object of your affection. This costume will certainly give others the chill this Halloween night.
---
Black Panther Costume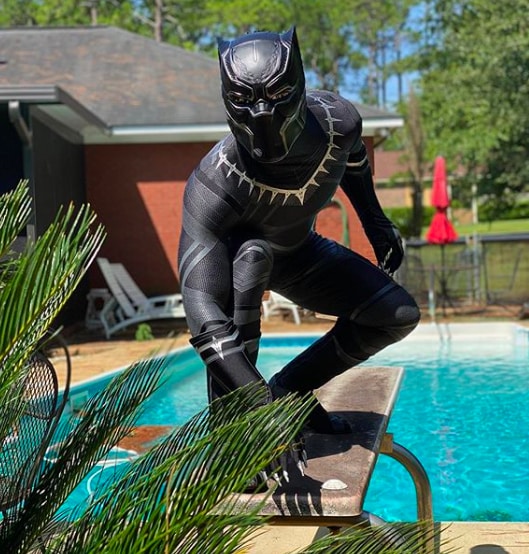 via @sean_theblerd on Instagram
Black Panther is one of the most successful Superhero movies ever breaking all sorts of box-office records. This amazingly detailed costume is officially licensed and of high-quality. It features a wonderful Black Panther padded jumpsuit, complete with details such as the muscles on the chest, characters near the collar, and a depiction of the famous Black Panther necklace. This costume also includes the Black Panther mask with silver detailing, as well as the gauntlets and boot tops so that you have all the accessories you need to truly become one of the world's coolest superheroes. With this costume, you will always be ready to face off against any villain who threatens the peace of Wakanda. You don't even need to seek out vibranium supplies to have the look of Marvel's Black Panther. Wakanda Forever!
---
Luigi Costume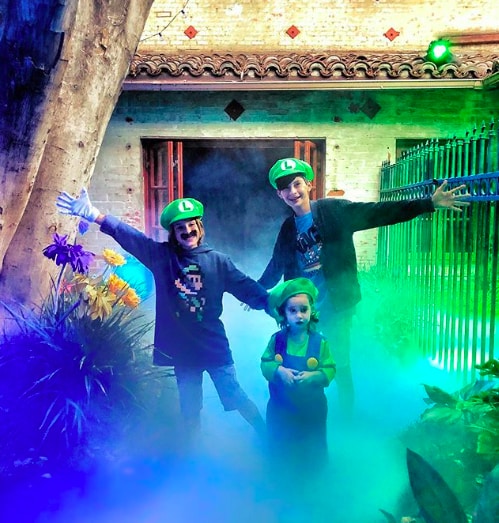 via @popsicleblog on Instagram
Whenever Mario needs to head to a faraway land to save his princess Peach, his brother Luigi is always there to help them. Talk about support! So, even you can help out your brother by wearing this Luigi costume which includes the essentials – featuring a Luigi style jumpsuit with a pair of white gloves and a detachable belly. It also includes a green hat with a letter "L" print, and a silly faux moustache for the perfect character look. This Luigi Costume for men is a cool outfit that is just perfect to pair with your buddy, Mario for any Halloween or costume party!
---
Katy Perry Costume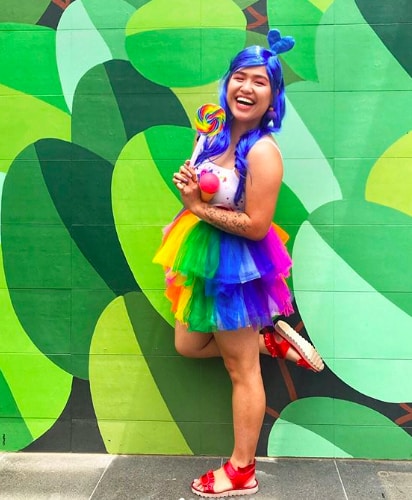 via @amandajdo on Instagram
With 37.7 million digital tracks sold in the U.S. & a total of 11 million albums sold worldwide, it's no doubt that Katy Perry is one of the most loved musicians of all time. When you wear this costume you'll almost instantly feel famous & a celebrity. This wonderful costume includes a dress with a lavender front, decorated with pink candy ornaments and nicely trimmed with white ruffles dotted with blue polka dots, puffed purple sleeves with a red and white candy cane trim matching the trim on the collar and the oversized bow on the waistline. The skirt is pink and shimmery, with alternating candy cane and blue polka dots trims, and puffy white and blue petticoats. This costume also includes a pink neckpiece with blue polka dot ruffles & a pink mini top hat headpiece.
---
Skeleton Pirate Costume
via @verobeachmermaid on Instagram
Pirates, in general, are already scary when they're alive, but imagine running into a skeleton pirate! It will scare you to your bones! This Skeletal Pirate costume would do just that when you wear it & go for trick-or-treating or any Halloween Costume party, you are sure to scare the hell out of your friends & family. This adult Halloween costume features a green, torn-up shirt revealing EVA bones, a red pirate belt, a PVC skull mask, and skeleton gloves.

---
What will you be dressing up as this Halloween? Whether you like to fly with the crowds or dress up to the beat of your own drum, Oya Costumes has everything you need!
You May Also Like
[[1098]]