Posted by Anabelle Zaluski on 2020 Aug 4th
Apex Legends took off quickly and gained 70 million players in less than a year! It's one of the fastest growing video games in history. People love the Hunger Games-style fight to the death, but Apex Legends takes it to another level with teamwork and fight strategies. Do you know someone who plays?
The characters in this video game are known for being well-written: they have distinct personalities, detailed backstories, and they're very inclusive. Apex Legends has one of the only nonbinary, or genderless, characters in video game history!
There are some pretty amazing cosplayers out there who bring Apex Legends characters to life. Check out eight of our favourite costumes!
---
1. Wattson
images left to right: via apexlegends.gamepedia.com, via @_dellarys_ on Instagram
Wattson joined the Apex Legends crew in Season 2, but even though she wasn't part of the original lineup, she's still one of the most intriguing characters in the game. She has tons of engineering knowledge from her father, but he passed away suddenly. Ever since, she's been fighting hard with the other Legends!
This cosplayer used just a few garments to complete this Wattson cosplay. The blue hoodie and yellow jacket are simple but recognizable, and they look comfortable too! This costume is super easy to recreate at home, especially if you already have blonde hair and bangs.
---
2. Crypto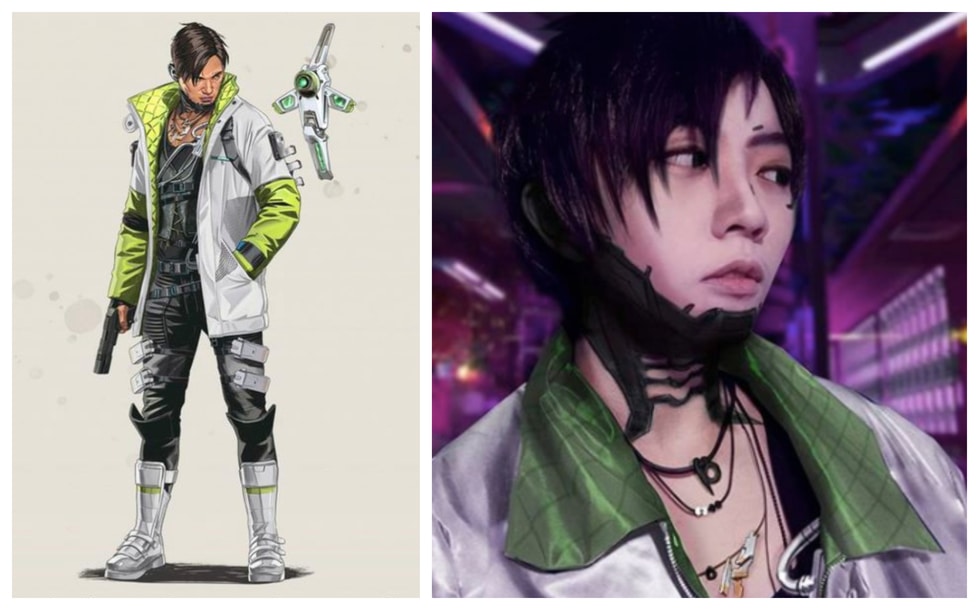 images left to right: via apexlegends.gamepedia.com, via @meganephile on Instagram
Crypto is everyone's tech guy fantasy! He entered the video game in Season 3, and uses his computer skills to spy on enemies. His abilities include using a drone to infiltrate other people's plans. Apex Legends has some pretty amazing characters like this who use brains instead of brawn to fight—and win.
Crypto's green and white jacket is pretty distinct and easy to recreate! This Apex Legends cosplayer took the costume to the next level with layered necklaces, a straight black wig, and Crypto's special chin strap.
---
3. Octane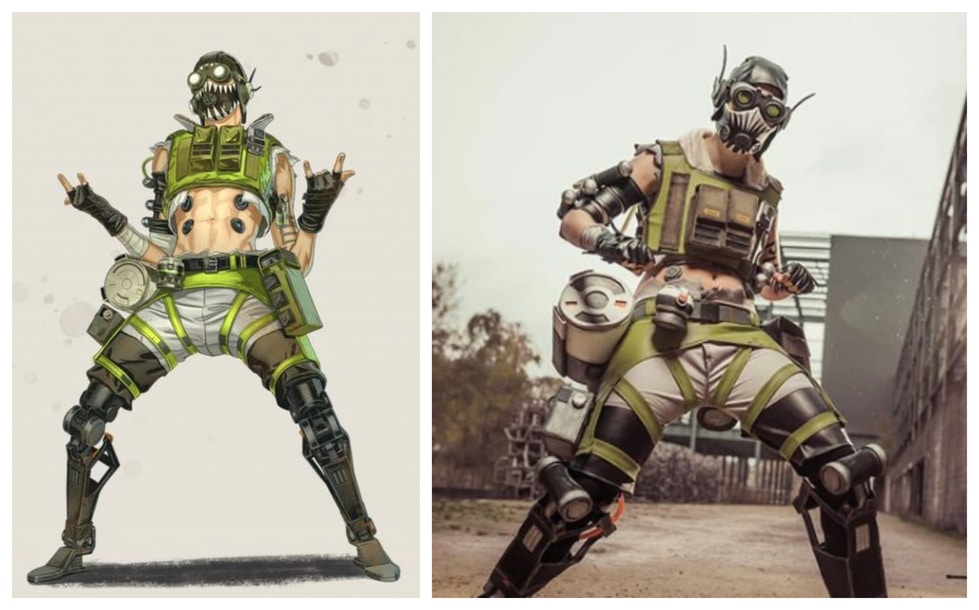 images left to right: via apexlegends.gamepedia.com, via @fuchswolke_cosplay on Instagram
Octane was flying pretty high in the pharmaceutical industry before he realized there was more to life than money. He joined the legends to cure his boredom! Octane in Apex Legends has special abilities because he has bionic legs—he can do crazy flips that other Legends couldn't dream of.
This cosplayer really paid attention to detail for their Octane costume! This character has so many accessories, and he nailed every single one from the bionic legs, the green straps, and the other armour pieces. The mask is amazing too!
---
4. Loba
images left to right: via apexlegends.gamepedia.com, via @unattrix on Instagram
Before she joined the Legends, Loba had a pretty crazy life. At only nine years old, she watched her parents get killed—pretty dark for a video game! She then became a thief in the Apex Legends universe and has amazing sneaky skills to defeat enemies.
Loba's simple white and gold costume is chic and classy. This cosplayer perfectly recreated her reddish braids and pink eye makeup. Loba is feminine and beautiful but still looks hardcore!
---
5. Bangalore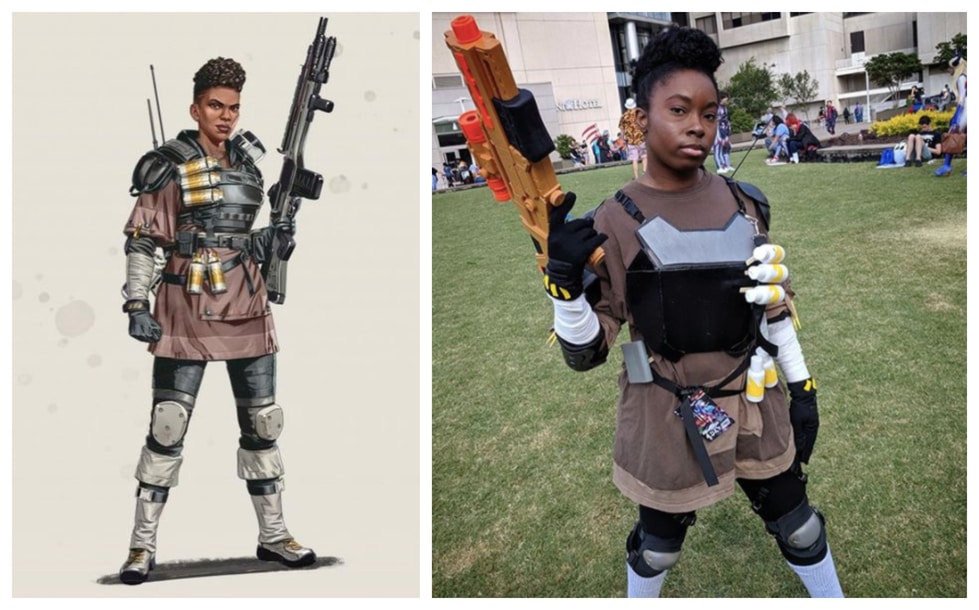 images left to right: via apexlegends.gamepedia.com, via @hitomi.lola on Instagram
If you couldn't already tell by her stern look and powerful stance, Bangalore shows no mercy. She comes from a military background and has tons of skills for fighting offensively against enemies. You don't want to mess with this Apex Legends character!
This cosplayer created her costume with accessible items like cardboard and small bottles. It's pretty amazing the things you can do with what you already have! The brown tunic and long gun pull this costume together, along with the kneepads and accurate hairstyle.
---
6. Lifeline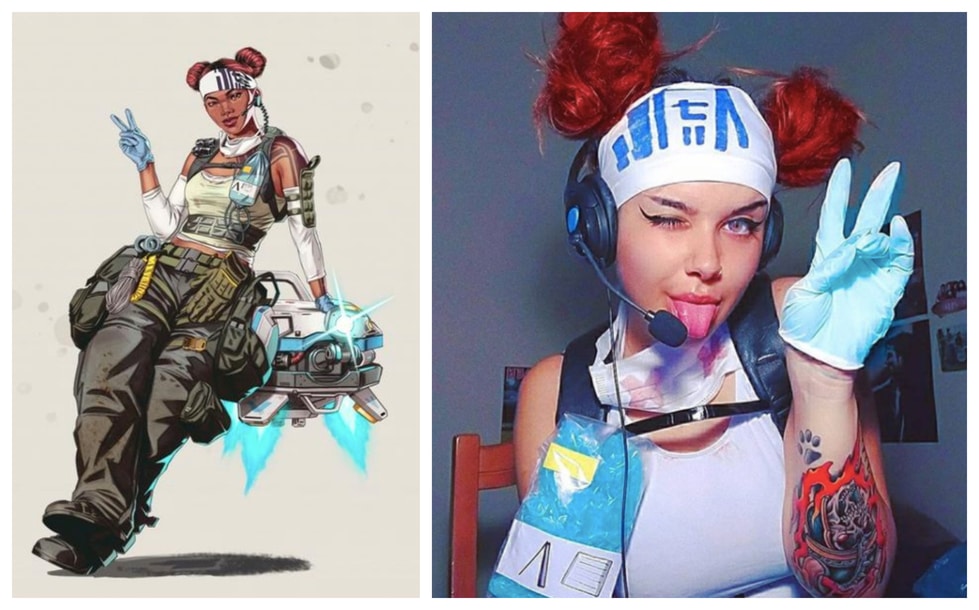 images left to right: via apexlegends.gamepedia.com, via @_.moonwalk on Instagram
Lifeline is just as cute as she is powerful. She's a medic character and helps the people around her heal while fighting enemies. Lifeline is one of the best Apex Legends characters because she has amazing knowledge to help the people around her but still looks hardcore!
This cosplayer nailed Lifeline's medical accessories for her costume. The gloves and mask keep her safe—what other video game character has that? The big red buns in her hair really pull the look together.
---
7. Bloodhound
images left to right: via apexlegends.gamepedia.com, via @duabyte on Instagram
This Apex Legends character is always shrouded in mystery. Nobody really knows where they came from, or what they look like! They're also a nonbinary character and don't limit their identity by their gender.
The heavy clothing and many details make this costume pretty hard to recreate, but this cosplayer nailed it. It must be hard to walk around in! The gas mask and bird-themed headpiece are super accurate, and so is the big leather jacket. All this player needs is a crow companion!
---
8. Wraith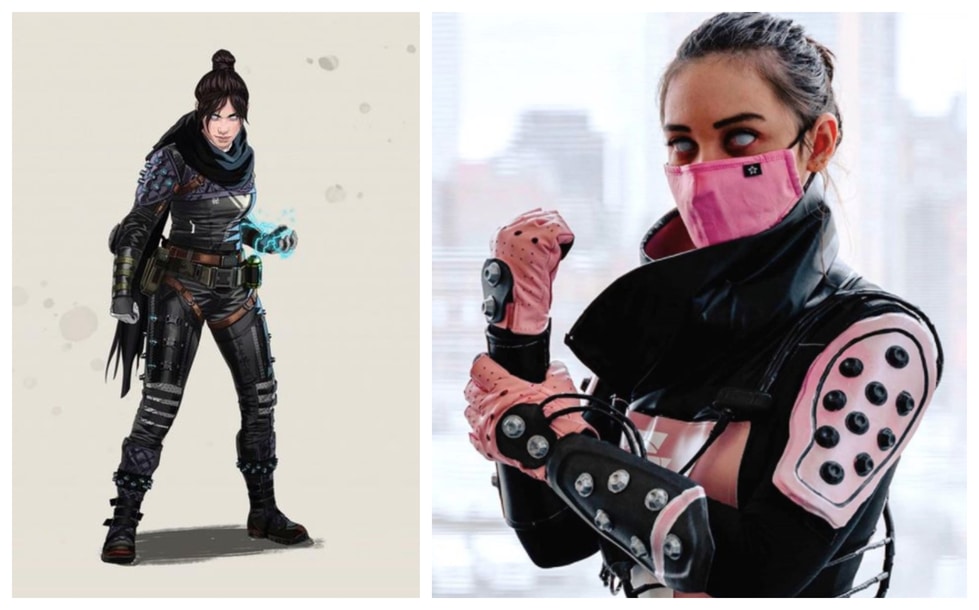 images left to right: via apexlegends.gamepedia.com, via @apexinfinite on Instagram
Wraith has a pretty interesting backstory. She was originally in an asylum because she has a special ability to communicate with the void. Thankfully, she was able to escape and learn how to harness her power to use it for good! Wraith has some pretty amazing video game abilities.
This cosplayer chose a pink-themed Wraith skin to recreate. It looks amazing! The textured armour on her shoulders and forearms has great detail, and the face mask really pulls it together. Wraith is a great character to cosplay because the hair is so simple!
---
Did these Apex Legends cosplay looks inspire you to create your own costume? Check out our Apex Legends section to get your own!
You May Also Like
[[1214]]