Posted by Sabrina Marie Balliana on 2021 Dec 17th
13 Amazing Spider-Man Costumes Throughout The Years
Spider-Man has been a fan favourite Marvel characters for years now, and his suit has evolved along with his character. First appearing in the comic Amazing Fantasy #15 back in 1962, Spider-Man has now featured in numerous film, TV series, comic books, and video games. He has also been played by many different actors, such as Toby Maguire, Tom Holland and Andrew Garfield, allowing for different take on this beloved character.
Along with his character development comes changes in his suit. From classic red and blue to black, Spider-Man has had many costume changes over the years, making his character (and other side characters in his movies!) great inspiration for costumes. Check out our list below for some Spider-Man themed ideas for your upcoming Halloween costume!
---
1. Spider-Man: No Way Home (2021)
Via cosmicbook.news/spider-man-no-way-home-black-gold-suit
Starting off with a bang, Spider-Man No Way Home features a stunning black and gold suit with a gold spider on the chest and gold detailing throughout. According to cosmicbook.news, the costume designer decided to add a red stripe on his arms as well as red details on his fingers to avoid confusion with Venom's costume.
---
2. Spider-Man (2002)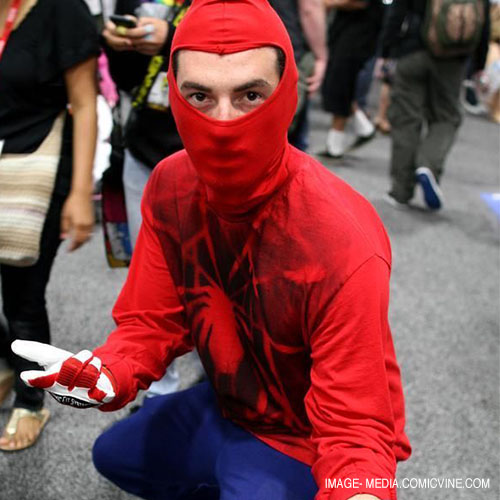 Via media.comicvine.com
In 2002, the birth of Spider-Man on the big screen first introduced us to Peter Parker and his double life dressed in a wrestling suit made up of blue sweatpants, a long sleeve shirt and a red balaclava. Although not a traditional super-hero suit we are used to seeing Peter Park in today, this suit is still a great idea for a Spider-Man themed costume.
---
3. Spider-Man 2 (2004)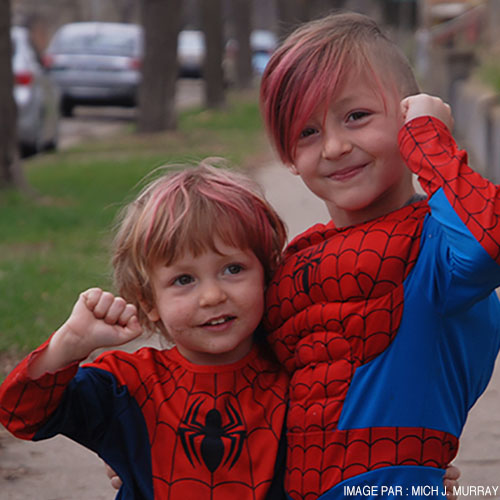 Via Mich J Murray
Spider-Man 2 introduces us to the classic suit designed by John Rotima Sr., which is the first official suit Spider-Man appears in. This blue and red suit consists of red gloves, boots, webbing details, a black spider in the front and back torso and black and white eye details. Peter sews himself this version to hide his identity and this classic suit might be simple but certainly does the job!
---
4.Spider-Man 3 (2007)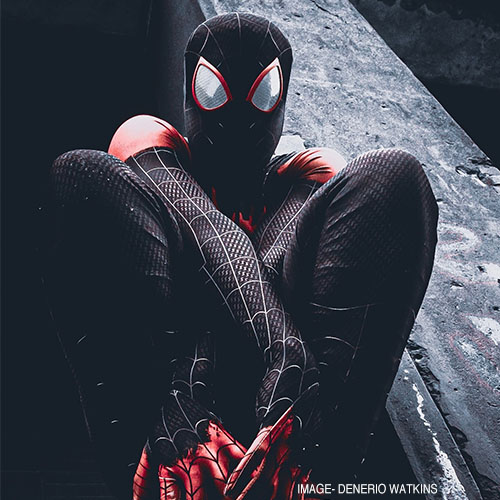 Via Denerio Watkins
What a costume change! After Peter Parker gets tangled in black goo after damaging the spidey-suit, he enters a machine that bonds him to this new black suit and makes him more powerful with unlimited webbing. This black-based one-piece with silver spider detailing, also known as the symbiote suit, was born. We absolutely love this black suit as it is so different from Spider-Man's typical red ones.
---
5. The Amazing Spiderman (2012)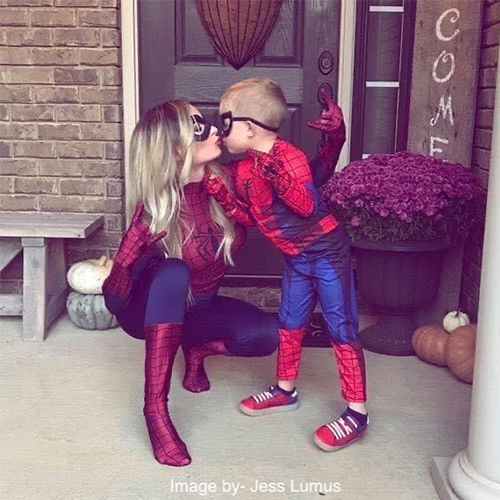 Via Jess Lumus
Kym Barrett designed the publics' favourite super-hero suit for Amazing Spider-Man. What is so great about this suit is that it is both different but familiar from what we usually see Peter Parker in! We once again find the original blue and red suit with web detailing and a little extra black detailing. According to the film, Spider-Man creates this remarkable suite using spandex and upgrades the eyes to sunglass lenses fused to the mask for an easier to navigate costume.
---
6. Venom
Via @francsterling on Instagram
Stand back, Spider-Man fans! Who says you can't dress up in a Spider-Man themed costume and dress as one of his any foes? Pictured above is a stunning Venom suit, complete with part of the cosplayer's face exposed to show the binding in process. We love Venom's costume pictured above, as well as the dark Spider-Man suit next to him, which is a creative spin on a Spider-Man themed costume.
---
7. Avengers: Infinity War (2018)
Via Cosplay in America
Thanks to Iron Man's design, we are presented with Spider-Man's most expressive suit. Now made from a metal similar to Tony Stark's, Spider-Man's new suit features red and gold detailing which are reminiscent of Stark's Iron Man suit. This is the first suit with gold detailing and mechanical spider legs! These nimble spider limbs poke out the back of the costume to break shields and defeat enemies with ease.
---
8. Spider-Man: Into the Spider-verse (2018)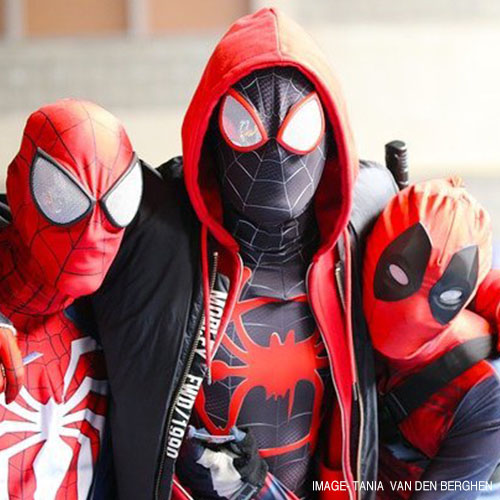 Via Tania Van Den Berghen
We are so obsessed with the 2018 animated film which brought us Miles Morales, Gwen Stacy as Ghost-Spider and a slew of action-packed and vibrantly-animated scenes. This wonderful film brought us yet again a different outfit for our favourite spidey superhero. While similar to Spider-Man's usual design, Miles Morales' rendition is much more vibrant and features a spray-painted spider emblem on the chest.
---
9. Green Goblin
Via pinterest.ca/pin/158751955592427560/
Who says only Spider-Man costumes can be Spider-Man themed? There are so many fun villains to choose from to diversify your costume choices! Pictured above is the spooky Green Goblin and his vibrant green and purple outfit, complete with his creepy mask and ears! Did you know the Green Goblin's first appearance was in The Amazing Spider-Man #14 in 1964?
---
10. Spider-Man: Far From Home (2019)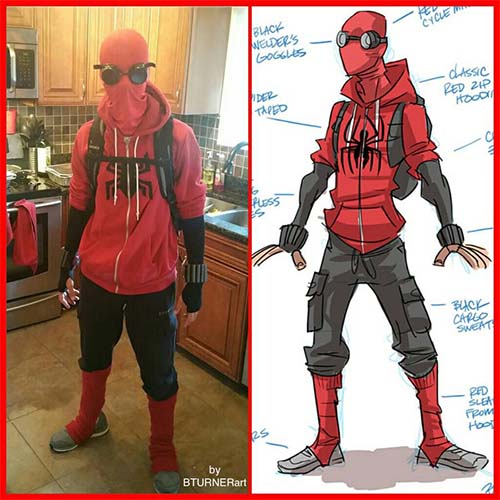 Via BTURNERart
Spider-Man Far From Home brought us a variation of the classic Spider-Man suit, including Peter Parker's homemade sweater version, as well as his black spy suit resembling Noir from the comics. This upgraded version of Spider-Man's agile attire includes upgraded web wings, a spider drone, a built-in logo parachute and integrated web-shooters.
---
11. Gwen Stacy
Via James Young Photography
One amazing addition from Into The Spider-Verse is that of Gwen Stacy's Ghost Spider. Did you know she was modeled after Stan Lee's own wife Joan? Whether you decide to dress up as Gwen or her rendition of Ghost Spider this Halloween, we're sure you'll turn head!
---
12. Dr. Octopus
Via pinterest.ca/pin/239605642647777714/
Get creative and have your hand at this amazing Doctor Octopus costume! This cosplayer used silver tubes to create Dr. Oc's iconic tentacles that come out of his back. Whether you choose to go as Dr. Octopus from the comics of the movies, we're sure you'll find a variation of his costume that is perfect for you.
---
13. Mary-Jane as Spider-Man
Via twitter.com/ezcosplay_com/status/1199312082518388736/photo/1
One of Peter Parker's other love interests, Mary Jane is another great option for a Spider-Man themed costume. While she dons his iconic red and blue spider suit, the cosplayer pictured above also paired this costume with an amazing red wig and some make-up to look like the beloved Mary Jane.
---
With the constant evolution of Spider-Man's suit and character, we're sure that there will be no shortage of amazing suits to dress as in the upcoming years. Which spidey-suit is your favourite? Browse our awesome selection of Spider-Man themed costumes below and tag us on social media if you choose to join the spidey fun!
You May Also Like
[[1201]]