Posted by Sabrina on 2021 Sep 10th
12 Original Devil Costume Ideas
The classic duo of angel and devil costumes is a Halloween staple that never goes out of style. Easy to achieve, as most people already own red clothing, devil costumes can be fun, flirty, spooky or exciting.! Whether you want to achieve this look in groups or solo, this devilishly fun costume requires horns, a tail and a pitchfork, and if you're looking to be creative, you can also dress as a devil character from pop culture.
For this reason, we're thinking outside the box with devil costumes inspired by classic devil costumes and devil characters from movies and T.V shows, that are as adorable as they are easy to create!
---
1. Devil, Angel and Half-Devil Half-Angel
Via hellomagazine.com/celebrities/02019103053520/celebrity-kids-halloween-costumes/8
Starting off strong is our favourite trio, featuring a devil, an angel and a hybrid of the two! We absolutely adore this fun rendition of a devil's costume, which allows for creativity and a fun group photo opportunity. Not based off any characters, we love how this costume idea sticks to classic ideas of angels and devils.
---
2. Hellboy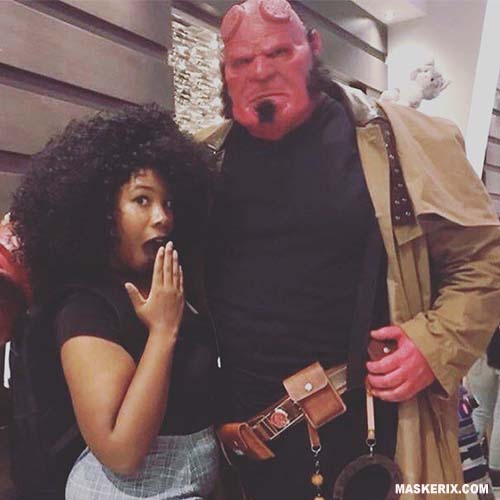 Via maskerix.com
Did you know that Hellboy was Guillermo Del Toro's favourite hero, before he had even considered making the movie? Pay homage to this loved comic book character by putting together this original and easily distinguished version of the red beast by assembling red makeup, horned stubs, a long beige trench-coat, black leather pants, a bionic red hand, black boots and lastly, a fake cigar!
---
2. Lucifer Morningstar
Via facebook.com/CosplaySky/posts/lucifer-morningstar-cosplay-credit-instagramlaceyjames007lucifermorningstar-luci/3440616292731352/
The wonderful Tom Ellis brought us to the dark side in the television series Lucifer, who is both human and creature. For this reason, we get to see two sides of evil which give us plenty of room to play with costumes that will turn heads all evening. Show the elegant Lucifer in his ''expensive'' dark suit, black ring and noticeable scars where his wings used to be. Throw on some red contacts for the perfect Lucifer look!
---
3. Red-Faced Devil Make-Up
Via beautybay.com/edited/most-searched-halloween-makeup-looks/
Back to basics! We can't get enough of this amazing red-faced makeup look of a classic devil, complete with black eye-makeup, lipstick and horns. Throw on your favourite little black dress for a sultry look, or keep it classic with a black jumpsuit.
---
4. Devil Wears Prada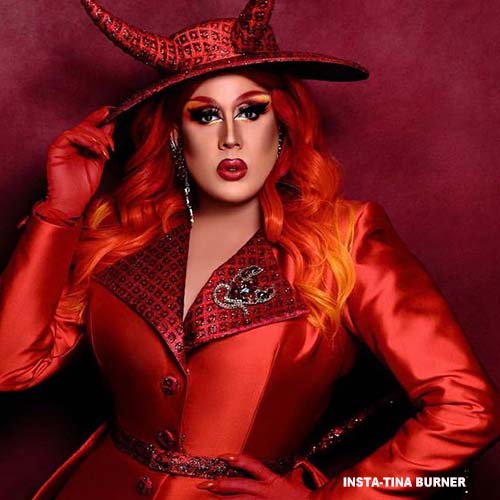 Via @tinaburner on Instagram
For a sophisticated and different devil look, try your hand at a fancy costume of a devil. In the 2006 romantic comedy The Devil Wears Prada, Meryl Streep's character may not physically look like the devil, but she sure has the personality! You won't see this antagonist sport typical horns and pointy teeth as we usually see in other devil renditions in pop culture.To make this fun and fashionable movie reference, use these items: an elegant dress or suit, flashy silver or gold jewelry, red high heels, bright red gems, a pitchfork and red makeup.
---
5. South Park Satan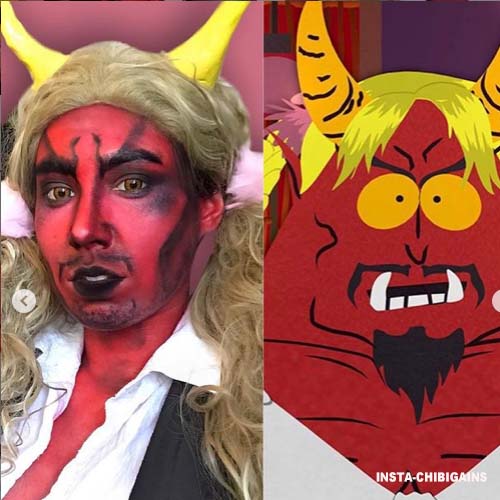 Via @chibigains on Instagram
Modelled after the half-man half-goat mythological creature, this adult cartoon also has its own version of the devil, although he isn't as evil as he may seem. He is pictured as quite vulnerable and compassionate in his appearances. In order to recreate this muscular character you will need the following: red paint, black shorts, a skull belt buckle, black hooves and yellow horns. Throw on yellow eye contacts for a truly immerse look!
---
6. Tenacious D devil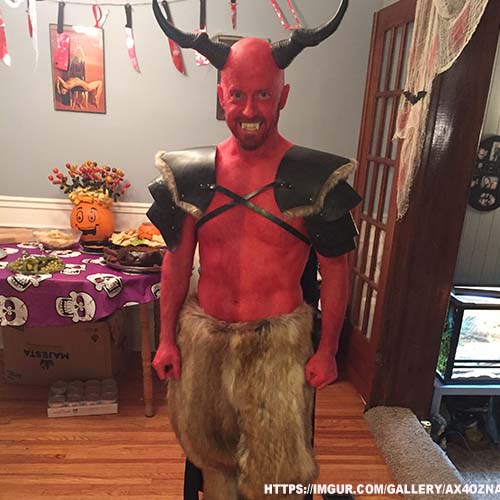 Via Imgur
To make this costume from cult-classic movie starring Jack Black and Kyle Grass, where they engage in a rock-off with Satan (Dave Grohl). With the pick, he gains supernatural powers, who wouldn't want to be that guy?For this costume, all you will need: red makeup, horns, facial hair, sharp teeth, fur pants and a guitar.
---
7. Celebrity Alessandra Ambrosio as a Devil
Via popsugar.com/latina/photo-gallery/38895366/image/38953015/Alessandra-Ambrosio-Devil
Feel like a Victoria Secret angel (or should we say devil?) in this stunning devil get-up worn by Victoria Secret Angel Alessandra Ambrosio! With this outfit, comprised of lingerie or a latex jumpsuit, a cape, fishnets, horns and sultry makeup, you're sure to feel like a sinner all evening at your Halloween party. Easy to achieve with some household items, this costume will make anyone feel like a million bucks.
---
8. Classic Devil and Angel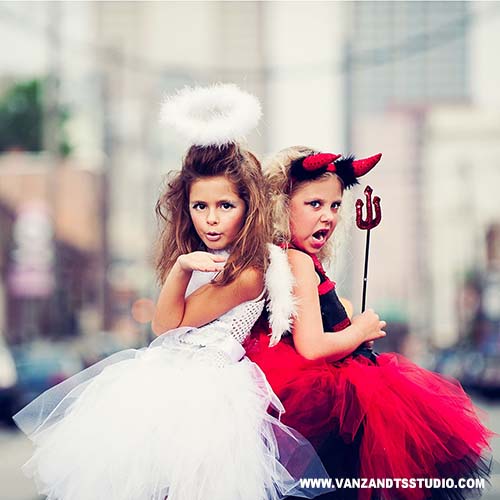 Via vanzandtsstudio.com
Fun and adaptable, this costume is for all ages and bodies. These two characters of angel and devil sitting on one's shoulder to represent conflicting morality is a trope used commonly in many stories. The two opposites are usually seen whispering in someones ear when the character struggles with inner conflict. Which one will you pick? The angel usually represents the moralistic voice of reason, while the devil represents a more sinful decision.
---
9. Doggy Duo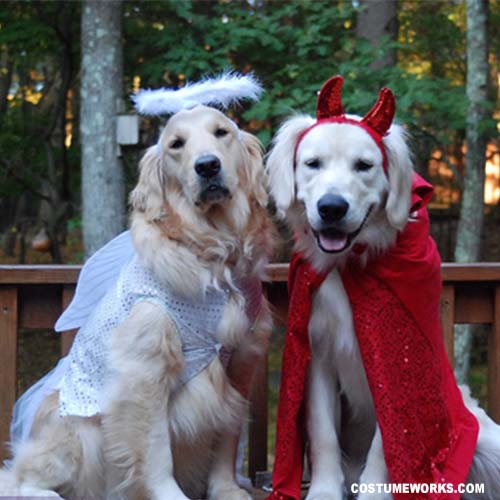 Via costumeworks.com
How adorable is this fluffy duo! Who says these devilish costumes are made solely for humans? We adore this photo, featuring two pups dressed as iconic angels and devils. Dress up your furry friend so they can join in the trick-or-treating fun! Alternatively, compliment your dog's costume by dressing as a devil and them, the angel, or both of you as devils!
---
10. Creative Devil Make-Up
Via cosmopolitan.com/style-beauty/beauty/g28613362/devil-demon-halloween-makeup-tutorial/
While we love the makeup rendition of a red devil up at number 3, we also this different rendition, which adds a creative spin to it. Dubbed the speed devil, this makeup artist chose to combine elements of a devil and a speed racer to make her own creative costume. While it doesn't have to be a speed racer, you are free to combine elements of a devil's look with any other style to create a similar effect! Why not a devil in space, while you're at it? Or a biblical style devil?
---
11.Devil Couple Costume
Via pinterest.ca/pin/363313894944735198/
Elevate your couple costume this Halloween with this amazing devil duo outfit! All you truly need is red clothing to make a statement, as well as a classic devil's accessories such as their iconic pitchfork, pointed tail and horns. This costume is an easily accessible one for couples, and sure to turn the heat up!
---
Although a devil costume may seem quite adult, simple adjustments can be made to make them more age appropriate. There are so many types of devils out there, and this list merely scratches the surface of the possibilities at your disposal.
Browse our selection of amazing devil costumes, and don't forget to tag us on social media if you choose to partake in the sinful trend!
You May Also Like
[[1162]]