Posted by Liena Croquette on 2021 Oct 9th
11 Amazing Disney Villain Costume Ideas Whole Family
Disney villains: whether you hate to love them or love to hate them, there's no denying they were a huge part of films that influenced all our childhoods. They had catchy songs, evil henchmen and, in some cases, magical powers; in other words, they were pretty impressive. It's no wonder they live on in shows like The Descendants, which stars the children of famous villains like Maleficent, Ursula, or the Evil Queen.
Disney villains frightened children and fascinated adults; in fact in some cases, the villain of a Disney film is more interesting than its hero or heroine (looking at you, Sleeping Beauty)! It's no wonder people love to wear Disney villain costumes for Halloween or comic conventions! Princesses are nice, but when it comes to costumes, villains have the most fun and the most interesting design. Need inspiration for your Disney costume? We got you covered! Take a look at these amazing Disney villain costumes and cosplays.
---
1. Maleficent Disney Costume
Via SumiCosplay on Wikimedia Commons, CC BY-SA 4.0
Planning a Halloween party? Better invite Maleficent, lest you be cursed. This powerful witch is often listed as one of the best Disney villains, and with good reason! She put an entire kingdom to sleep…and she can turn into a dragon. Daenerys Targaryen who? Not only is Maleficent powerful beyond words, she also boasts a stunning costume that'll be perfect for a dramatic entrance, whether you go for the Angelina Jolie movie version or the more traditional animated version.
---

2. Hades Costume

Leader of the underworld, anyone? We love this conceptual take on Hades, everyone's theatrical villain from Hercules! Whether you're making a sarcastic remark or hanging out by the river Styx, this costume is sure to make a splash at the Halloween party. Seeing as it may be impossible to sport a head of flaming blue hair, we love the idea of a wig made up of a blue up-do to replicate that silhouette.

---

3. Doctor Facilier
Via cosplayinamerica.com/post/611690972045328384/dr-facilier-from-the-princess-and-the-frog

Take it back all the way to 1920 New Orleans in this incredible Dr. Facilier cosplay! While an eclectic design, this character is oddly enough somewhat easy to accomplish, only requiring a top hat, a cane, a velvet suit and the right undershirt! Get yourself Tiana and Naveen for a truly heart stopping group costume!

---
4. Oogie Boogie
Via reddit.com/r/halloween/comments/do8rt8/ive_seen_some_great_oogie_boogie_costumes_here/

'Cause I'm Mr Oogie Boogie, and you ain't going nowhere! Is this a villain from a Christmas, or Halloween movie? While this debate continues to boggle the minds of fans around the world, we can't help but admire this incredible homemade Oogie Boogie costume posted by a fan online! Not only is the costume likely hard to execute, but this artist even included the bugs make up his body under the burlap material!

---

5. Claude Frollo

Via deviantart.com/makeupgoddess/art/Frollo-Cosplay-2-278680037

Sure to make everyone's skin crawl, this truly creepy villain is one we all remember vividly. While his fixation on Esmeralda is something we can't forget, we can sure admire this awesome costume featuring his interesting hat and the vivid colours of his design. Pay homage to this Disney (and literary) classic with a less popular Disney villain costume this year.

---

6. Evil Queen Disney Costume
Via pinterest.ca/pin/497436721326695189/

Mirror, mirror, on the wall…who's the most beautiful villain of them all? Talking about Queens, it'd be wrong not to mention the evil Queen from Snow White. She's the first Disney villain, and one of the scariest–that transformation scene gets me every time. Did you know she was the first character to ever speak in a Disney feature-length animated film?

---

7. Captain Hook

Via reddit.com/r/halloween/comments/dpnbkw/our_captain_hook_peter_pan_costumes_album_in/

Perfect for a solo, couple or group costume, characters from Disney's Peter Pan are an awesome option for a villain costume this upcoming Halloween! While Captain Hook may be a frightening character, we can't help but admire his costume design, from his eclectic pirate's hat to his interesting pirate's suit. Slap on a plastic hook for a truly enchanting look!
---
8.Ursula Disney Costume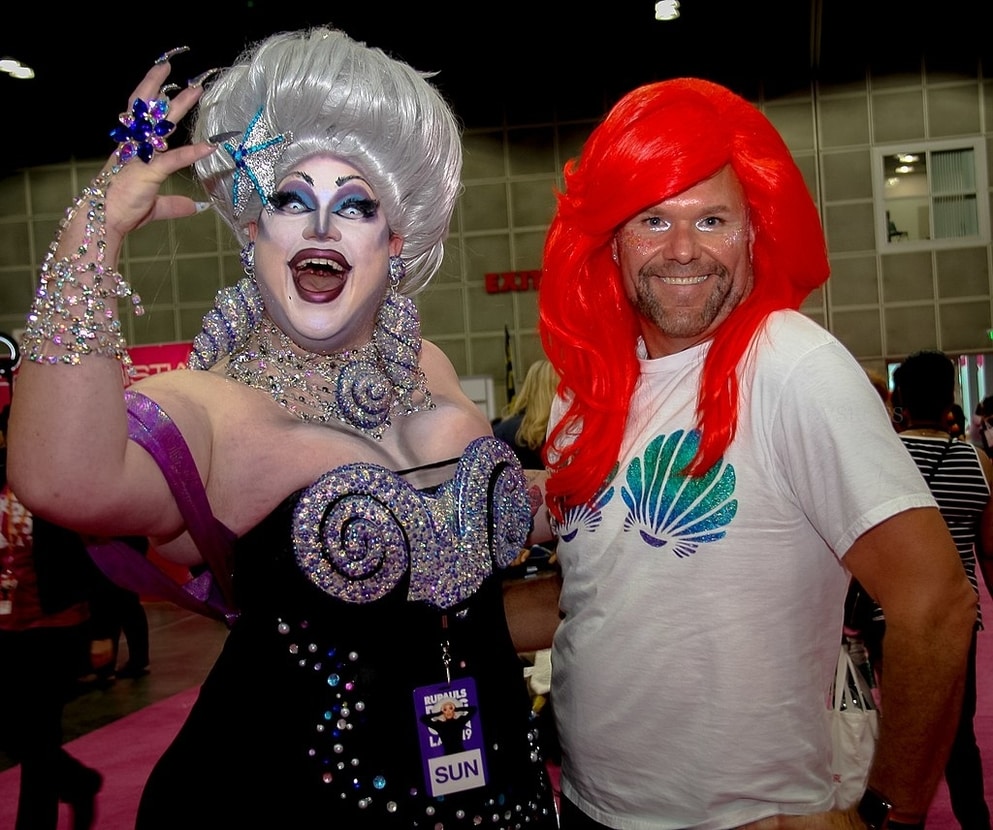 Via DragCon 2019 – Source: DVSROSS on Wikimedia Commons, CC BY 2.0
Bless the poor unfortunate souls around you in an Ursula costume! The sea witch Ursula, from the Little Mermaid is probably one of Disney's most iconic villains. Just like Maleficent, she's incredibly powerful–this is one witch you don't want to mess with. She also has one of the coolest Disney villain songs, sang beautifully by Pat Caroll. In fact, "Poor Unfortunate Souls" is the first Disney villain song to be sung by the villain themselves, and not by their henchmen (like in The Great Mouse Detective) or by the heroes (like in the 101 Dalmatians).
---
9. Ezma and Kronk
Via pinterest.ca/pin/208995238935368353/

While not as terrifying as some of the other famous villains pictured above, Ezma is still sure to instill some fear in those she comes across while on her quest to find Kuzco in The Emperor's New Groove! While Kronk may not necessarily be a villain, we absolutely adore this "villain" duo inspired by a cult-classic Disney movie. Don't forget your spinach puffs!

---
10. Cruella de Vil Disney Costume
Via saradujour.me/2020/05/cruella-de-vil-cosplay-makeup-costume/
Cruella de Vil, Cruella de Vil, if she doesn't scare you, no evil thing will… Cruella is quite possibly one of Disney's most evil villains. Her brilliant design and her iconic black and white hair make her a popular character option among cosplayers. You can have fun with accessories, too: a dalmatian plushie or an old fashioned cigarette holder will make great additions to your Cruella de Vil costume!
---
11. Queen of Hearts Disney Costume
Via Oliver Ayala on Wikimedia Commons, CC BY 2.0. Group cosplay of Disney villains on he first day of San Diego Comic-Con International 2016. From left to right: Valerie Watrous as the Evil Queen (from Snow White), Rachel Day as Maleficent (from Sleeping Beauty), London Clark as the Queen of Hearts (from Alice in Wonderland), and Keikei Day as Mother Gothel (from Tangled)
Off with their heads! For a truly imposing Disney costume, the Queen of Hearts is an obvious choice. After all, why be a princess, when you can be a Queen? There have been many, many adaptations of Lewis Caroll's Alice in Wonderland, including, of course, the Disney classic and the live action movie. That means you have loads of option for your Queen of Hearts costume! You could even make it a group costume and get your friends to dress up as other powerful Disney ladies, like the cosplayers on the right!
---
Did you learn something about your favourite Disney villains today? Who are you going to dress up as this year? Pick a villain costume or get your friends together for an amazing Disney villain group costume, and don't forget to tag us on social media if you choose to join in on the devilish fun!
You May Also
[[1215]]