Posted by Anabelle Zaluski on 2020 Oct 26th
11 Pet Costume Ideas for this Halloween
Halloween is for every member of the family. That's why here at Oya Costumes, we have a huge selection of pet costumes! Your pet deserves to have a great Halloween costume, just like everyone else.
What's your pet's style? They'll look adorable in a classic witch costume. Or maybe your pet has a favourite movie, and wants to dress up as one of the characters. The options are endless! Check out our favourite pet costumes for Halloween: dogs, cats, and more!
---
1. Superhero Costume for Pets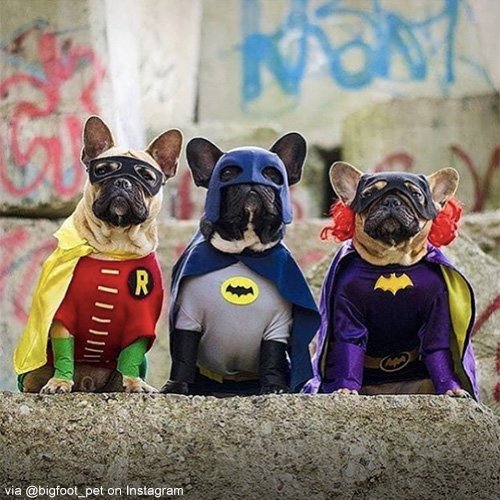 It's a bird! It's a plane! It's... a dog? This superhero costume for pets is such a cute option for your furry friend. Your dog really is a superhero! Whether you want to go for a classic like Superman or Wonder Woman, or you want something more modern like Deadpool, these superhero costumes for pets are sure to please. And who knows, your pet might just save the day this Halloween!
---
2. Toy Story Woody Costume for Pets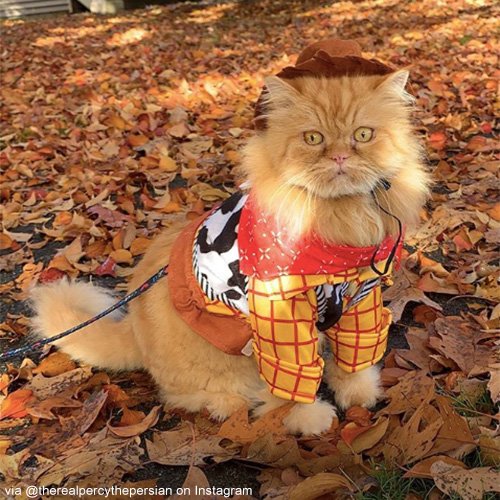 This cat looks just adorable in this Woody costume from Toy Story. The brownish tones are a perfect match to the autumn leaves. A flannel shirt, a tiny little hat, and some cowboy spunk, and your pet is good to go! Put your cat on a leash and bring them out for Halloween night. If you want to go for a group costume with the whole family, check out our collection of Toy Story costumes!
---
3. Pumpkin Costume for Pets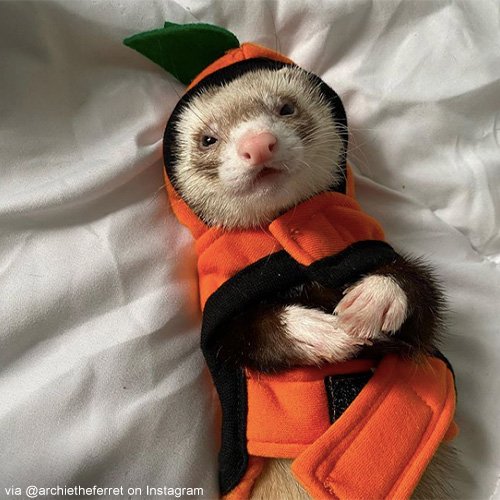 This ferret is just irresistibly cute in this classic pumpkin costume! They might be too small to go trick-or-treating with you, but this costume would be perfect for an Instagram Halloween photoshoot. It's just so adorable! If you're trying to DIY this Halloween, this pumpkin costume is super quick and easy. Get some orange felt and cut it to size! Any pet will look perfect in this timeless costume!
---
4. Cute Old Lady Costume for Pets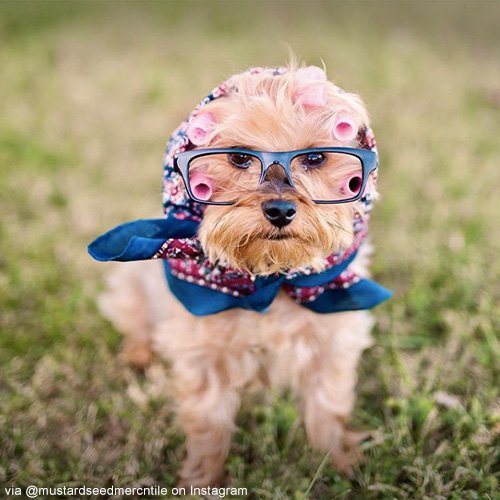 Do you have a funny bone? This old lady dog costume is perfect for families who like to crack jokes all year long. This costume is perfect for puppies and old dogs too! Take a look at some pet accessories, like glasses or a grey wig, and you've already got a fun, silly costume. You can't go wrong with this costume because it will never get old.
---
5. Maleficent Costume for Pets
In terms of newer Disney movies and remakes, Maleficent is one of the best! Angelina Jolie stuns as this witchy villain, and her costume is stunning—perfect for Halloween! This dog went the extra mile for their Maleficent costume, and it really paid off. The black horns are super recognizable and pull everything together. The best part of this dog costume is the matching purple collar!
---
6. Disney Mickey and Minnie Mouse Costume for Pets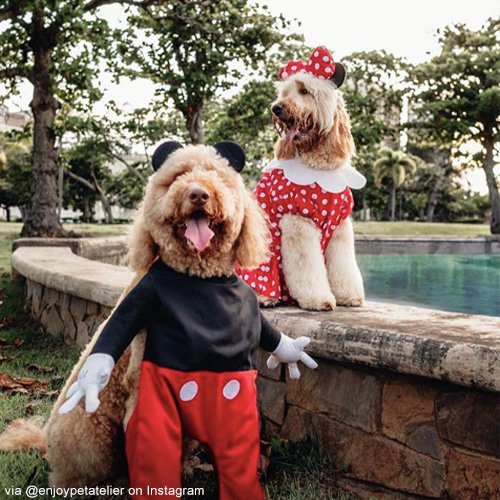 Who said our favourite canines can't do couple's costumes, too? This pair of dogs look so cute together, we're jealous! Mickey and Minnie Mouse are a classic couple, and they make a great costume for any year. These simple mouse costumes are super easy to find and make, which means they're perfect for the dog owner on the go. And everyone looks good in polka dots!
---
7. Pokemon Pikachu Costume for Pets
If you've got a Pokémon-loving kid in your family, this costume is perfect for you and your pet. Whether your favourite Pokémon is Pikachu, or Mewtwo, or any of the others, a Pokémon pet costume will please everyone. It's a super customizable option for your dog, cat, or ferret! Use yellow felt to create this look, or go for a ready-made Pikachu costume. Pika-pika!
---
8. Mario and Luigi Costume for Pets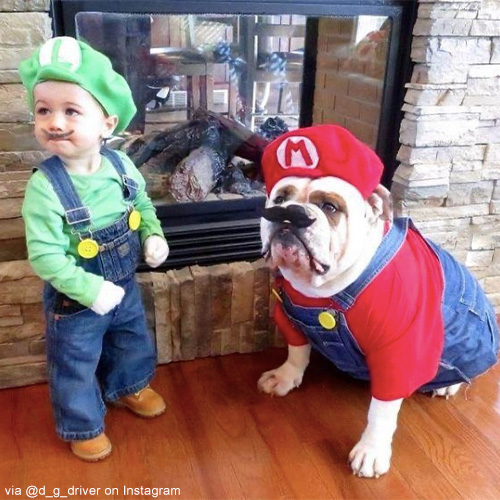 Are you into gaming? Super Mario is one of the most iconic gaming legends of all time. That's why it's the perfect costume for any year! This child and their dog look adorable as Mario and Luigi. The moustaches are so funny and cute on these little ones. If you love to couple with your pet, we have tons of matching costume options here!
---
9. Unicorn Costume for Pets
There's nothing wrong with one animal dressing up as another! This little Pomeranian looks so sweet in this unicorn costume. The one-piece, cozy costume is perfect for any pet. No fuss to get in or out, and it's super cuddly! You don't need a stuffed animal when you have this unicorn costume for dogs. Unicorns have been super popular since the early 2010s, and according to our radar, they aren't going out of style anytime soon.
---
10. Hocus Pocus Witch Costume for Pets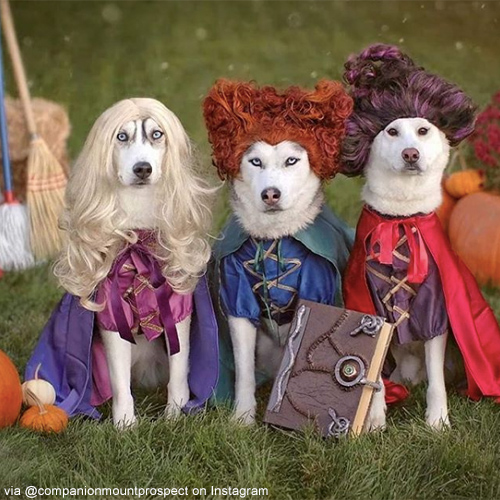 Hocus Pocus is one of the best Halloween movies ever. If humans love it, then dogs surely will too! Have a Halloween movie night this year and get inspired to create an epic pet costume. These three dogs totally killed it in their witch costumes. One, two, or three pets, you can't go wrong with these Hocus Pocus-inspired costumes. If you like to have photoshoots with your pets for Instagram, this look is perfect for you.
---
11. Country Girl Costume for Pets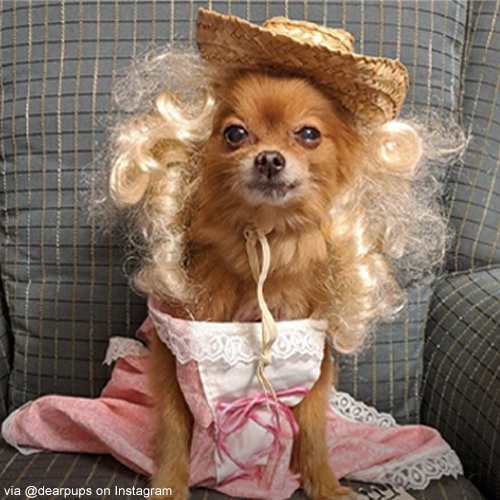 Howdy! This little Chihuahua looks adorable in her cowgirl costume. For this look, you could go for a classic country girl and customize your perfect costume. You also could get inspired by country icons like Dolly Parton! Or should we say Doggy Parton? Either way, the curly wig, cowboy hat, and little pink dress are super cute on any pet.
---
What's your favourite pet costume idea for Halloween? There sure are a lot of options for your sweet companion! Bring them along while you trick-or-treat, or while you watch scary movies on the couch. There's nothing like having a pet around. Happy Halloween!
You May Also Like
[[1259]]