Posted by Yasmina on 2021 Oct 23rd
10 Witch Costumes for Your Magical Halloween Party
As the days are shortening and the temperature is dropping, we are all feeling autumn creep up on us. No need to fret! Here at Oya Costumes, we're excited for sweater weather, leaves changing colour and most especially… pumpkin pie! While we're inside with our warm drinks, why not sit down at your computer and check out some of our oh-so-scary, oh-so-Halloweeny witch costumes.The witch is the most classic Halloween number, alongside the cat, ghost and pumpkin.
Witchcraft has historically been defined as the ability to influence someone else's mind or body involuntarily. Powerful, prophetic, enchanting and mysterious, witches have epitomized the Halloween spirit for years. In Christianity and Islam, spell-casting was also viewed as heretical and was overwhelmingly associated with women. In recent years, many women have reclaimed this image. Today, there are possibly as many as 1 million pagans in the United States alone!
If you're looking for an easy witch costume, Oya Costumes has everything you need. Take a look at our 10 favourite witch costume ideas to get inspired this spooky season!
---
1. Group of Classic Witches
Via pinterest.ca/marcelamray/vintage-witch-costume/
Starting off strong, this classic witch group costume is an amazing example of how sometimes, basic is best! We love the classic silhouettes, pointed hats and straw broom of this archetypal witch costume. Bust out your favourite black cat, potion vials and get ready to dance the night away with your coven under the full moon!
---
2. White Witch of Narnia
Via pinterest.ca/pin/59813501278781830/
Jadis the White Witch, also known for being the Lion's main antagonist and for freezing Narnia, is a wonderful take on a witch costume. Combining pastels with wintery elements, this costume boasts a fur throw, a wonderful long blue dress and a lovely crown. While not the type of witch we may think of when conjuring up witch costumes in our heads, this costume is still a magical and mystical one in its own right.
---
3. Hermione Granger
Via deviantart.com/pumpuma/art/Harry-Potter-Hermione-Cosplay-1-862658637
While not necessarily a witch but a wizard, Hermione Granger is a lovely option for someone who wants a witch-like costume in a more casual take. Very easy to achieve, requiring a tie, a white blouse, a sweater and a skirt, as well as a wand (and some book!) this is a wonderful costume for any Harry Potter fan looking for an easy DIY costume without breaking the bank. Find yourself a Harry Potter and a Ron Weasley for a great group costume idea!
---
4. Maleficent Witch Costume
Via greyloch from Washington, DC, area, U.S.A on Wikimedia Commons, CC BY-SA 2.0
Maleficent is probably one of the most well known witches out there. And let's be honest, she's one of the most powerful. For a truly awe-inspiring witch costume, dress up as this complex Disney villain. This is one costume that inspires respect, and if that's not enough, you can use your powers to put an entire kingdom to sleep to show that you mean business. Get some witchy accessories to complete this look!
---
5. Classic Witch Costume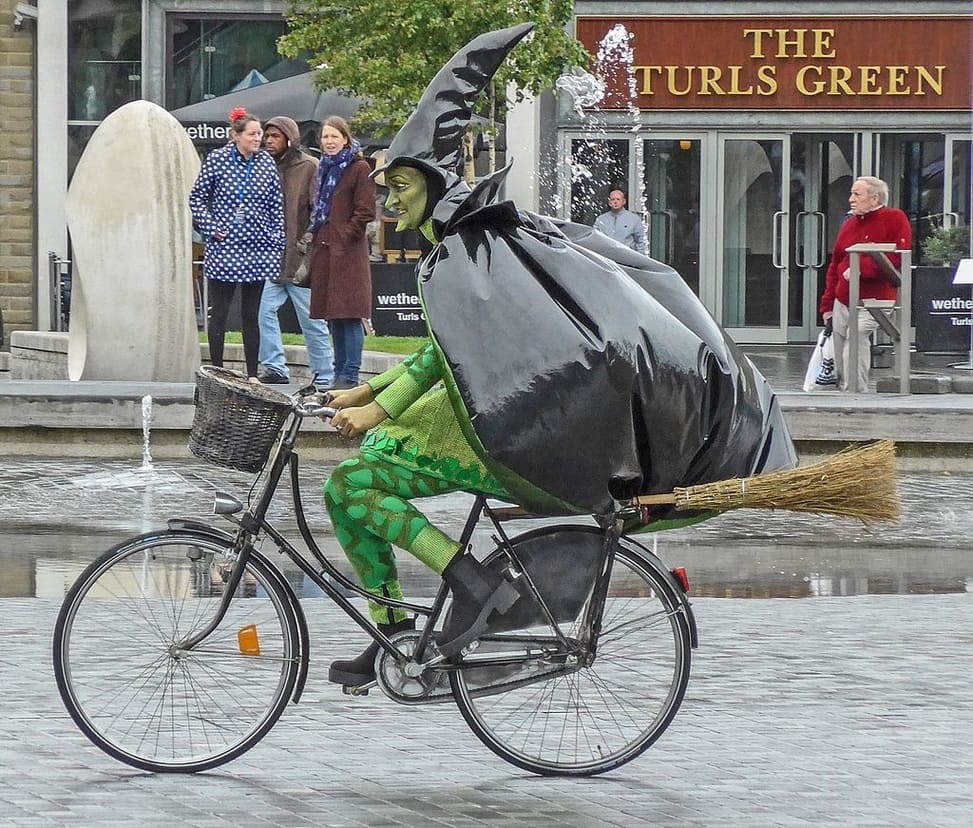 Via Tim Green from Bradford – Witch on a bike on Wikimedia Commons, CC BY 2.0
Bubble, bubble, toil and trouble… Sometimes, the best witch costume is a classic witch costume. Bats, black cats and pointy hats are the makings of a typical witch costume. A long black dress and the right accessories can go a long way! Check out all-inclusive witch costume kits in our witch section. You really can't go wrong with the classic witch—gather some friends and make it a group costume!
---
6. Glinda the Good Witch Costume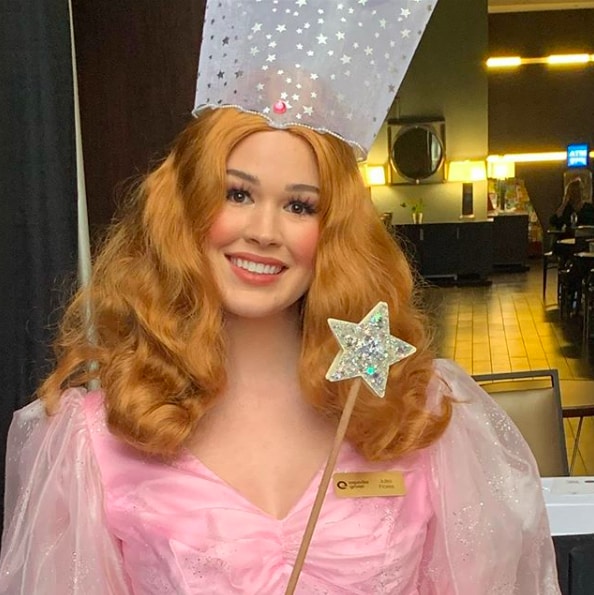 Via @itsjuliabetch.beauty on Instagram
Do you want to brighten up Halloween this year? Ditch the scary witch costume and go for a good one! Glinda the Good Witch is an iconic part of The Wizard of Oz. She helped Dorothy on her way, and looked good while doing it. To replicate this costume, use any pink princess dress and some fairy-like accessories! This Glinda the Good Witch costume is so easy and so sweet.
---
7. Sabrina Spellman
Via pinterest.com/pin/413838653259218425/
A beloved classic TV show from the 90's is Sabrina the Teenage Witch, and we are sure that everyone loved her iconic 90's outfits when the show aired. Dress as Sabrina in her original outfits, or pick your favourite updated outfit from The Chilling Adventures of Sabrina and embark on mystical adventures with your favourite feline companion by your side.
---
8. Wicked Witch Costumes
Via countryliving.com/diy-crafts/g22105023/wizard-of-oz-diy-costumes/
The Wicked Witch of the West is probably one of the coolest characters in The Wizard of Oz. She even got her own spin-off musical, Wicked! The musical shows there's more to the Wicked Witch than the books and movies make it seem. She's a complex character in her own right, and she's fun to dress up as! Just make sure you use good quality green makeup.
Trivia: Did you know… that the face paint used for the Wicked Witch of the West in the movie was actually toxic? Thankfully, today, safe face paint is easily accessible.
---
9. Hocus Pocus Witch Costumes
Via @miabella_hair on Instagram
Perfect for a group costume, Hocus Pocus Witch Costumes are a true Halloween classic. Grab two of your closest friends and get ready to cast spells! Halloween movies are always so fun to watch, and Hocus Pocus is one of the best. Get your costume on and have a movie marathon! This is a great idea for a Halloween party, or just because.
---
10. Salem Witch Burned at the Stake
Via pinterest.ca/pin/523965737898974278/
This one is a gritter, and a historical take on the witch look. Fusing creativity with a classic costume, this "burned at the stake" witch includes a super intricate fire design at the bottom of the dress, as well as ropes around the wrists and waists. While this costume made be a sadder take on a witch's costume, it is an important reminder of the 200 people accused and the 20 executed.
---
Which witch are you going to be this Halloween? We hope this gave you some ideas! Just try not to be too wicked, but if you choose to, don't forget to tag us on social media if you partake in the spell binding fun!
You May Also Like
[[1217]]