Posted by Sabrina on 2021 Sep 3rd
10 Amazing Ways to Dress up for Oktoberfest This Year
Although originating in Munich, Oktoberfest is now celebrated all around the globe. Depending on where you celebrate this holiday, your outfit might vary. Originating in 1810, the Prince of Bavaria, most commonly known as King Louis, married to Therese von Sachsen-Hildburghausen. This wild celebration lasted a total of 5 days and ended with a horse race, which became an annual event where the mayor taps the first keg. These celebrations evolved evolved over the years, adding booths with food and drink, costumes, parades, beer wagons and music.
Each year, Oktoberfest in Munich brings in over 6 million people, many of them being tourists coming to experience Oktoberfest as authentically as possible. With this much popularity, many countries have since then created their own celebrations similar to this beloved German event, and Canada is no exception!
If you travel to or live in Quebec, you'll want to visit Repentigny in early September. Host to more than 30 of the province's microbreweries, local food and artists, you won't want to miss this amazing Oktoberfest celebration! Traditionally, Oktoberfest lasts two weeks and ends on the first Sunday of October.
Want to be able to celebrate in style? Browse our list down below to find out about some of Oktoberfest's traditional outfits!
---
1. Traditional Drindls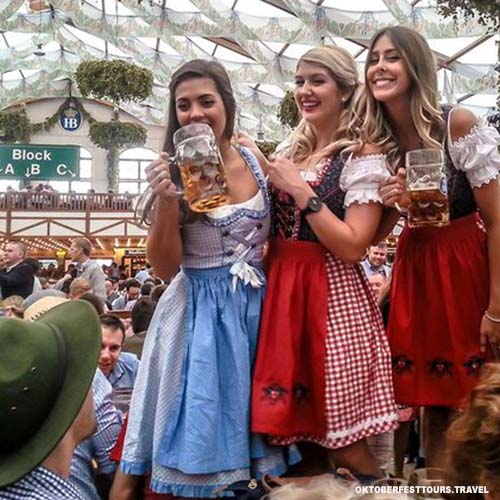 Via Oktoberfesttours.travel
The most common outfit you may see women wearing is a form-fitting Drindl (pronounced DEERN-dul) dress with a white apron and a white blouse underneath. These traditional outfits come in a variety of different lengths, colours and patterns. Let your creativity pick the right one for you! Pro tip: These are meant to be snug at the sides, so consider taking a size down if you are in-between sizes!
---
2. Lederhosen shorts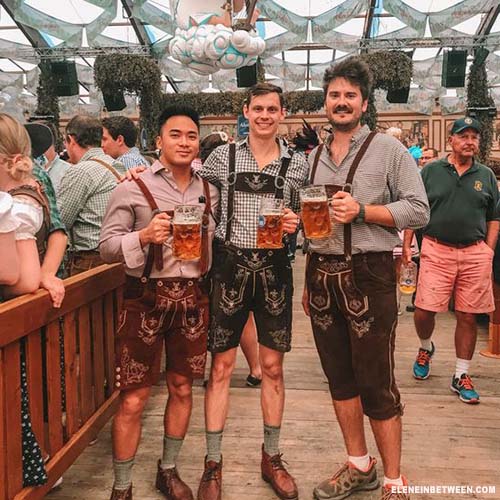 Via eleneinbetween.com
We are now seeing more and more of these traditional Lederhosen (pronounced LAY-der-hozen) shorts on women. Traditionally made in leather, we commonly see these short suspended shorts in suede when worn by women. The traditional men's version is cut above the knee, usually in black rather than the ladies' signature brown hue. Psst, don't forget your suspenders, gentlemen!
---
3. Shirts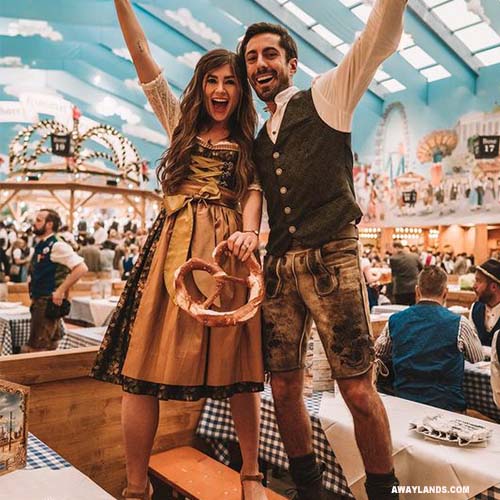 Via awaylands.com
While the lady's blouse is traditionally white with puffy shoulders and decolletage, Hemd is the appropriate term for male counterpart's shirt. This shirt is a button-up short sleeve or long sleeve shirt worn under other articles of clothing, and can be patterned or solid. Traditional colours are typically blue and white!
---
4. Beer Costume
Via justbeerapp.com
Less traditional, and sure to turn heads, is this beer costume! Seeing as beer is the traditional drink to consume at Oktoberfest, a beer costume is well within the theme while not being a traditional Oktoberfest garb. While some beer costumes include bottles and labels, we prefer this non-descript pint glass to really channel Oktoberfest's atmosphere.
---
5. Shoes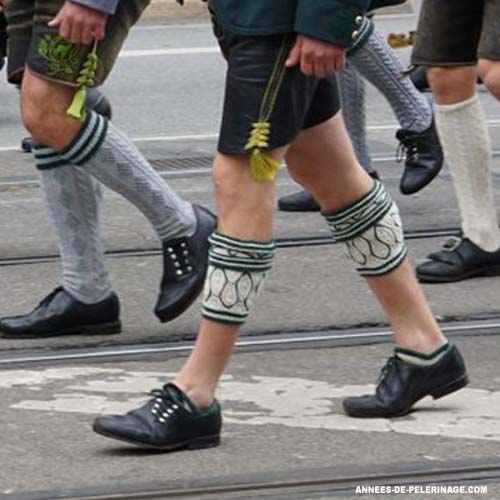 Via annees-de-pelerinage.com
It's easy to forget shoes when we are so focused on the traditional articles or clothing! In terms of shoes, men's are a mix between a workbook and a dress shoe, and typically in black or brown. They are also often ankle length. For women, the traditional Oktoberfest shoe is a Mary-Jane or regular ballerina flat in black or brown.
---
6. Family Costume
Via justbeerapp.com
We love this adorable family photo of everyone dressed head-to-toe in traditional Oktoberfest outfits! Who says this celebration is just for adults? While it may involve lots of drinking, Oktoberfest is for the whole family, so why not dress up your little ones to accompany you for this fun occasion?
---
7. Hats and hairstyle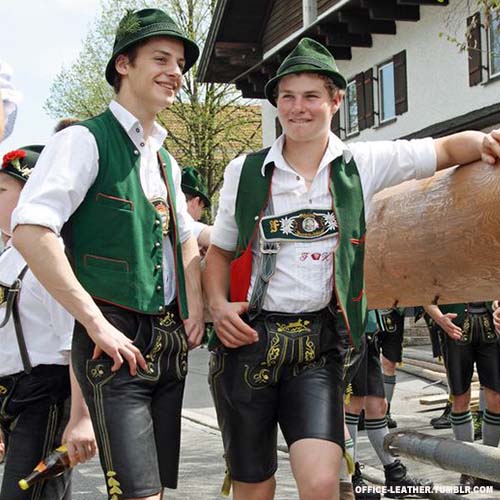 Via office-leather.tumblr.com
Who can forget our headwear! Wool is the most popular material for the classic Alpine hat. This lovely hat is worn by both men and women, although some women prefer braids and flowers as their headwear. We love how the look of the alpine hat ties together the whole Oktoberfest outfit!
---
8. Pretzel
Via @greatgoldenweenie on Instagram
Just like the beer costume listed above, we love the idea of dressing up as a traditional food item, such as pretzel worn by this adorable pup! While either you or your dog can wear a pretzel costume, we're sure it'll turn tons of heads at the celebration, especially if paired with someone else in a costume, like the golden puppy pictured above!
---
9. Group
Via justbeerapp.com
We adore the look of this group photo of everyone dressed up in traditional Oktoberfest outfits. Did you know that the name of the traditional Oktoberfest beer mugs is called Maß (pronounced mass)? These mugs can only be considered proper beer steins if it is capable of holding the regulation size beer.
---
10. Stockings and Socks
Via twitter.com/missannaleggy/status/1323404852949635073
What would be a traditional Oktoberfest outfit without socks and stockings! Typically in white, many women choose to wear sheer nylons with knee-high stockings over them. What would be an Oktoberfest outfit without them?!
---
Since this amazing party lasts for days, why not change up your outfit throughout? You can make these traditional outfits reflect yourself and your personal style, and most importantly, remember to have fun! Check out our selection below of Oktoberfest-themed costumes and accessories, and don't forget to tag us on social media if you choose to partake in the fun!
You May Also Like
[[1113]]