Posted by Yasmina on 2020 Jul 28th
Trivia: Did you know… that August 8th is International Cat Day? Celebrate with a purrrfect cat costume!
Halloween provides a rare opportunity for people to let their imaginations run wild—literally wild! And what better way to explore your wild side, than to pull on a cute and cuddly or frighteningly fur-rocious animal costume?
Not surprisingly, there's a veritable, stampede of animal costumes available to choose from. We've corralled up a herd of 5 of our favourites for you to view. So, what does your inner-animal look like?
---
Lion Costume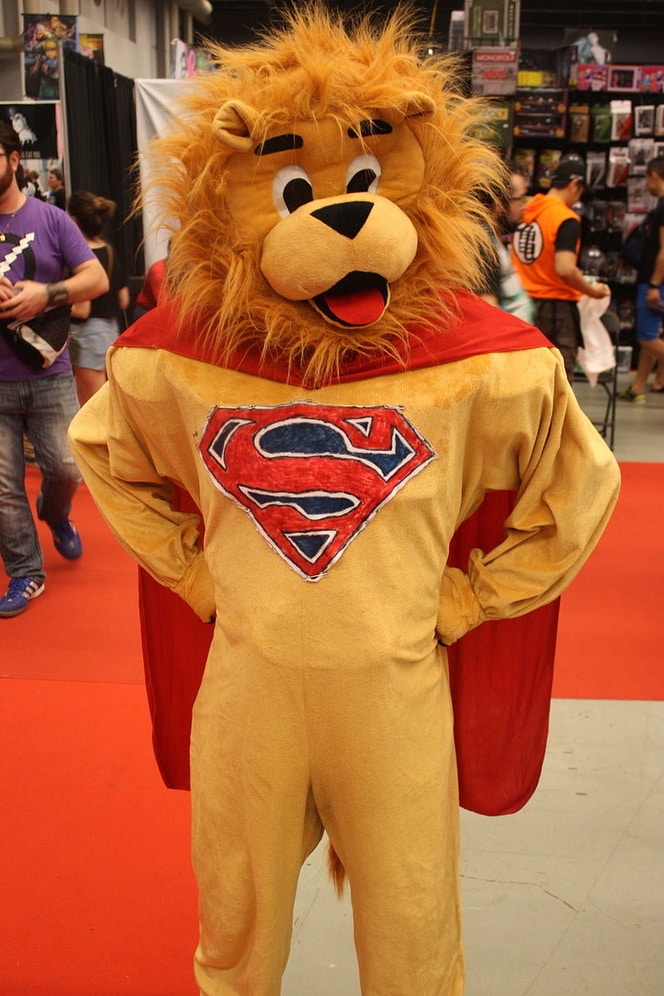 Pikawil from Laval, Canada – Montreal Comiccon 2015: Lion Superman on Wikimedia Commons, CC BY-SA 2.0
With the new Lion King remake now out in cinemas, lion costumes are more popular than ever. After all, who wouldn't want to be the king of the jungle for Halloween? Let us hear you roar loud and proud in your lion costume! Lion onesies are soft, cuddly, and warm–a perfect choice for Halloween. You could also opt for other kinds of lion costumes, or even just a lion mask!
---
Shark Costume
Source: independent.co.uk
Shark week has been making waves, this year! People are growing more and more aware that sharks get a bad reputation. A shark costume could be whatever you want it to be! It has the potential to be scary, adorable, or even funny (Left shark, we're looking at you).
Trivia: Did you know… that the man in the Left Shark Costume refused to talk to the press for a while?
---
Penguin Costume
Source: Charlie / Garret Engle / Smith – Flickr: The Three Penguins – Hong Kong – Engle on Wikimedia Commons
They're cute, they're funny, and they're perfect for both adults and children: penguin costumes are perfect for many occasions! How can you resist a fluffy penguin onesie, or a oh-so-huggable penguin mascot? You can keep your costume sweet and simple or get a warm penguin outfit for those chilly Halloween nights (or for chilling at home–we won't judge). Waddle on over in a penguin costume!
---
Cat Costume
Source: Madman2001 on Wikimedia Commons, CC BY-SA 3.0
The new Cats trailer left people feline a little confused, but that doesn't mean you can't show your love for cats with a cat costume! And be-claws there are so many options to choose from, you're sure to find a cat costume that looks pawsitively purrfect on you! Whether you prefur a cozy cat onesie or a a sassy catsuit, you'll be the coolest cat on the block!
Trivia: Did you know… that some cats are born with extra toes? They're called polydactyl cats or Hemmingway cats!
---
Panda Costumes
Source: @chipsetpaillettes on Instagram
It really doesn't get much cuter than a kid in a panda costume! Adults can also enjoy these black and white costumes as they tend to be quite cozy. Pandas are endangered animals, so you could also choose to wear a panda costume to raise awareness to that cause, the same way people wear polar bear costumes at climate protests.
---
What's your favourite animal? Will you be using our easy animal costume ideas this Halloween? Get a group of friends together and you can be a whole zoo!