Posted by Yasmina on 2020 Aug 19th
Trivia: Did you know…that Wonder Woman is worthy of wielding Thor's hammer?
Wonder Woman sparked a global discussion. Why is this such a big deal? Well, not only was it the first Wonder Woman movie, it was also the first superhero movie with a female lead—Gal Gadot—and the first major superhero movie to have a female director—Patty Jenkins. Show your love for Wonder Woman with a Wonder Woman costume!
Similar, but not identical to Wonder Woman's outfit in the comics, the Wonder Woman costume in the movie also sparked controversy. Director Patty Jenkins explained her choices by saying: "When people get super critical about her outfit, who's the one getting crazy about what a woman wears? That's who she is; that's Wonder Woman. I want her to look like my childhood fantasy (…) So let her be the every glorious thing that she is. Including hot and beautiful and sexy and loving and great and kind."
Gal Gadot's Wonder Woman costume consists of a metallic version of the traditional red corset and blue skirt, with the classic Wonder Woman tiara and armbands. While some have complained that her costume is "skimpy," Diana is always seen as a real person, not as an object. Are you inspired by the movie's costumes? Scroll down for our top picks for Wonder Woman costumes!
---
Wonder Woman Cosplay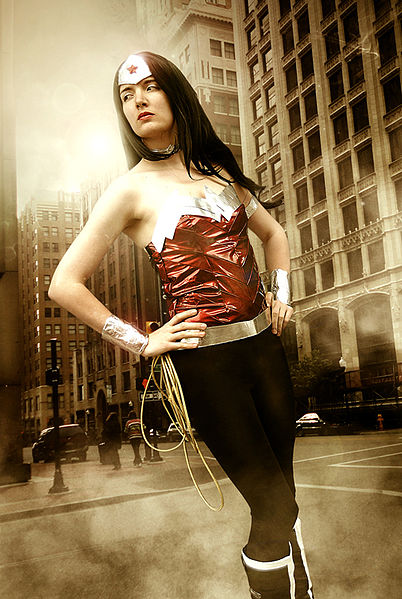 Source: Florencia Muir on Wikimedia Commons, CC BY-SA 3.0
A picture is worth a thousand words: if this fierce Wonder Woman cosplay doesn't inspire you to dress up as Wonder Woman, I don't know what will. The cosplayer's bold pose and facial expression really help the look come together, and, while she chose to wear pants rather than a skirt, every other part of the outfit—from the cuffs and the lasso to the boots and the red corset—is taken straight from the movie.
---
Pet Wonder Woman Costume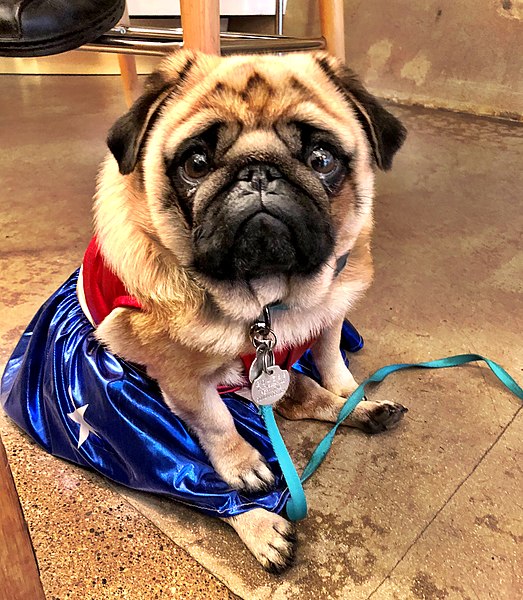 Source: Missvain on Wikimedia Commons, CC BY 4.0
How precious! You can also dress up your pup (or your cat, if you're brave enough) for Halloween. This particular pug is seen here sporting a lovely Wonder Woman outfit at Yelloween at Sigh in Sonoma, California. If you love pet costumes, this is definitely a great choice.
---
Comics Wonder Woman Cosplay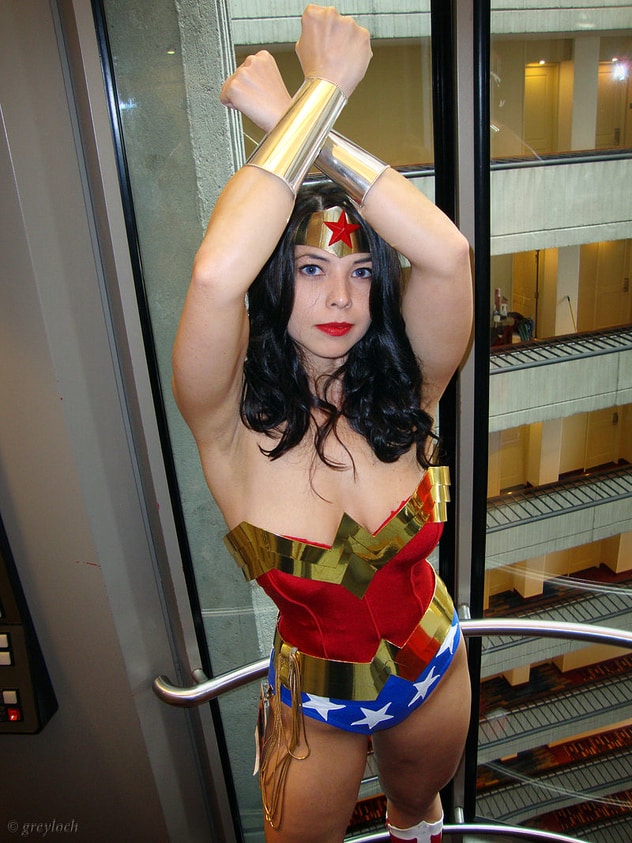 Source: greyloch via Flickr on Wikimedia Commons, CC BY-SA 2.0
No one said you had to stick to the movie–plenty of fans wear comic books Wonder Women costumes, like this cosplayer riding an elevator in Atlanta. Also known as "Princess Diana of Themyscira" or "Diana Prince", the character first appeared in All Stars Comics #8 in 1941.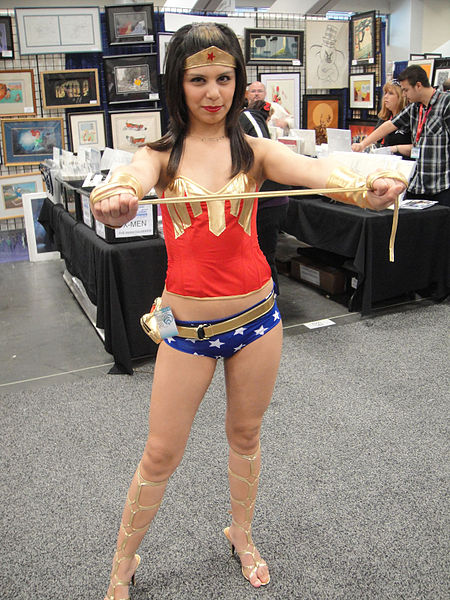 The Conmunity – Pop Culture Geek at Wikimedia Commons, CC BY 2.0
Diana, princess of the Amazonian island of Themyscira, is a demigoddess trained in combat by the Amazons. She lives under the civilian identity of Diana Prince, and fights her enemies as Wonder Woman. This other cosplayer is showing off her lasso skills at Wondercon 2011! Weapons make great accessories for this costume.
---
Wonder Woman Costume at Pride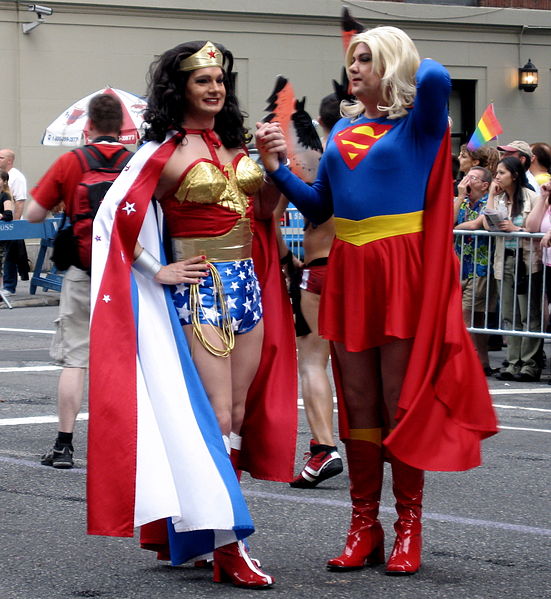 Source: Boss Tweed on Wikimedia Commons, CC BY 2.0
Sometimes superhero costumes make the greatest pride costumes. Just look at this couple dressed as Wonder Woman and Supergirl! The pair rock bold costumes at the 2006 New York Pride Parade. Both DC heroines embody strength and courage, and these beautiful costumes are truly an inspiration, as well as an example of a good couple's costume. Which heroes would you and your significant other dress up as?
---
Group DC Heroes Costumes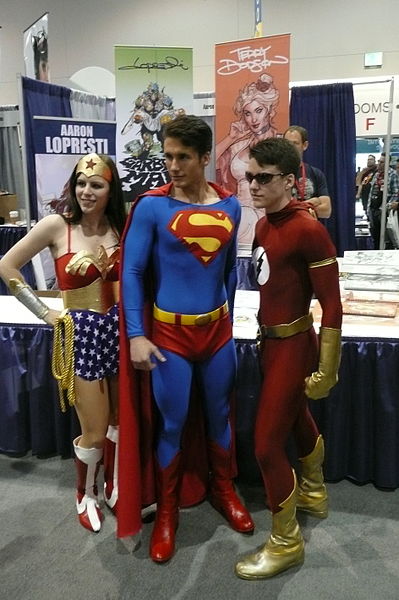 Source: Dave & Margie Hill / Kleerup via Flickr on Wikimedia
Couples' costumes are cute, but for even more fun, you could have group Wonder Woman costumes! These cosplayers went for a DC heroes theme, and are pictured here wearing Wonder Woman, Superman, and The Flash costumes. You and your friends can bring several heroes together, no matter which universe they're from!
---
What's your favourite Wonder Woman costume idea? There are so many amazing options! Get everything you need for your Wonder Woman costume right here at Oya Costumes!