Posted by Anabelle Zaluski on 2020 Sep 25th
Ghosts are spooky, scary, and the perfect classic costume for any Halloween lover! Whether or not you believe in them, there are so many amazing ghost costume ideas to choose from—and we've compiled the best ones right here for you!
DIY your own sheet ghost costume, dress up your baby in an adorable ghost skirt, or go as a ghost pirate with your boo this Halloween. The options really are endless! Check out our favourite ghost costume ideas right here at Oya Costumes!
---
1. Sheet Ghost Costume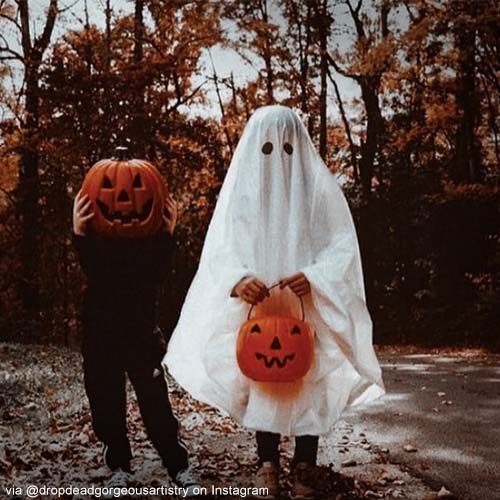 These ghost sheet costumes have been around almost as long as Halloween itself! They're such a classic costume idea, and they work for everyone. Kids, adults, teens, and more! This ghost costume is so easy to make yourself. All you need to do is cut some eye-holes in a sheet! If you want to take it to the next level, though, find some accessories, like the perfect trick-or-treat bag!
---
2. Kids Ghost Costume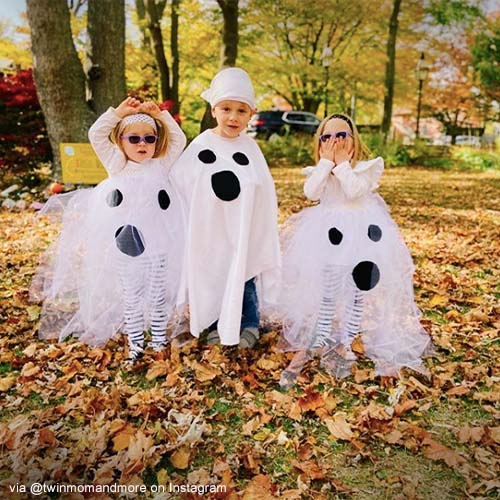 Ghost costumes are always on best-of lists for kids Halloween costumes. These ghost costumes can satisfy any picky kid! Just take a look at these three—they all look so cute as little ghosts. Get a white tutu and cut out some black faces to tape onto the skirt. This idea is so cute and easy for any child! Check out more costumes for kids right here.
---
3. Ghost Bride Costume
Here comes the bride, all dressed in white! They're not wrong... but the bride is dead in this one. Ghost bride costumes are such a fun way to make your ghost costume special. Go for a classic bride costume and add scary ghost makeup to make it spooky! This would make a great couple's costume for you and your boo.
---
4. Sexy Ghost Costume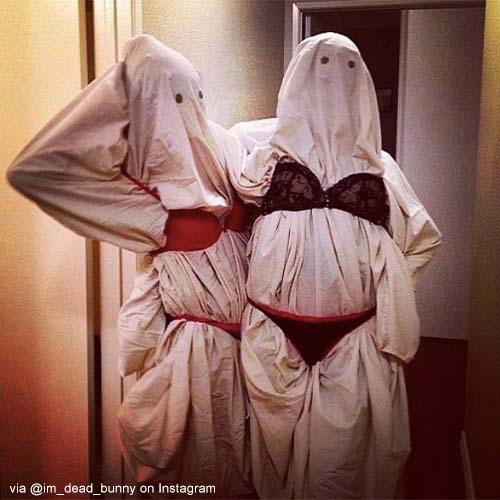 These sexy ghosts are so funny! You'll be the talk of your next Halloween or costume party in these pun-inspired ghost costumes. All you need to do is get your classic ghost costume, which you can make yourself out of a sheet, and add some lingerie! You can get some bras and panties from our bodywear section, or use your own! If you've got a funny bone this Halloween, check out more funny costumes!
---
5. Scream Ghost Costume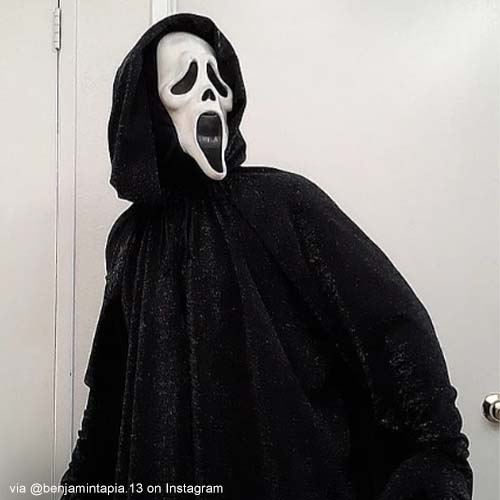 Have you seen the Scream movies? They're a classic series of Halloween films, and they never get old! Did you know that it was partially based on the true story of the Gainesville Ripper? That makes this Scream costume even more scary! This look is super easy—get a scary Scream mask and a black cloak, and you're good to go! You might as well get a bloody knife, too, for some real scares.
---
6. Pirate Ghost Costume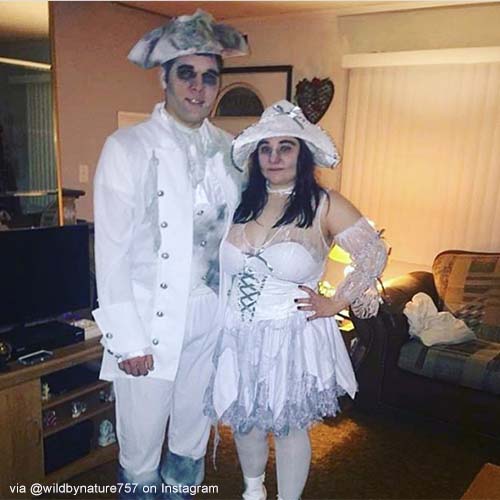 Aye, matey! This pirate ghost couple's costume is so unique! It'll set you apart from everyone at your Halloween party. Maybe you had to walk the plank, or died in a battle at sea. If you're tired of normal old ghost costumes, this pirate ghost costume is the perfect idea for you. If you want to dress up as a pirate that's, well, still alive, check out our regular pirate costumes.
---
7. Ghost Baby Costume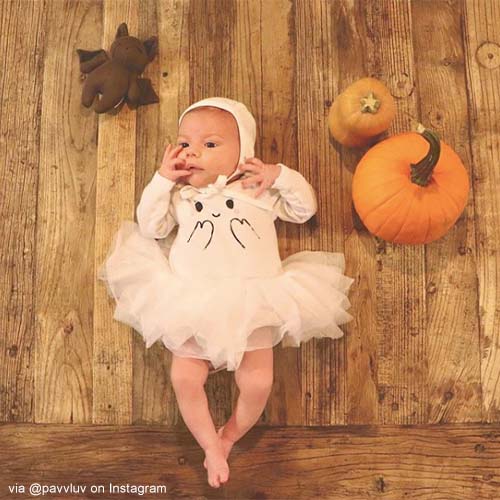 Your little boo-baby will look perfect in a little ghost costume! While your child is young enough to let you dress them up, choose a ghost costume. It's fast and easy to get, and is a classic for every Halloween party! If you want to go the extra mile, have a Halloween photoshoot just like this little one's family. Grab some pumpkins and get out your camera for some priceless pictures! We have more baby costumes just like this right here.
---
8. Girls Ghost Costume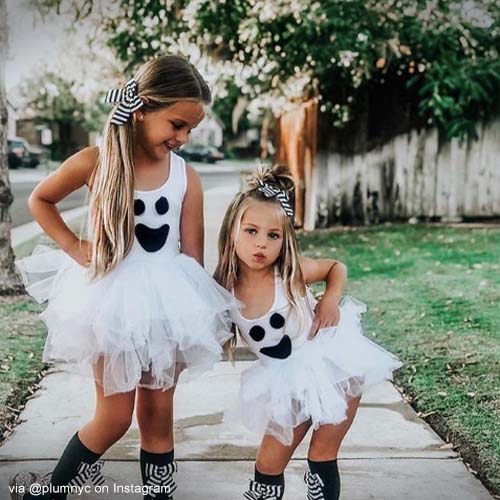 These ghost costumes are so cute for little girls! She can feel like a princess and a ghost at the same time in these creative skirts. We love these matching costumes for sisters. The striped socks look adorable, and the hair accessories are such a cute touch too! If your child wants to be a ghost this Halloween, this is the perfect costume idea for them. We have tons of other costumes for girls!
---
9. Pet Ghost Costume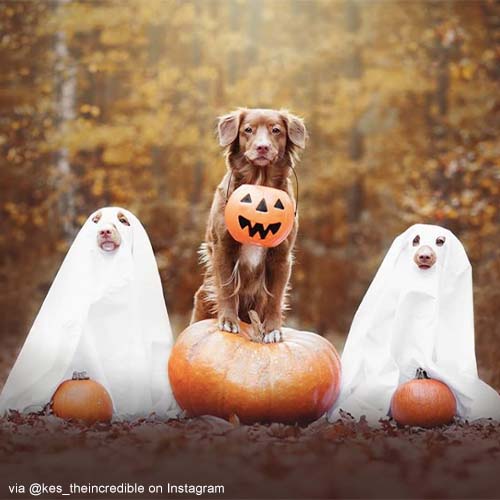 Your pet will look so adorable—and spooky—in a ghost costume! Whether you have a dog, a cat, a hamster, or a fish, you can find a way to dress them up for Halloween this year. Bring your pet trick-or-treating with you! If you and your family want to have a group costume together this Halloween, ghost costumes like these are the perfect idea. It's so easy for everyone to match, even your pets! Check out even more pet costumes right here.
---
What's your favourite ghost costume idea? Check out more classic Halloween costumes, like vampire costumes, witch costumes, and skeleton costumes! The fun never ends here at Oya Costumes. Happy Halloween!