Posted by Yasmina on 2020 Aug 24th
Trivia: Did you know… that author J.K Rowling and Harry have something in common? Rowling gave her main character her own birthday: July 31st!
Harry Potter has been making kids, teens and adults alike crazy for magic and wizardry for the last 20 years. With over 450 million copies sold, Harry Potter stands as the bestselling book series of all time. The original series captivated audiences and featured 7 books and 8 movies; fans are now enjoying a new series, Fantastic Beasts!
Harry Potter truly captured our muggle hearts with its magic. It brought us into a world of fantasy, enchantment and mystery. The series also showed us the beauty of difference with its 4 different houses. It taught us to embrace our smarts (Ravenclaw), our bravery (Gryffindor), our ambition (Slytherin) and our loyalty (Hufflepuff). The entirety of Hogwarts and the wizarding world was enticing to us muggles as it was so different from our ordinary lives.
If you're as big of a Harry Potter fan as we are here at Oya Costumes, then you should definitely get a Harry Potter costume this year! We have all the magical Harry Potter merchandise you could want. Need inspiration for your Harry Potter costume? Check out our favourite ideas!
---
Harry Potter Costumes: Wizarding Gang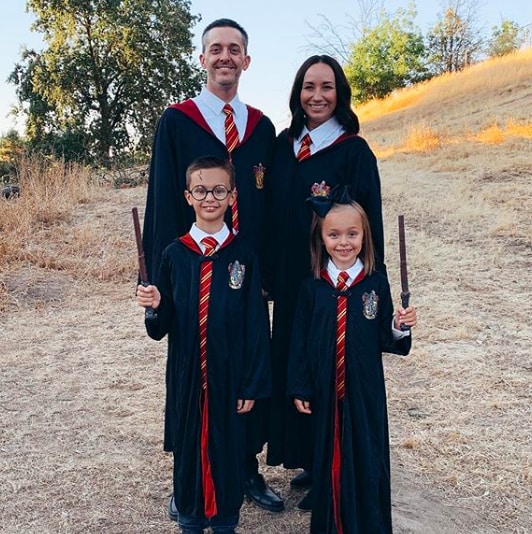 via @christina.patricio on Instagram
This family looks like they had a magical blast dressing up as Harry Potter and the gang! We love the matching costumes look—it seems like they're a Griffindor family! It's a great place to start if you're looking for inspiration for your Harry Potter cosplay. Note the cool Harry Potter ties!
---
Quidditch Harry Potter Costumes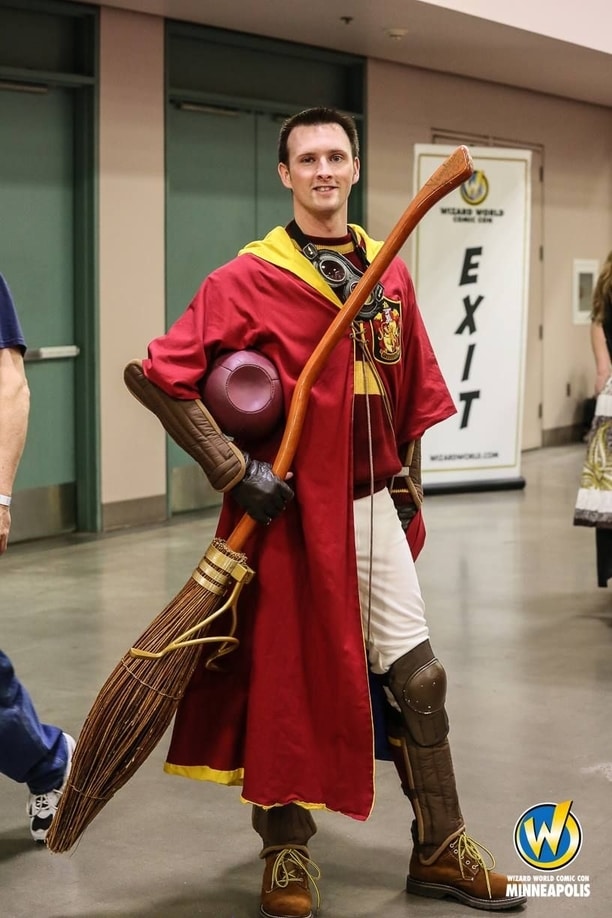 via Wizard World Comic Con Minneapolis
Get ready to catch the snitch this Halloween with a Harry Potter Quidditch Robe! Get on your broom and fly through the stadium to show everyone what a great team player you are! This amazing costume from Wizard World Comic Con Minneapolis is just one example of how cool a Harry Potter Quidditch costume can be. Don't forget your Quidditch goggles to complete the look!
---
Hermione Costume
via @strongisbeautiful619 on Instagram
Wave your wand and become the beautiful and smart Hermione! The costume includes a black robe with the famous Gryffindor crescent, burgundy accent and comes with a black clasp. Perfect for anyone looking to feel brave and courageous for the night. Join your favourite house and protect the world from the Death Eaters! The toad accessory is so cute—if you have a dog or cat, dress them up in a pet costume to get this look!
---
Group Harry Potter Costumes
via 813area.com - Trendy Halloween Costumes 2018
Harry Potter is so well loved that there is a wizarding world created for Harry Potter fans in Orlando. Many fans from around the globe usually gather to celebrate this annual event, and they come dressed in cosplay! There is every Harry Potter character you could possibly imagine represented at this annual three-day themed celebration. From Hermione costumes to Draco Malfoy costumes, you'll see characters from all the Harry Potter houses!
---
Harry Potter Villains: Bellatrix Lestrange Costume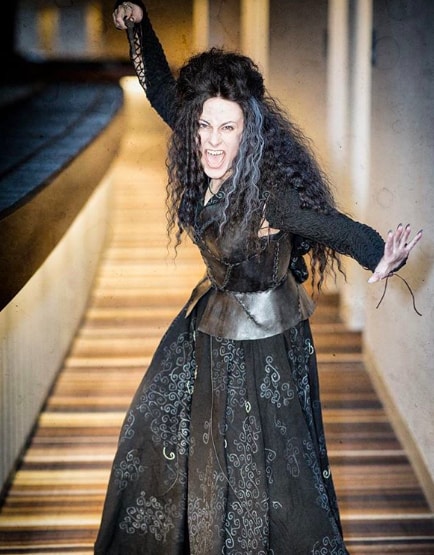 via @frogsummoner on Instagram
When it comes to dressing up, villains have the most fun! To change things up a bit for your next Harry Potter cosplay, you can dress up as a villain. This cosplayer has the right idea! Her Bellatrix Lestrange Costume is on point, from the crooked wand to the deadly stare: she's really nailed this villainous character! Feeling evil? Check out more villain costumes!
Trivia: Did you know… that Helena Bonham Carter (Bellatrix) loved her costume, especially the corset?
---
Harry Potter Scarves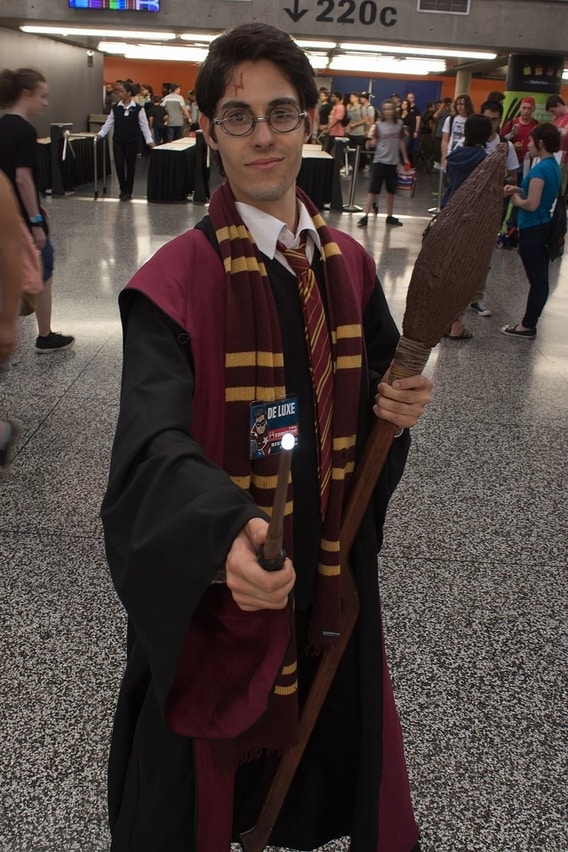 Source: Pikawil on Wikimedia Commons, CC BY-SA 2.0
Make your Harry Potter costume come to life with our selection of accessories! From Harry Potter scarves and ties to wands and hats, we've got everything you need to complete your magical outfit. This cosplayer from the 2016 Montreal Comiccon knows where it's at! Harry Potter scarves will keep you warm and stylish on Halloween.
---
What's your favourite Harry Potter costume idea? Grab some friends and enter the wizarding world this Halloween! Who knows what kind of magic you can create!
You May Also Like
[[1176]]