Posted by Yasmina on 2020 Aug 4th
Don't you just adore clown parties? They're the perfect combination of scary and fun! Halloween is coming up, so you must be looking for the perfect Halloween clown costume! You will have so much fun this Halloween with these devilish, eerie & scary clown looks. Just put on the costume, grab a blood-stained knife, practice your funny face and you won't even have to speak in order to frighten everyone in your path! Take a look at a few of these scary clown costumes you can use as inspiration!
---
Women's Scary Clown Costumes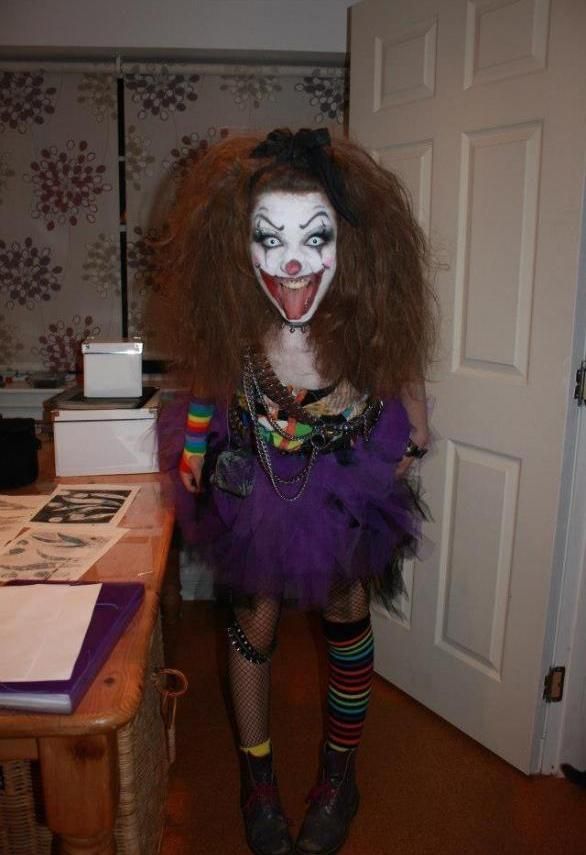 via FrightfulLenses on Pinterest
While lots of men's scary clown costumes come with scary masks, blood-splattered shirts, and the like, most women's scary clown costumes aren't actually that scary. This just means that you'll have to get creative with your makeup and accessories, like this cosplayer who turned a bright and colourful clown outfit into the stuff of nightmares with just a bit of makeup. Not a makeup artist? Add a bit of fake blood to some clown makeup stencils and you'll be all set!
---
Men's Scary Clown Costumes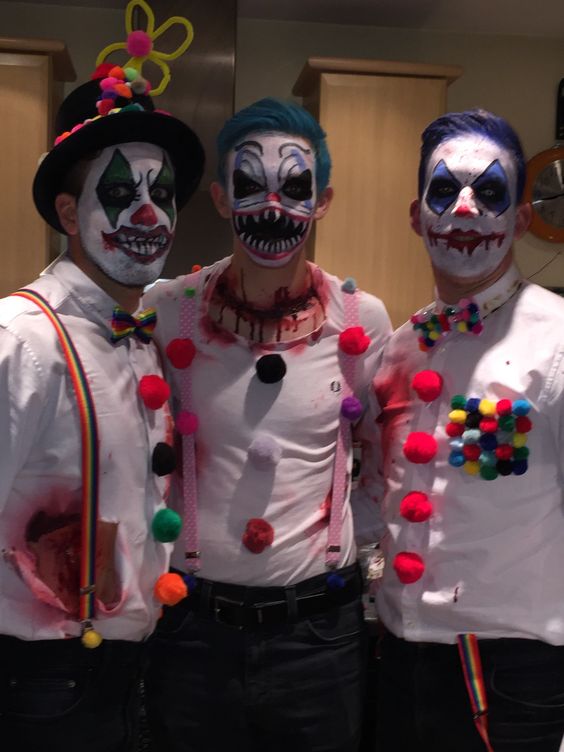 via Lacey Cooper on Pinterest
These cosplayers went the DIY route–and it paid off. If you find the right clown accessories, you can use them as a base for a stunning scary clown costume. The costumes pictured here are simple enough, but they work. Pompoms, gory makeup and a cool clown hat are added to simple white shirts for a truly spooky effect. This is a great idea for a group costume! Your friends won't know what hit them.
---
Pennywise Scary Clown Costumes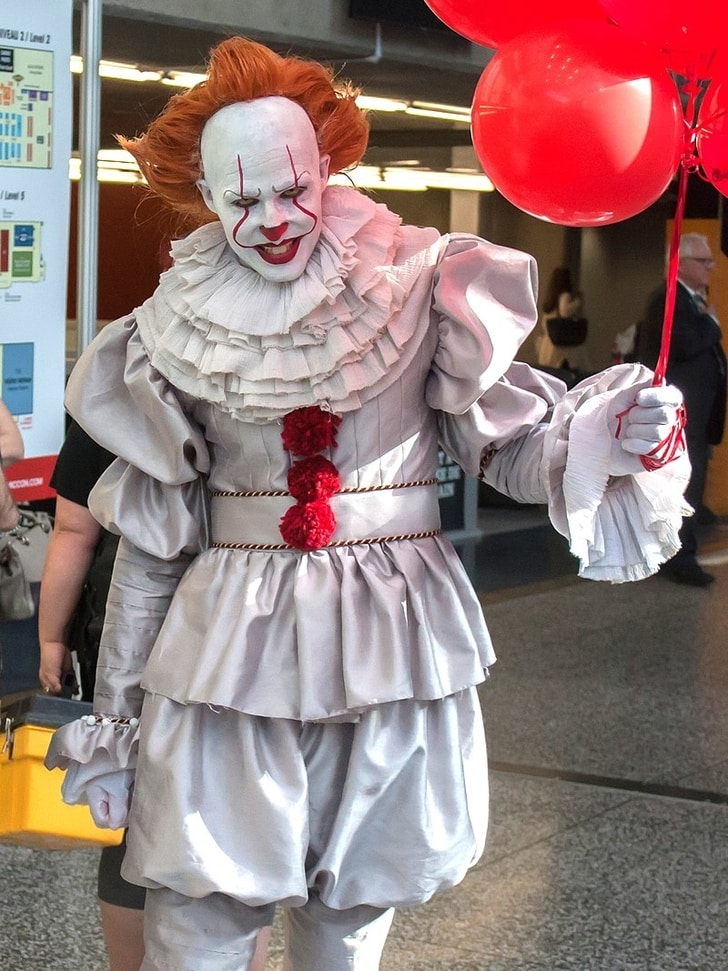 Source: Pikawil on Wikimedia Commons via Flickr, CC BY-SA 2.0
You'll float too! The latest trend in scary clown costumes? Pennywise costumes, of course. The 2017 movie It inspired cosplayers everywhere to recreate the famous clown's outfit, like this talented cosplayer from Montreal Comiccon. You can have your own easy Pennywise costume with our one package, no-fuss Halloween costumes. If you want, you can even dress up as other characters like little Georgie!
---
Jigsaw Scary Clown Cosplay Costumes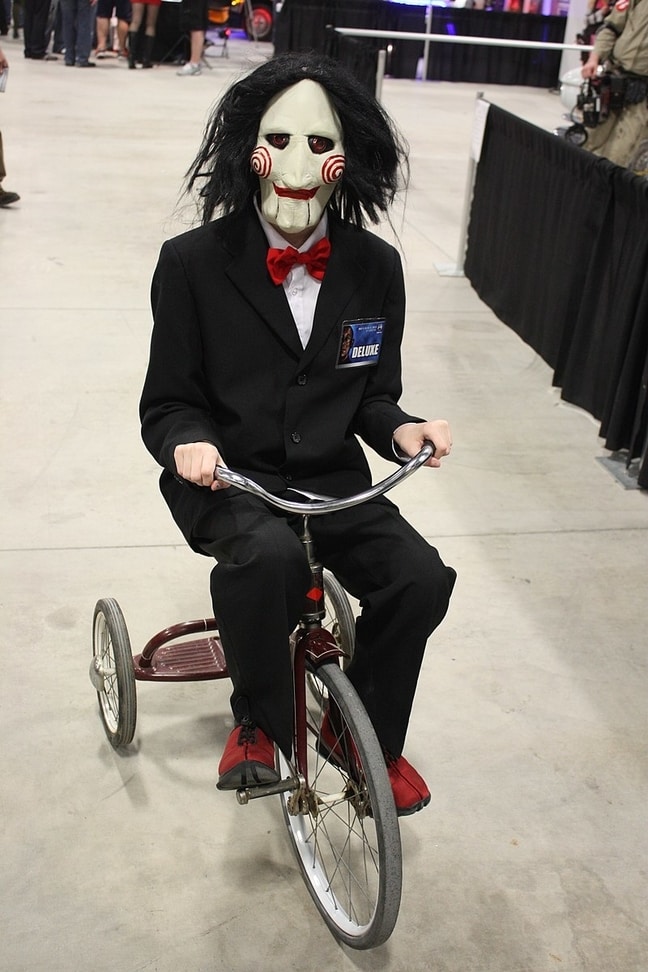 Source: Pikawil on Wikimedia Commons via Flickr, CC BY-SA 2.0
The horror movie world certainly has no shortage of scary clown characters for you to draw inspiration from. This cosplayer from the 2014 Ottawa Comiccon is dressed as Billy the Jigsaw Puppet, for instance. The Saw movies are some of the most iconic horror movies of our time—they would make a great movie marathon on Halloween night! All you really need for this scary Saw costume is a mask and a suit.
---
Group Scary Clown Costumes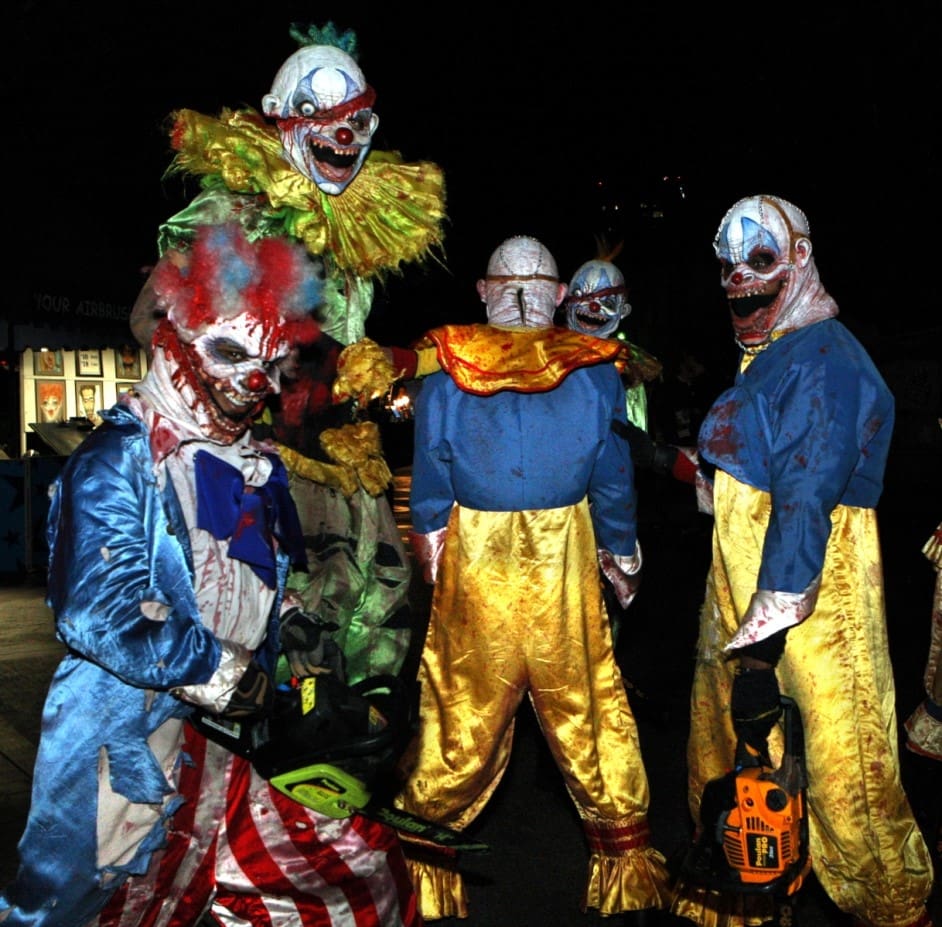 Source: D.Begley via Wikimedia Commons, CC BY-2.0
What's scarier than one evil clown costume? Loads of evil clown costumes! Follow the trend and take a look at our scary clown costumes so you and your friends can dress up like these party-goers, pictured here dressed as evil clowns at a PDC 2008 party at Universal Studios. This group scary clown costume is so simple and fun! You can also check out our couple's costumes for even more matching looks.
---
We hope these scary clown costumes inspired you! This Halloween, come on over to Oya Costumes Canada to get the best deals in the country. We're waiting for you! Just be careful which sidewalk drains you decide to go down.
You May Also Like
[[1319]]