Posted by Anand Ingle on 2020 Aug 31st
Remember the countless hours you used to spend playing LEGO? There were so many different ways to play, you could make a variety of different things using those LEGO blocks. With the amount of popularity of the LEGO toys, it's easy to understand why the LEGO name has stayed around, & withered the test of time to stay as the undisputed No. 1 toy brand worldwide. Although these days Nexo Knights & Ninjago are leading the charge and kids of this generation are just as excited about the new age of Lego toys as adults of today were about the bricks of old in their time! This Halloween put on these LEGO costumes & show them how big of a LEGO fan you really are. Take a look at some of our favourites!
---
Lego Batman Costume
via @shannynpalmer on Instagram
Lego Batman is one of the best role models to emulate & what better than a Lego Batman costume all thanks to this officially licensed Deluxe Lego Batman Movie Costume! This costume features a Lego Batman tunic with a detachable batcape, a Lego Batman mask, one pair of Lego hands, and black pants to match the tunic. So, what are you waiting for, go save Gotham city from the Lego Joker in this cool Lego Batman Costume! We have tons of other Batman costumes too!
---
Lego Guy Basic Costume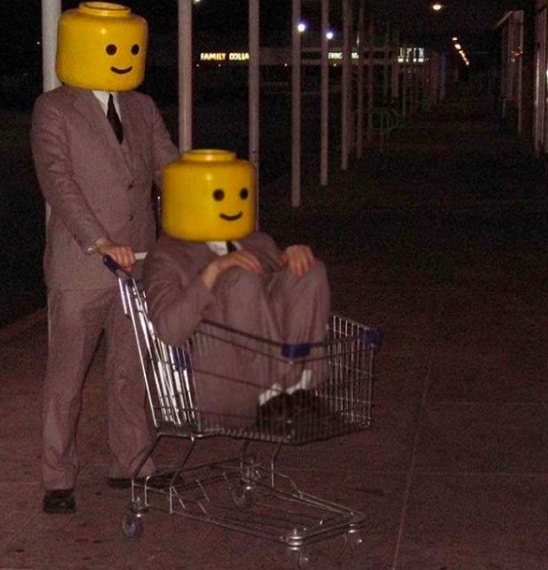 via @jackthesceleton on Instagram
If you love playing with the Lego blocks, this officially licensed Lego Guy Basic Child Costume is definitely for you. It includes a sleeveless red foam tunic with a blue stripe at the bottom, constructed to look like a Lego character's torso. This costume also comes with the signature yellow Lego hands and a full Lego character mask. You or your child can assume the role of a fairly unassuming Lego Guy by wearing this.
---
Lego Kai Kids Ninja Costume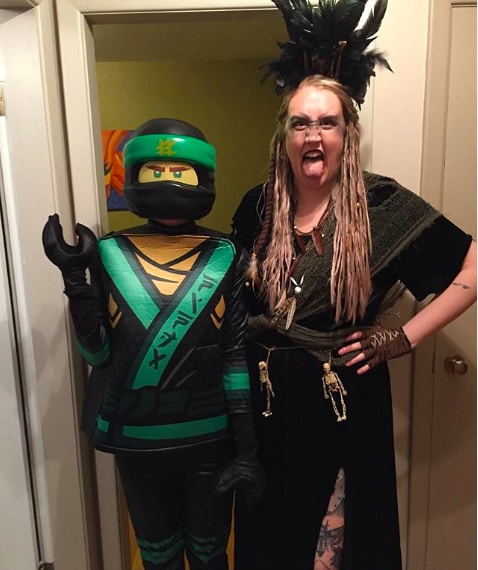 via @alhalego on Instagram
If your child is the type to get all fired up to fight the forces of Lord Garmadon, then maybe it's time you buy him/her this Lego Kai Ninja costume which features a red tunic top which has printed details from the movies on the front, giving your child the full illusion of being a real Lego ninja warrior. A pair of red pants is also included. This costume comes complete with a mask and a pair of Lego hand gloves.
---
Lego Brick Child Costume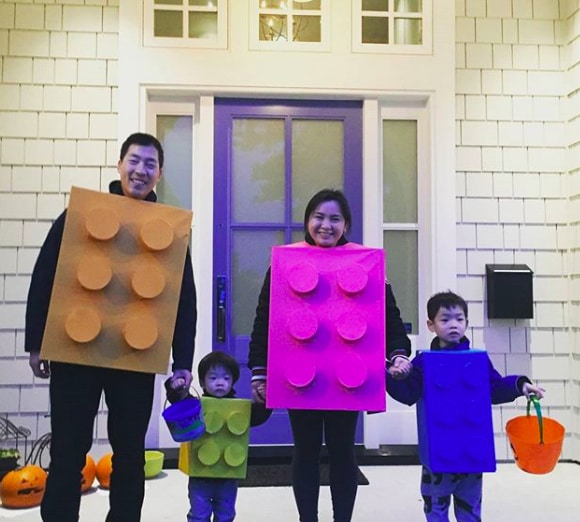 via @hotwings717o on Instagram
Does your child love build various things using Lego blocks? Then, this unisex costume is perfect for costume parties or for Halloween. Become the iconic Lego red brick and make your friends laugh with this officially licensed costume which features a tunic-style top that is shaped like the classic brick, making it an easy costume to change into. It can be worn on easily over your child's clothing, so they can wear their favorite outfit underneath their clothes.
---
Do you love playing with LEGO? Then check out these 11 LEGO facts!
1. The brand LEGO is 86 years old!
2. LEGO's founder, 'Ole Kirk Christiansen', created the name "LEGO" from taking the first two letters of these 2 Danish words "LEG GODT", meaning "play well".
3. If you arrange the 340 million LEGO Minifigures produced last year next to each other in a line, it would stretch a mind-boggling 7,900 km – which is almost the distance from London to Beijing!
4. The famous LEGO brick that we play with today is more than 50 years old. The bricks made back in 1958 will still fit almost perfectly with those you play with today!
5. The molds used to produce LEGO bricks are accurate to within two-thousandth of a millimeter (0.002 mm). And because of this very high degree of accuracy, there are only around 18 bricks in every million produced that fail to meet the company's high-quality standards.
6. The tallest LEGO tower in the world is 28.7m high, made with approximately 465,000 bricks!
7. LEGO Minifigures are the world's largest population, with over 4 billion of them all around the world!
8. During the Christmas season each year, almost 28 LEGO sets are sold every second. Wow!
9. At LEGO attractions around the world, such as LEGOLAND Discovery Centre Manchester, people are recruited as "Master Model Builders". The best job, isn't it? 1
0. Arranged end to end, the number of LEGO bricks sold in one year would reach more than five times around the world.
11. On an average, there are approximately 80 LEGO bricks for every person living on earth. Now that's awesome!
---
What's your favourite Lego costume idea? Get yours right here at Oya Costumes today!
You May Also Like
[[1295]]